Meghan Markle and Kate Middleton Are Following Prince Harry and Prince William's 'Lead', According to Royal Author
Things are still pretty much the same between Meghan, Duchess of Sussex and Catherine, Duchess of Cambridge. Yes, they're sisters-in-law but they're not best friends. According to a royal author, they're simply following the example set by their husbands, Prince Harry, Duke of Sussex and Prince William, Duke of Cambridge, which means there's not much talking happening. 
Meghan Markle and Kate Middleton weren't close from the start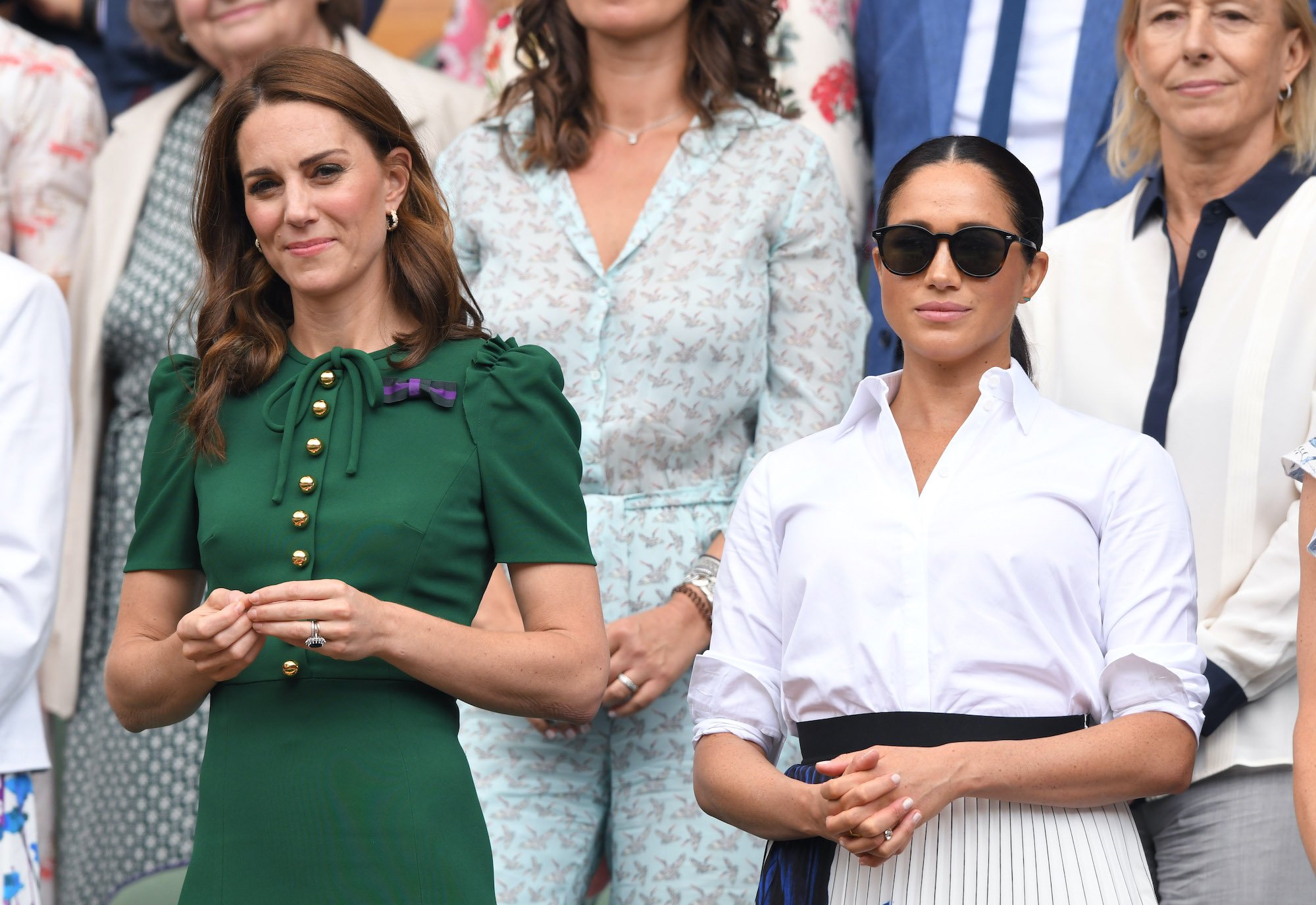 Although Meghan hoped to bond with Catherine their first meeting didn't go how the former Suits star imagined. They met in 2017 but didn't have much in common besides the fact that, at the time, they both lived at Kensington Palace. 
Meghan and Catherine stepped out together as senior royals on a number of occasions, sometimes the two of them and other times with Harry and William. Not long after Meghan's royal wedding to Harry in 2018 rumors began to swirl about her supposedly making Catherine cry ahead of the festivities. 
In her and Harry's 2021 tell-all interview with Oprah Winfrey, Meghan said it was the reverse that happened. Catherine made her cry over flower girl dresses before the royal wedding. Meghan also said there was no reason for royal watchers to pick sides. "If you love me, you don't have to hate her. And if you love her, you don't have to hate me," she told Winfrey. 
Meghan Marke and Kate Middleton are reportedly following Prince Harry and Prince William's 'lead' and talking much
Meghan and Catherine aren't taking it upon themselves to bring the royal family together. According to Omid Scobie, co-author of the 2020 biography Finding Freedom: Harry and Meghan and the Making of A Modern Royal Family, they're following along with what William and Harry are doing. 
"Unfortunately, they follow the lead set by the brothers. The brothers aren't talking, there really isn't much communication between either side altogether," Scobie told ET in August 2021 shortly before an updated version of Finding Freedom hit shelves. 
"Although there was never really a feud between the duchesses, there was some distance," he added. "They were never able to get as close as possible."
Kate Middleton and Meghan Markle reportedly won't be mending Prince Harry and Prince William's relationship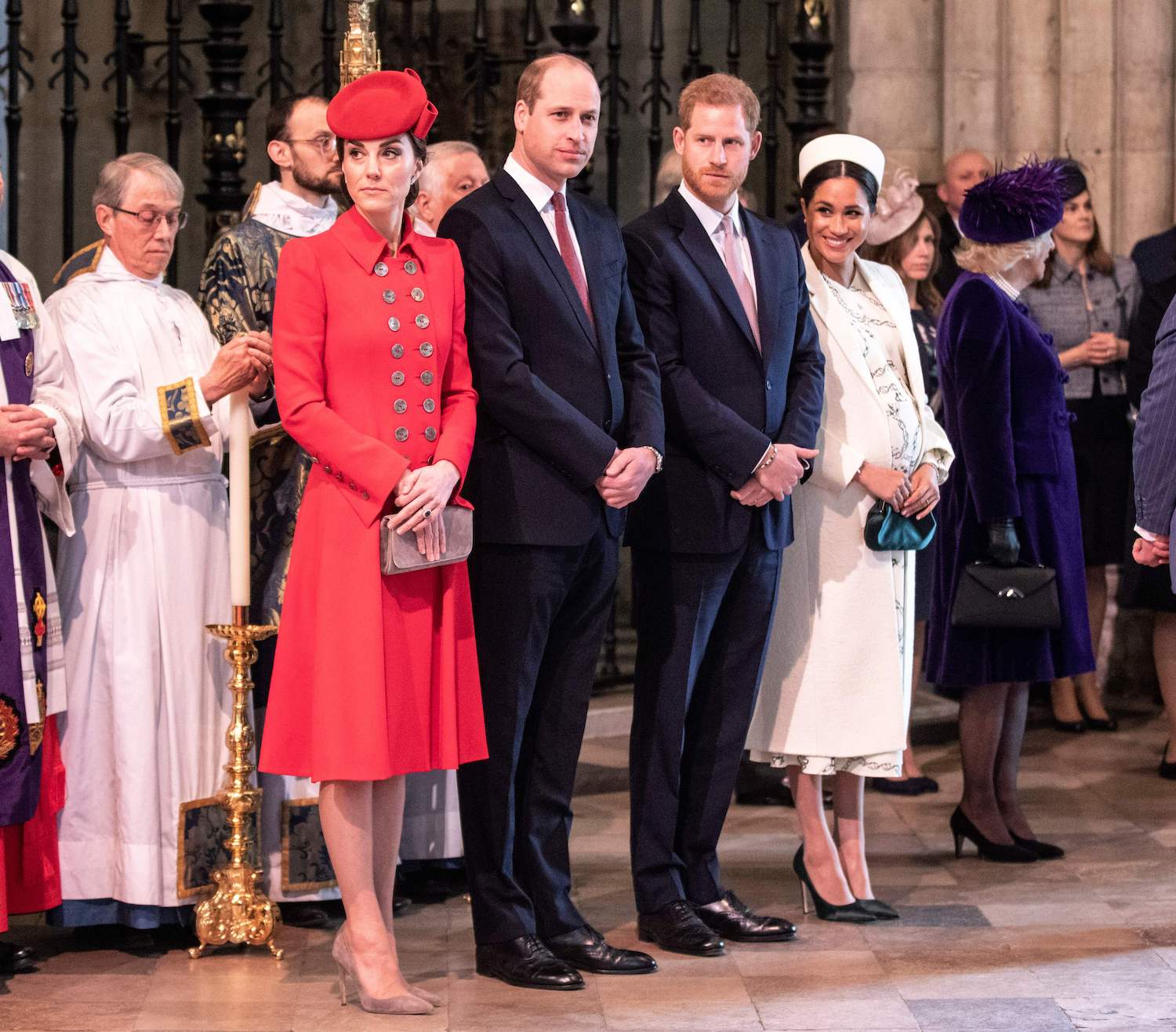 In the same interview, Scobie dispelled any ideas the Duchess of Sussex and Duchess of Cambridge will be the ones who help heal Harry and William's relationship. 
"I think it's wishful thinking when we see people say that Meghan and Kate are going to work on a Netflix project together or they're talking on the phone," Scobie said, referring to recent reports of the two collaborating on a documentary. "I even read a story about how they're Zooming whilst making cakes or something, quite recently." 
So it seems it's up to Harry and William to work things out themselves without input from Meghan or Catherine. In the meantime, the Duke and Duchess of Sussex are living in California with their two children, 2-year-old Archie Harrison Mountbatten-Windsor, and 3-month-old Lilibet "Lili" Diana Mountbatten-Windsor. 
As for Duke and Duchess of Cambridge, they're across the Atlantic in England carrying out royal duties and raising their three children; Prince George, 8, Princess Charlotte, 6, and Prince Louis, 3.