Meghan Markle Was Not the Only Senior Royal 'Livid' at Rumored Plans For the Future of the Royal Family
Meghan, Duchess of Sussex, and her husband Prince Harry split from the British monarchy over a year ago. Still, the reasons for their departure continue to be discussed in the UK media.
Some royal experts claim that Meghan was upset about Prince Charles' rumored plans for the future of the royal family. However, the Duchess of Sussex wasn't the only senior royal who was reportedly "livid" about some rumors concerning the future of the royal family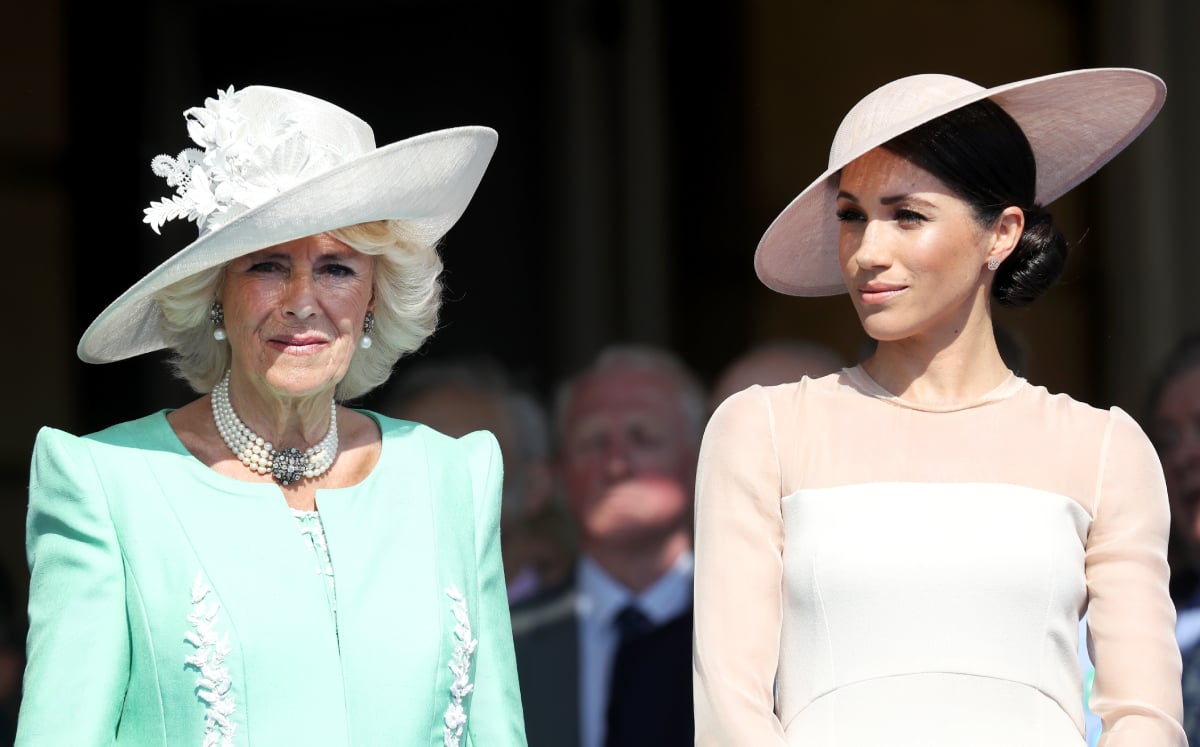 Meghan Markle and Prince Charles once had a close relationship
When Harry first introduced Meghan to his family five years ago, it appeared that the former Suits star was developing a close relationship with her future father-in-law.
As Showbiz Cheat Sheet has previously reported, the Prince of Wales became so fond of Meghan that he agreed to step in for her father, Thomas Markle, and walk her down the aisle on her wedding day.
Meghan was also presumed to be the driving force behind Harry's improved relationship with Charles. And the future king even had a nickname for her — Tungsten. This was a reference to the very strong metal known for its robustness. Charles gave Meghan this nickname because of her strength and determination.
The Prince of Wales' plans for the royal family upset the Duchess of Sussex
According to royal biographer Robert Lacey — author and historian for Netflix's The Crown — it's no secret that Charles wants to make a number of changes to the monarchy when he becomes king.
One of those changes was to "slim down the monarchy." Which meant that only Charles, his wife, and his two sons and their wives would be considered senior royals.
"In pursuing his own cause of the slimmed-down monarchy, Prince Charles had been making noises about limiting the number of HRHs created by George V's 1917 convention still further, thus cutting out Archie from his future prince-ship — and Meghan took that personally," Lacey wrote in his book Battle of Brothers (per Express).
Camilla Parker Bowles was also 'livid' about rumors concerning the future of the royal family
During her interview with Oprah Winfrey, Meghan did share her frustrations about her son, Archie Harrison, not being given the title of Prince. But, she didn't mention the reason why this decision was made.
In his preparation to become king, Charles has caused some tension in the palace because of the changes he wanted to make, says Daily Express royal correspondent Richard Palmer. But it wasn't just with Meghan. Palmer says that Camilla Parker Bowles was also "lived."
But it wasn't just his idea of slimming down the monarchy that caused her frustration. Camilla was reportedly upset about a poll of UK citizens that found the majority wanted Prince William to be king when the queen passes instead of Charles.
The royal family is preparing for life without Queen Elizabeth
Queen Elizabeth is 95 years old and has sat on the British throne for almost 70 years. It's clear that Her Majesty is coming to the end of her reign, and that means the palace is preparing for life without her. But, Palmer says that this hasn't been an easy process.
"Tensions are mounting between staff as the monarchy prepares for life without the Queen," Palmer writes. "As courtiers oversee a gradual handover to Prince Charles and his sons, some courtiers have found their noses put out of joint amid tensions over the pace of change.
It's a slightly jarring change, in contrast to the long-held view that the monarchy is in a way modeled on the design of a jar of Marmite: it changes dramatically over the years but so gradually that the change is irreplaceable."
Meghan Markle and Prince Harry's exit changed Prince Charles' plans for the royal family
Now that Meghan and Harry have stepped down as senior royals, it appears that Charles' plan for his version of a slimmed-down monarchy may have changed. Or, at least, the focus has shifted.
Queen Elizabeth has already signaled which family members she wants to be the face of the monarchy when she's gone.
In December 2020, she held a gathering outside Windsor Castle and invited Charles, Camilla Parker Bowles, Princess Anne, Prince Edward, his wife Sophie, as well as Prince William and Kate Middleton. It remains to be seen if Prince Charles will stick to his mother's plan, or if he will venture out on his own and do things his way.