Meghan Markle and Prince Harry's 2020 Commonwealth Day Appearance, Revisited
Commonwealth Day in 2020 was the last time Meghan Markle and Prince Harry stepped out as senior royals. Revisit the service at Westminster Abbey and the drama that surrounded the couple and the royal family.
The British royal family's celebrating Commonwealth Day. To mark the occasion, look back at Prince Harry and Meghan Markle's 2020 Commonwealth Day appearance. It marked the Duke and Duchess of Sussex's final engagement as senior royals. And it wasn't without some awkward moments. 
Queen Elizabeth II removed Harry and Meghan from the procession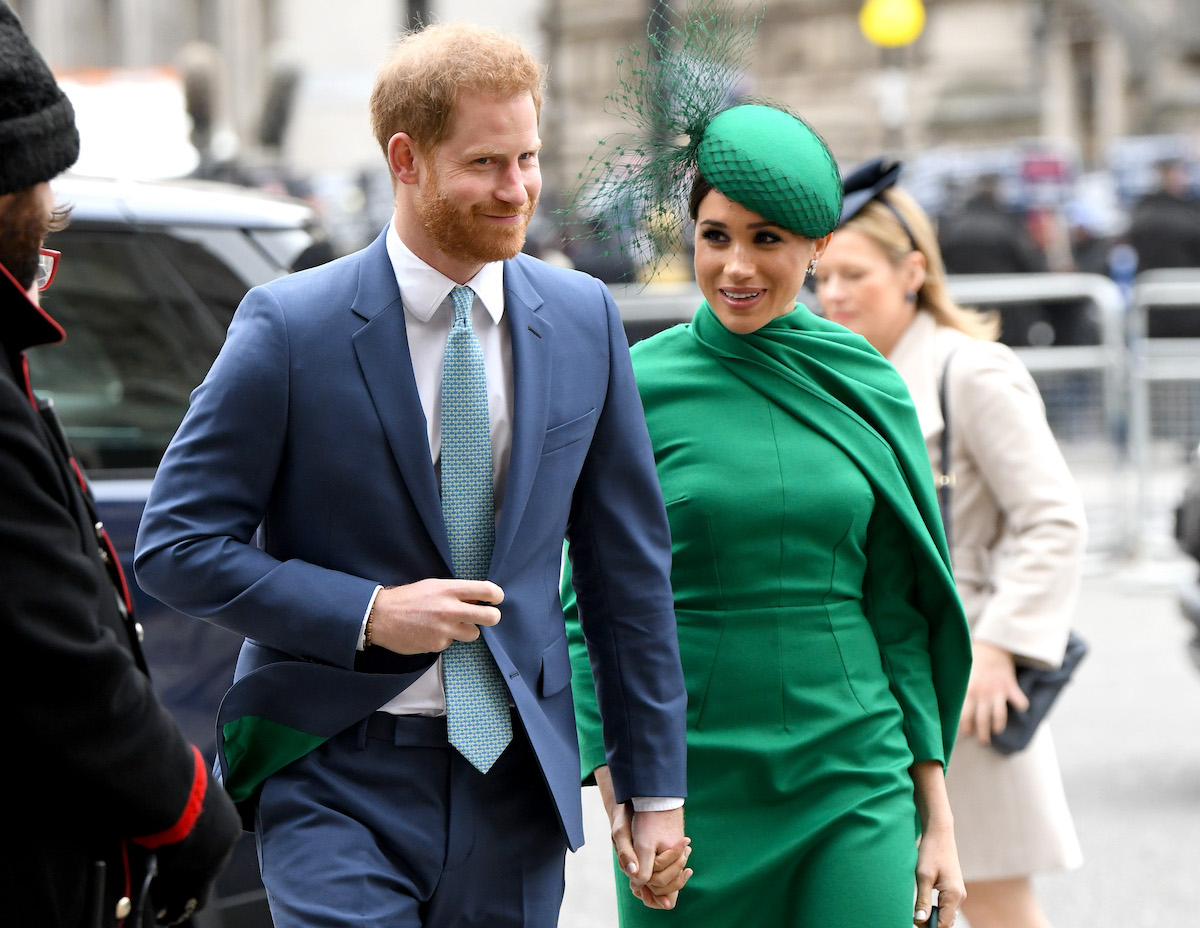 Traditionally Commonwealth Day includes a procession where high-ranking members of the royal family enter Westminster Abbey. However, in 2020 the procession, or Order of Service, didn't include every senior royal in attendance. 
Queen Elizabeth II removed Meghan and Harry from the procession. That meant while she greeted senior royals outside the church including Prince Charles, Camilla Parker Bowles, and others, the now parents of two were quietly led to their seats. 
Shortly before the service on March 9, 2020, the Duke and Duchess of Cambridge opted for a different entrance than planned. Hello Magazine reported they were originally part of the procession but backed out at the last minute. 
A year earlier, at the 2019 Commonwealth Day service, both couples were part of the procession.

Meghan and Harry's 2020 Commonwealth Day included a brief interaction with Kate Middleton and Prince William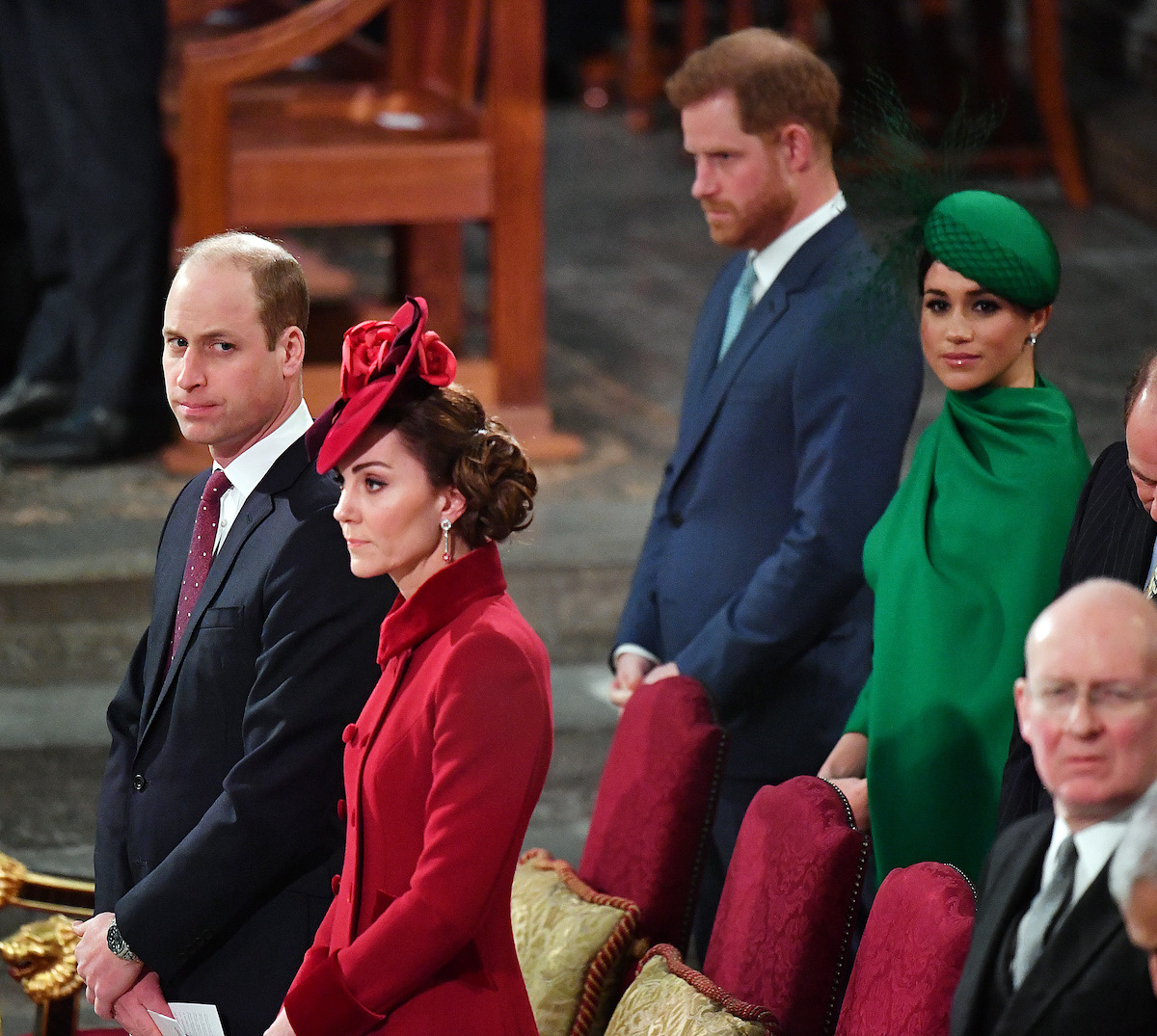 All eyes were on the Duke and Duchess of Sussex as they sat one row behind William and Kate. As royal expert Robert Lacey wrote in his book, Battle of Brothers, the situation became more awkward because the programs had William and Kate down as walking in the procession. 
"The only problem was that 2,000 orders of service had already been distributed round the Abbey, explaining that William and Kate would enter and process with the main royal party—and making no mention at all of Harry and Meghan," he said via Newsweek. "So there was the snub in black and white—set out for all to see."
Lacey continued, saying Harry seemed close to tears.
"Observers also noted that Harry's face was 'quite tense and unsmiling'—and that when William sat down close to him, he barely greeted his brother," he continued. "Throughout the service, Meghan megawatted away with her best TV smile but, as the ceremony progressed, Harry appeared to grow gloomier. According to one observer, 'his accelerated blinking even suggested he might have been fighting back tears.'"
Experts analyzed Harry and Meghan's Commonwealth Day interaction with William and Kate. One said they had tense body language. Others attempted to decipher what William and Harry said to each other.  
Harry and Meghan's moods seemed to change after Kate and William left 
The Duke and Duchess of Sussex's 2020 Commonwealth Day appearance wasn't all awkward moments. As body language expert Judi James told PA via Daily Mail, they were more relaxed following Kate and William's exit.
"With the other royals gone Harry and Meghan became an animated, tactile double-act again," she said. "Laughing and joking with the people outside, Harry's relief looked so tangible that his sudden eyes to heaven and raised hands looked awfully like a signal of thanks."
Additionally, Meghan's green Emilia Wickstead look garnered a lot of attention from fans online. Now, two years after Harry and Meghan's 2020 Commonwealth Day appearance, they're living a post-senior royal existence in Montecito, California.