Meghan Markle Recently Said Something That Made Her Sound Like Melania Trump
Meghan, Duchess of Sussex and First Lady Melania Trump are not often compared to each other. They come from different backgrounds and are part of two different institutions. Of course, they seem to have different political beliefs as well.
However, Meghan and Melania might not be so different after all. In fact, Meghan recently said something that was similar to something else Melania once said.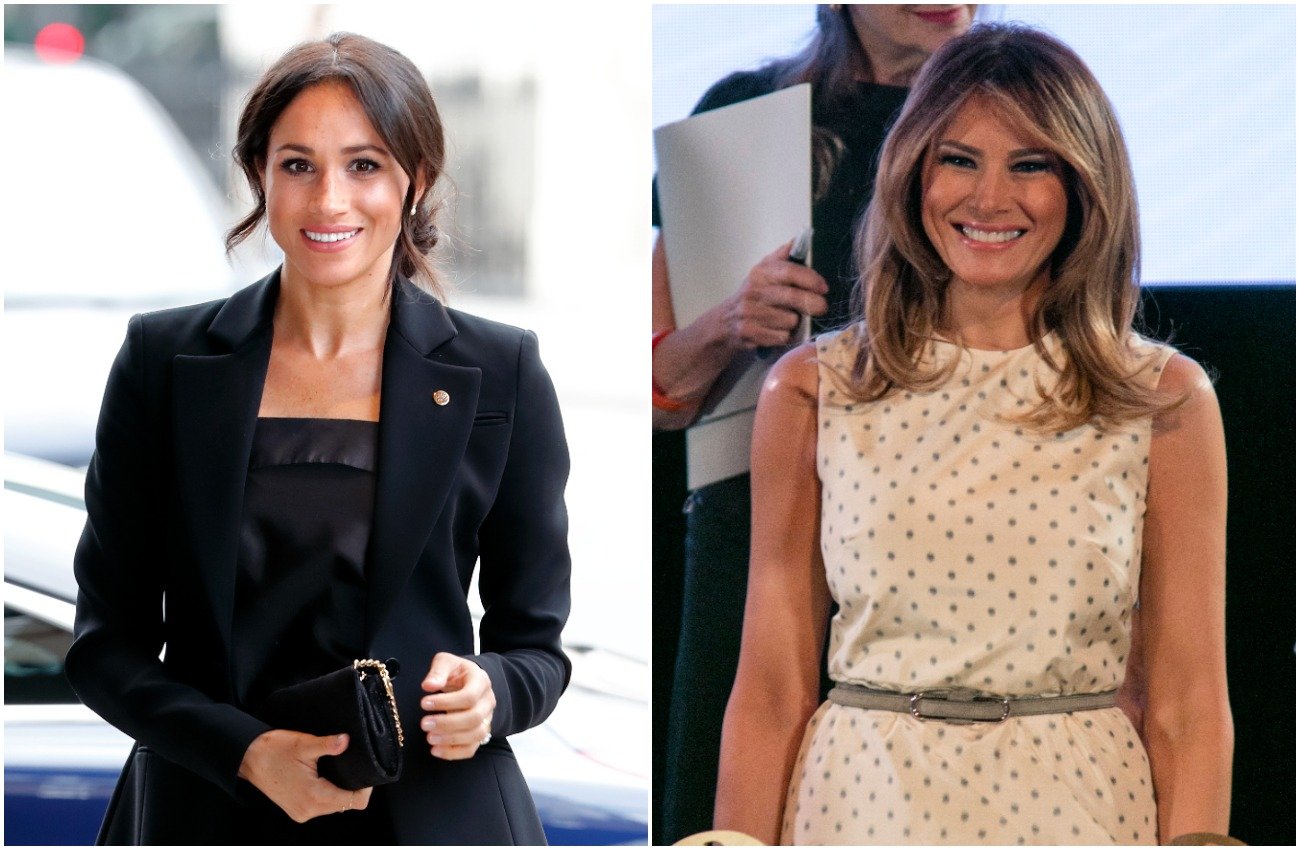 Meghan Markle said she was the 'most trolled person' in 2019
In honor of National Mental Health Day on Oct. 10, Meghan and her husband, Prince Harry, had a chat with the podcast Teenager Therapy. There, the Sussexes discussed mental health with the teenage hosts. In one instance, Meghan talked about the negative press she had been receiving in her short time in the royal family.
"I'm told that in 2019 I was the most trolled person in the entire world-male or female," Meghan said. "Now eight months of that I wasn't even visible. I was on maternity leave or with a baby but what was able to just be manufactured and churned out, it's almost unsurvivable."
She continued, "That's so big you can't even think about what that feels like because I don't care if you're 15 or 25 if people are saying things about you that aren't true what that does to your mental and emotional health is so damaging."
Melania Trump once claimed she was the 'most bullied person' in the world
Melania became the first lady of the United States in 2016. Since then, much of her work has been focused on anti-bullying campaigns.
In 2018, she launched the anti-bullying initiative "Be Best." In an interview with ABC News that same year, she revealed that her status as the "most bullied person" led her to start the initiative.
"I could say I'm the most bullied person on the world," she said.
Host Tom Llamas then asked, "You're really the most bullied person in the world?"
This led Melania to change her wording. "One of them, if you really see what people saying about me," she clarified.
Meghan Markle is not a fan of Donald Trump
While it's not clear how Meghan feels about Melania, many people are aware that she is not a fan of Melania's husband, President Donald Trump.
In 2016, before joining the royal family, Meghan spoke out against Trump ahead of the presidential election.
"Yes, of course, Trump is divisive, think about female voters alone, right," Meghan said, according to Insider. "I think it was in 2012 the Republican Party lost the female vote by 12 points — that is a huge number, and with as misogynistic as Trump is, and so vocal about it, that's a huge chunk of it."
Recently, Meghan and Harry have also been using their influence to encourage people to vote in the upcoming election. Although they never mentioned anything about Trump or Biden, many onlookers believe the Sussexes are trying to get Trump out of the Oval Office.
"As we approach this November, it's vital that we reject hate speech, misinformation, and online negativity," Harry said in one video, as reported by The Guardian.
In response, Trump has noted he is "not a fan" of Meghan. He also wished Harry "luck" with Meghan because, according to Trump, he is "going to need it."