Meghan Markle Reportedly Made Kate Middleton Cry During Archie's Christening Rehearsal
Prince Harry and Meghan Markle held a very private christening ceremony for baby Archie and, while the public will never know what went on behind cl­osed doors, there are reports swirling that there was some drama at the rehearsal for the christening. Did Markle really make Kate Middleton cry?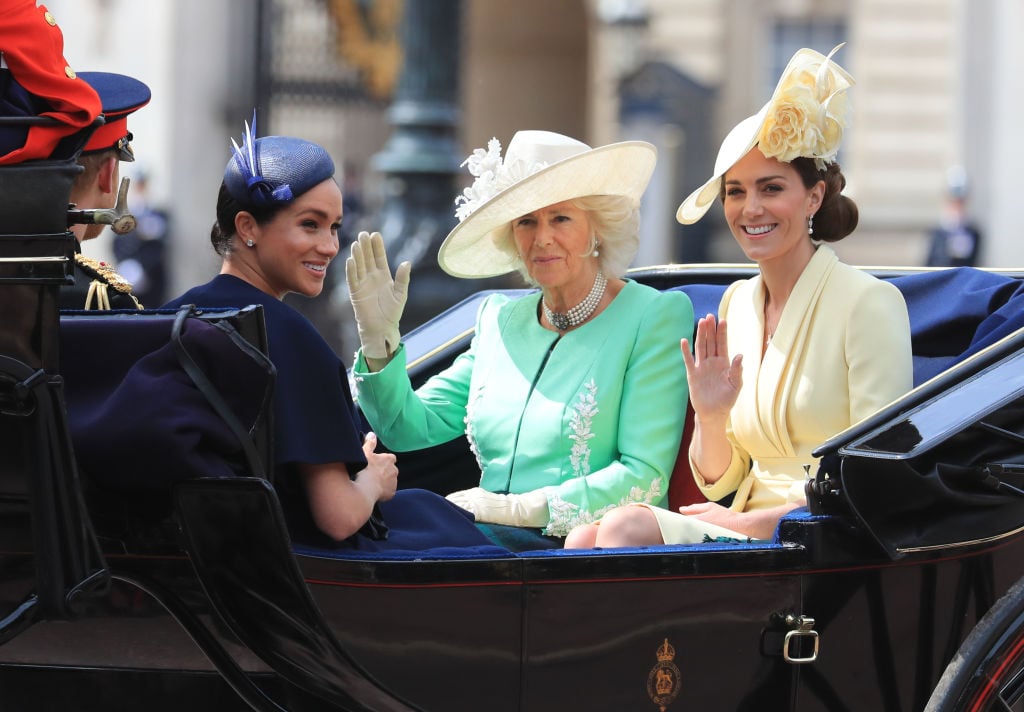 The reported drama that unfolded
According to a report from New Idea, Middleton was bothered that Prince Harry and Markle were able to have a private baptism ceremony as she and Prince William have to follow royal protocol and Harry and Markle can "play by their own rules."
If the rumors are to be believed, Markle allegedly confronted Middleton at the rehearsal for Archie's christening and had a "heated" warning, as a Buckingham Palace source told the outlet: "Tensions have been brewing between Kate and Meghan for a while, so no-one was surprised that it all boiled over at the christening rehearsal. Meghan basically went after Kate while there was a break in the rehearsal — it was very heated and the whole Palace is talking about it."
"It started when Meghan asked Kate not to do anything to steal her thunder at the christening. Kate was pretty taken aback and said she would never do that, which only set Meghan off more," the source shared.
Markle was also reportedly upset about Middleton going to see her friend Serena Williams at Wimbledon. The whole exchange left Middleton in tears, with the insider noting: "Kate was very upset after and was visibly shaken. She knows Meghan is emotional at the moment and was taking everything out on her at the rehearsal, but it didn't make it any easier to take."
The source added: "She tried to keep it in but ended up leaving the rehearsal in tears and Prince William had to comfort her. It was awful."
Royal fans may recall rumors that Markle reportedly made Middleton cry when they fought over Princess Charlotte's dress for Markle's wedding to Prince Harry. Sources shared that Middleton was "left in tears" over the incident.
Did Middleton's body language reveal her true feelings?
Many royal watchers have been giving the photos that Prince Harry and Markle posted from the christening on Instagram a closer look and believe they've uncovered some happiness in facial expressions and body language.
The Duke of Cambridge, for example, appears "sour" and "unhappy," with many wondering if he didn't want to be there for Archie's christening.
Middleton, according to body language expert Judi James, appears "ready to flee" in the photo. James told the Daily Mail that Middleton was making sure to "lower her status to not upstage" Prince Harry, Markle, and Archie as well as minimize any rumors of a feud between the duchesses.
James noted: "With a very relaxed and jolly-looking Camilla down one end of this pose, Kate sits at the other looking oddly self-diminished and prim, with her arms pulled into her torso and a part-smile on her face. Given all the rift rumors the rather 'ready to flee' tension in her pose could be seen as awkwardness but it could also show a desire to lower her own status signals and not upstage the happy couple."
James called Prince William's pose that of a "nightclub bouncer," sharing, "The fig-leaf hand gesture, head tilt and rather evaluating facial expression and knowing smile all bear the hallmarks of a man who won't let you into the venue until you produce some ID."