Meghan Markle Reportedly Skipped Pippa Middleton's Wedding for 1 Very Relatable Reason
Meghan Markle skipped Pippa Middleton's wedding when she was dating Prince Harry, but snuck into the reception.
When Meghan Markle was dating Prince Harry in 2017, the UK tabloids expected her to attend Pippa Middleton's wedding to James Matthews. However, to everyone's surprise, Meghan didn't show. In the new biography Finding Freedom, authors Omid Scobie and Carolyn Durand reveal the very relatable reason why the Duchess of Sussex decided at the last minute to skip the ceremony.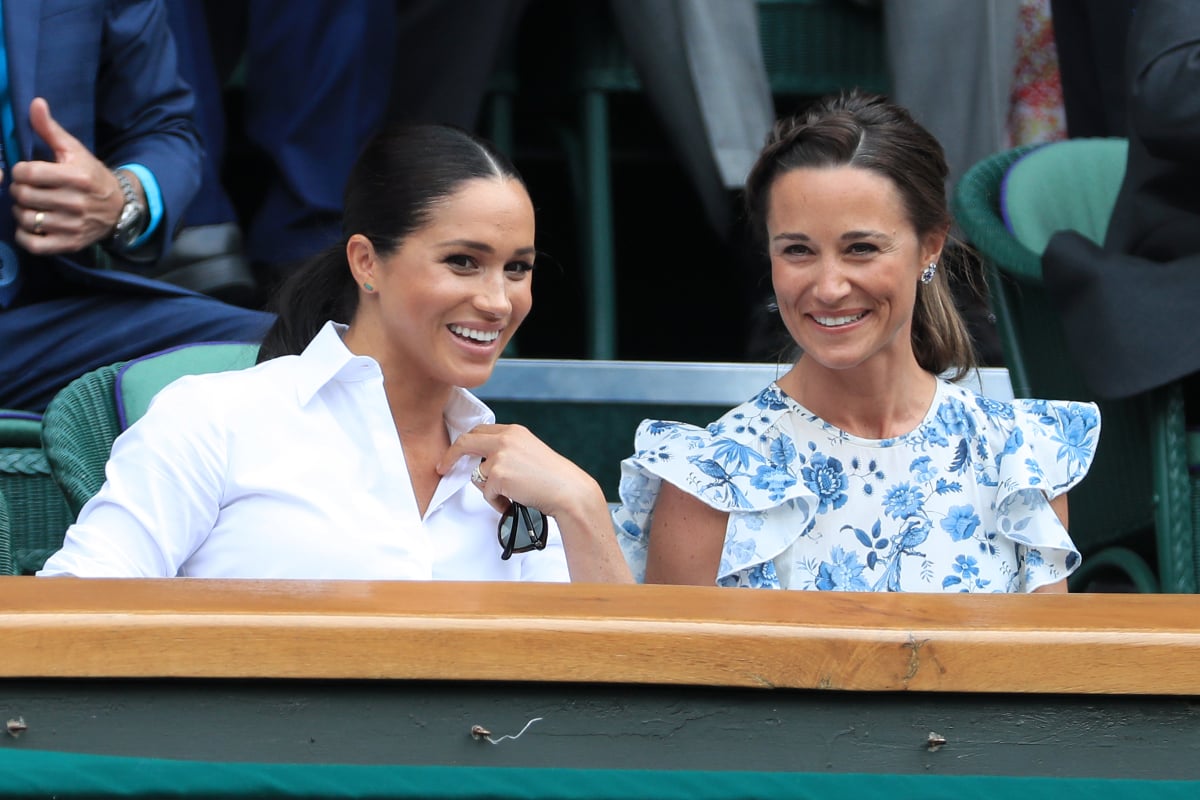 Pippa Middleton did not want to invite Meghan Markle to her wedding
Finding Freedom details Harry and Meghan's relationship from their first date in 2016 until their shocking Megxit announcement in January 2020.
As Elle Magazine points out, the media frenzy surrounding Meghan and Harry's relationship was in full swing by May 2017. Pippa – Kate Middleton's sister – did not want Meghan to overshadow her on her big day.
"Both the bride and her mom, Carole, privately harbored concerns that the American actress's presence alongside Harry might overshadow the main event," wrote Scobie and Durand.
Ultimately, they did add Meghan to the guest list, and she was preparing to attend the wedding with Harry.
Meghan knew she would be under serious media scrutiny at Pippa's wedding, and she was determined "not to make a misstep." She worked with Jessica Mulroney to create a look that was "stylish without being splashy."
Why the future Duchess of Sussex skipped Pippa's wedding
On the day of Pippa's wedding, The Sun ran a story with the headline, "It's Meghan v Pippa in the…Wedding of the Rears." They also published side-by-side photos of Meghan and Pippa.
Meghan's photo was a paparazzi pic that featured the Suits star's backside while wearing black yoga pants. Pippa's pic was the infamous image of her from behind on Prince William and Kate Middleton's wedding day in 2011.
The story also suggested that Meghan was going to upstage the bride and have her own "Pippa moment."
As Page Six reports, when Meghan and Harry saw the headline and photos, they knew she could not attend the wedding.
"Harry and Meghan agreed that she couldn't possibly turn up at the church," the book states. "If they worried their arrival might create a media circus despite taking every precaution, now they had no doubt it would."
Meghan Markle secretly joined Prince Harry at Pippa's reception
Another surprise that Scobie and Durand revealed in Finding Freedom is that Meghan showed up at the reception after skipping the wedding ceremony at the church.
Harry dropped Meghan off at a nearby Airbnb then he drove alone to the church service in Englefield. While Harry was at the wedding ceremony, Meghan got ready for the reception and put on a "decidedly unflashy long black gown."
After the ceremony, Harry drove back to the Airbnb to have lunch with Meghan. Then, the couple drove to the reception together.
Scobie and Durand report that Pippa's seating chart separated all couples during dinner. Afterward, Harry and Meghan "spent most of their time chatting about their evening apart."
"They called it a night close to 2:00 AM, a protection officer driving them back to Kensington [Palace]," the journalists wrote.
Meghan Markle and Prince Harry deny contributing to Finding Freedom.