Meghan Markle Seemingly Confirms Prince William and Kate Middleton Were the Reason Behind Megxit in New Interview
Prince Harry and Meghan Markle also reportedly violated the deal they made with Queen Elizabeth when the urged Americans to vote.
When Meghan, Duchess of Sussex and Prince Harry announced they were stepping down as senior royals earlier this year, they didn't go into detail about their reasons behind the decision. They have indicated that the relentless press coverage and constant scrutiny were contributing factors. Harry and Meghan have also shared their goals of financial independence. But in a new interview, Meghan seemingly confirmed that Prince William and Kate Middleton were the reason behind Megxit.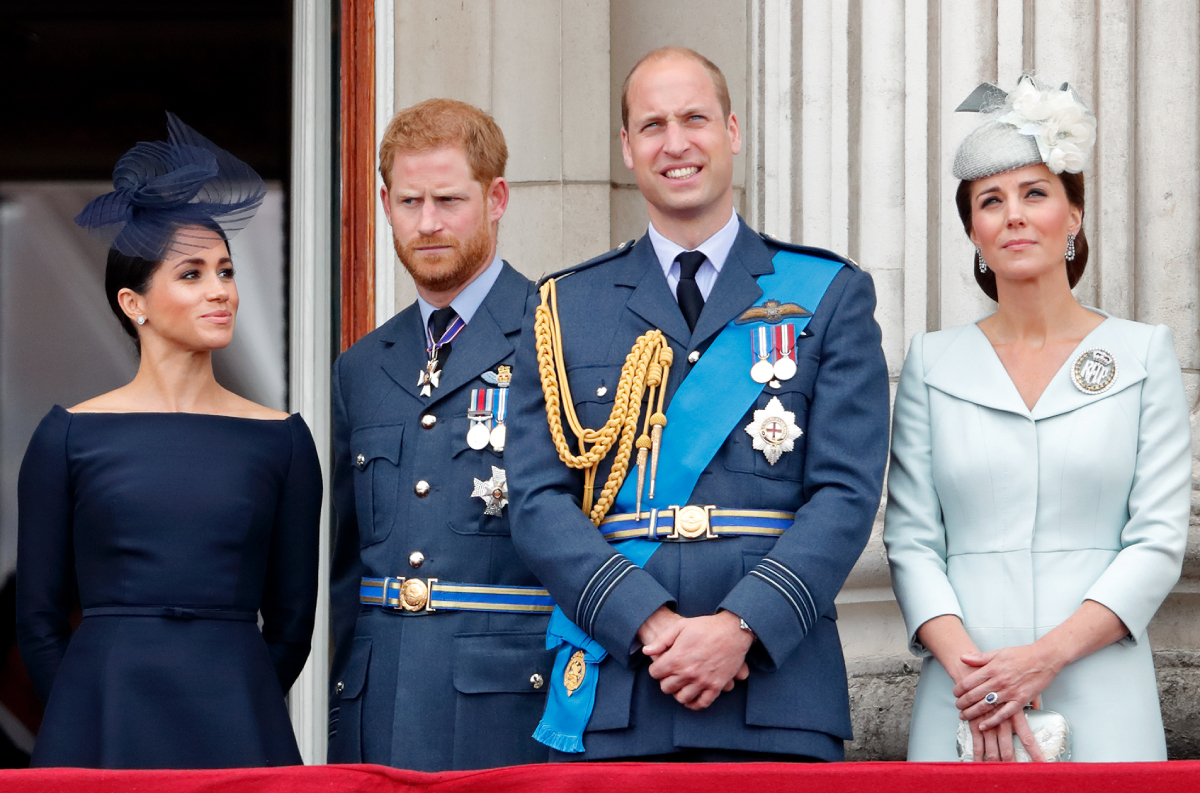 Meghan Markle's recent comments allegedly 'violated' Megxit deal
According to Page Six, when Harry and Meghan recently urged Americans to vote in the upcoming Presidential election, they violated their Megxit deal. The couple promised that "everything they do will uphold the values of Her Majesty."
The royal family remains politically neutral in the UK. Therefore, Meghan and Harry getting political has reportedly not gone over well with other royals. The Duke and Duchess of Sussex told American voters last week to "reject hate speech, misinformation and online negativity." They also called the upcoming election the most important in our lifetime.
"The [royal] family are all wringing their hands, thinking: Where is this going and does this abide by the deal to uphold the values of the Queen?" a royal aide revealed. "The feeling is it's a violation of the agreement."
Buckingham Palace clarified that any comments Harry and Meghan make are "in a personal capacity." However, an insider noted that if Trump is re-elected and visits the UK, it could get awkward.
"What is the Queen supposed to say when her grandson and his wife have effectively campaigned against him?" the source asked.
Harry and Meghan could have gotten a better deal, claims palace aide
The Duke and Duchess of Sussex announced their decision to exit the royal family before they spoke privately with senior royals. If they would have handled things in a more "private, dignified way," they would have received a more "beneficial" deal, claims a palace aide.
According to Express, a senior palace aide stated that Harry and Meghan could have lived the life they wanted. But they chose to announce on Instagram first that they were quitting the royal family. The announcement and the new Sussex Royal website reportedly "took the royal family by surprise."
In the biography Finding Freedom, authors Omid Scobie and Carolyn Durand wrote that their insiders also claimed Harry and Meghan made a mistake. They "oversimplified what they were asking for." And, the couple also "created a lot of ill will" with their website.
"They thought they would give Charles their rider, negotiate over email, rock up to London, give three months notice and fly back to Canada," the source claimed.
Meghan Markle seemingly confirms the real reason behind Megxit
The Duchess of Sussex recently sat down for an interview with feminist icon Gloria Steinheim. And during their conversation, Meghan made a comment that some believe gave new insight into the Megxit decision.
According to Express, Meghan said, "We are linked, not ranked." This caused some to accuse her of being a hypocrite because she and Harry still use the titles of Duke and Duchess. The comment also echoes what Scobie and Durand wrote in their biography.
Scobie and Durand explain that Harry and Meghan felt "cut adrift" and overlooked because William and Kate took precedence. They claimed that the Sussexes had to put their own projects aside in favor of William and Kate's.
"As their popularity had grown, so did Harry and Meghan's difficulty understanding why so few inside the Palace were looking out for their interests," the journalists wrote. "They were a major draw for the Royal Family… Instead they had to take a backseat."
One insider claims there are "buckets of bitterness" Meghan, Prince Harry and the Cambridges.