Meghan Markle Shouted at Kate Middleton's Staff Member: 'Kate Was Horrified' and It Resulted in the Fab Four Split, Source Claims
Was Meghan, Duchess of Sussex's behavior toward one of Catherine, Duchess of Cambridge's palace staff the reason why the "Fab Four" of Meghan, Kate, Prince Harry, and Prince William split? A palace source claims that Meghan shouted at a staffer and it set the ball rolling for the falling out between the duchesses and the foursome.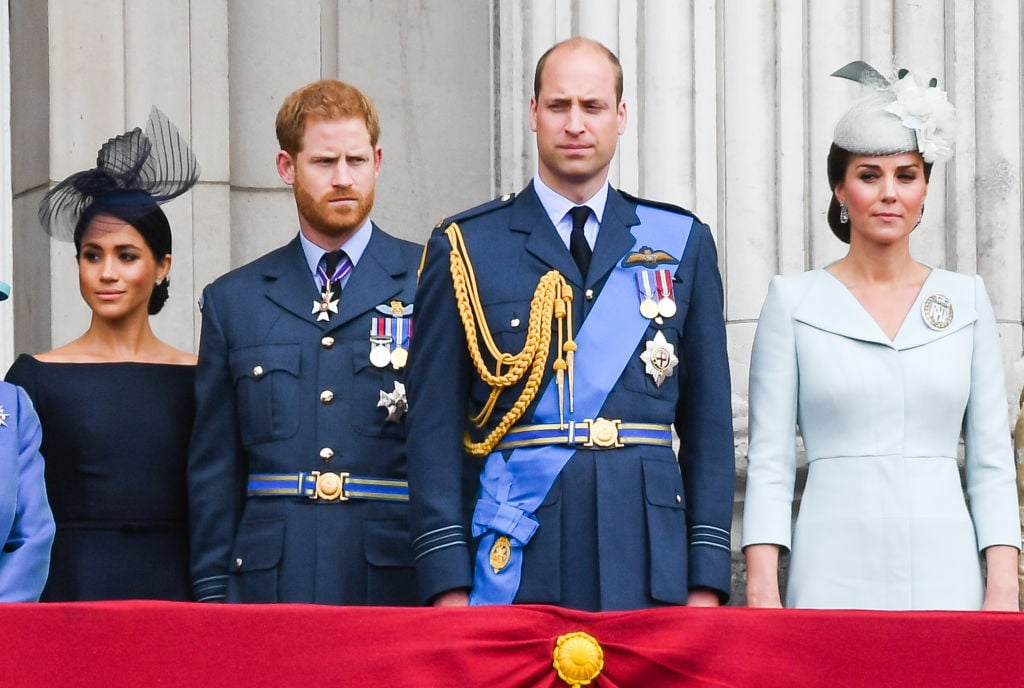 The duchesses got along initially
The new book Kensington Palace: An Intimate Memoir From Queen Mary To Meghan Markle, written by Tom Quinn, reveals what might have been the tipping point for the duchesses' rift. In an excerpt published in the Daily Mail, a source shared with the author how Meghan's shouting at a staff member didn't go over well with the Duchess of Cambridge.
Quinn notes that the servants at Kensington Palace have many stories to tell, including "the real reasons why Prince Harry's wife Meghan fell out with his brother's wife, Kate."
According to Quinn, "when Meghan first moved into Harry's cottage in the Kensington Palace grounds, Kate had been welcoming and both couples had got on well."
"Kate is actually one of the nicest royals, and she hasn't let life in her extremely grand apartment at Kensington go to her head — or at least not too much," a palace insider shared for the book.
"She is nice to her staff, in the main, and she was very warm towards Meghan when she arrived," the source added. "But tensions were bound to arise because Meghan inevitably had to accept that, although she is a duchess, she is not married to the next king. I think she has found that difficult to deal with."
Did Meghan and Kate's feud start because of Meghan's behavior?
According to the insider, Meghan wasn't pleased with how her cottage with Prince Harry "was tiny in comparison to the vast apartment complex where Kate and William live."
Another source shared how "being a royal goes to everyone's head eventually — and after a while, William and Harry would meet without their wives in tow to avoid rows and stony silences."
It was Meghan's reported behavior, however, that prompted Prince Harry and Meghan to move to Windsor, a former servant shared with the author.
Meghan 'shouted' at the staffer
Whether the incident really happened, of course, is uncertain, but the insider claims that it didn't go over well with the Duchess of Cambridge. "Kate was horrified when Meghan shouted at a member of Kate's staff — that was definitely the beginning of discussions about leaving Kensington Palace," the insider shared.
The source continued, "Like many people not used to dealing with servants, Meghan overdoes the imperiousness; so on the one hand she wants to be like Diana, a people's princess, and on the other she wants people to stand to attention when she clicks her fingers."
Meghan was seen as the "dominant partner in the marriage," Quinn writes, pointing out Prince Harry's saying "What Meghan wants, Meghan gets." Following the duchess' arrival, she was reportedly given nicknames such as "Me-Gain," the "Duchess of Difficult," "Di 2," and "Di Lite."
One palace insider believes that Meghan worried that she was looked down upon and it made her "overreact sometimes," adding, "she doesn't have Kate's assured way of dealing with people.'