Does Meghan Markle Have a Stylist?
Actor-turned-royal Meghan Markle always looks incredible in public. The former Suits star — aka the Duchess of Sussex — has a knack for being seen. Despite waves of negative attention from detractors, mainly from the UK, she continues to soldier on. And Markle does a lot of the heavy lifting herself when it comes to her appearance, according to friends. That includes serving as her own stylist.
No celebrity has carved a path quite as Meghan Markle has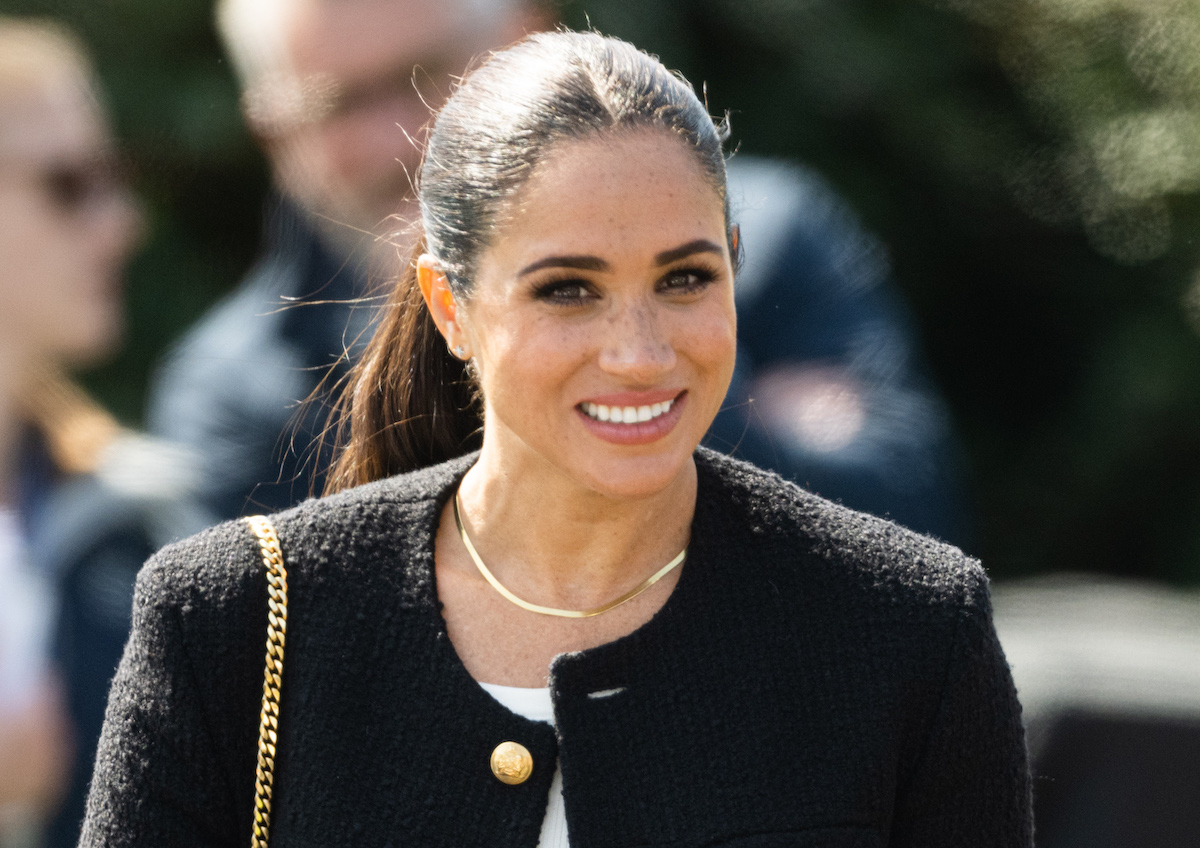 Markle came up in a world about as far from the royal family as one can get. She grew up in Los Angeles, where she enjoyed a middle-class upbringing. Her father, Thomas Markle, handled lighting on film sets. Because her parents divorced when she was only 6, Markle mostly grew up with her mother, social worker Doria Ragland, Good Housekeeping reports.
The actor became interested in drama at an early age. She worked on her craft seriously from high school onward and quickly landed minor roles in unproduced pilots. Markle even appeared on the game show Deal or No Deal. Landing Suits in 2011 was her breakout moment.
Most of that is a fairly standard path for a middle-class kid on their way to becoming a TV mainstay. The Suits actor met and began dating Prince Harry, Duke of Sussex, in 2016. The pairing was surprising, with a heavily polarized reaction. Suits fans were happy to see a fan favorite in such a high-profile and prestigious relationship.
But a racist backlash fomented as well, NBC News reports. A 2018 wedding and two children later, Meghan and Harry still find themselves alienated by a particular cadre of British society. They have since relocated to the United States to avoid the controversy that follows them in Prince Harry's homeland.
What did Meghan Markle say about not having a stylist?
Markle's minor celebrity as a Suits regular couldn't have prepared her for the attention garnered as a bona fide royal. She has always handled it well, carrying herself with the expected aplomb. But shockingly, she does this with no input from a stylist, CBS News reports.
Friends have noted that she chooses her outfits and hairstyles. Rather than placing the entire process in a professional's hands, she does the research. All of Markle's attention-grabbing ensembles are her work.
That likely explains one of the unique aspects of her overall style. She isn't shy about displaying a taste for high fashion. But just as often, she's seen wearing H&M — an affordable brand. Markle even mixes and matches H&M with luxe pieces, preferring to dress to her personal taste rather than price.
She isn't the only celebrity who doesn't use a stylist
Relying on a professional stylist is a Hollywood standard. But a handful of actors and models have developed their own sense of style, according to Harper's Bazaar. Some of them are so noted for their fashion sense that it might surprise some readers.
The Good Place star Jameela Jamil played an ultra-rich model who would rather die than go through life without a stylist. And though the model/actor shares some similarities with her character, there's one significant difference: Jamil always comes up with her own outfits.
Mad Men actor/former model January Jones does the same. Though her runway appearances were always the designers' choice, she leverages that experience to dress herself for public appearances.
And Annie Hall legend Diane Keaton also handles her own outfits. Her iconic ensembles inspired legions of imitators in the 1980s. She has subtly evolved her celebrity style over the years and is continually considered one of the best-dressed celebrities. But that was never a contrived plan developed by a stylist or PR agency. Keaton has always handled her own looks, just as Markle does.