Why Did Meghan Markle and Trevor Engelson Get Divorced?
Meghan Markle was married to Trevor Engelson for just under two years, but the couple dated for nearly seven. Why did they get divorced?
Meghan Markle and Prince Harry might seem like the perfect couple, but they weren't each other's first serious relationship. Harry was committed for years to Chelsy Davy, the daughter of a wealthy Zimbabwean safari operator. And believe it or not, Meghan was actually married to producer Trevor Engelson for less than two years. But what caused this couple's divorce?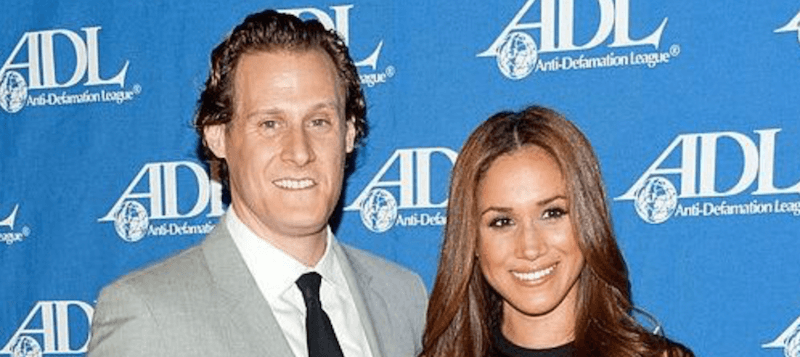 Meghan met Trevor back in 2004
Trevor and Meghan met about seven years before they tied the knot. Engelson is a Hollywood film producer who has worked on movies such as Remember Me, License to Wed, and All About Steve. He's five years older than Meghan, and although how the two met is a bit murky, they appeared to hit it off right away, considering they spent seven years in a committed dating relationship.
The couple married in Jamaica in 2011 but divorced after less than two years
The two dated from 2004 to 2011, when they finally decided to tie the knot in Ocho Rios, Jamaica. The wedding was casual, with rum punch and barbecue. According to Elle, Meghan wore a strapless gown while Trevor wore a white button down. A lot about their relationship isn't well known because realistically, neither of them were too high profile at the time. However, despite the years they spent dating, their marriage didn't last. Meghan filed for divorce in August 2013, citing irreconcilable differences.
Lies and dishonesty may have been a cause for the divorce
Meghan has never widely discussed her divorce from Trevor, but she took to her lifestyle blog, The Tig, after the announcement was made. She quoted a Portuguese self-help author in her post, which fans assumed was largely aimed at Trevor. Some of the lines read, "I no longer spend a single minute on those who lie or want to manipulate. I decided not to coexist anymore with pretence, hypocrisy, dishonesty and cheap praise." The quote seems to suggest that there was some lying and dishonesty going on in the relationship, although it was never confirmed that Trevor had stepped out on his wife.
Others suggest the long distance became a major struggle for the couple. Right around the time that Meghan and Trevor wed, Meghan was cast as Rachel Zane in Suits and immediately had to begin filming in Toronto — quite the distance from Los Angeles where Trevor lived. It could have been that the constant traveling got the best of them, and ultimately caused their divorce.
But Trevor claims Meghan divorced him out of nowhere
Although Meghan hasn't discussed the divorce much, Trevor seemed to think it was completely unwarranted. According to Cosmopolitan, Andrew Morton, a royal biographer who profiled the Duchess of Sussex, suggested in a book that Trevor had no idea the divorce was going to happen. A friend close to Trevor said he went from being the most important person in Meghan's life to being nothing more than an annoyance. Supposedly, Meghan mailed back her wedding and engagement rings; that's how abrupt the divorce was. Meghan's career was headed to new heights with Suits while Trevor's career didn't seem to be going places, and those close to Trevor have suggested this may have contributed to Meghan leaving him.
Check out The Cheat Sheet on Facebook!