Meghan Markle Warned About Being 'Upstaged' By Beyonce
Meghan Markle and Prince Harry rubbed shoulders with some Hollywood elites during the London premiere of The Lion King over the weekend. The Duke and Duchess of Sussex mingled with Beyonce, Jay Z, Pharrell Williams, and Elton John at the star-studded bash. While Markle's encounters at the premiere went smoothly, some royal experts warned her that interacting with Beyonce would cause backlash no matter how she handled the situation.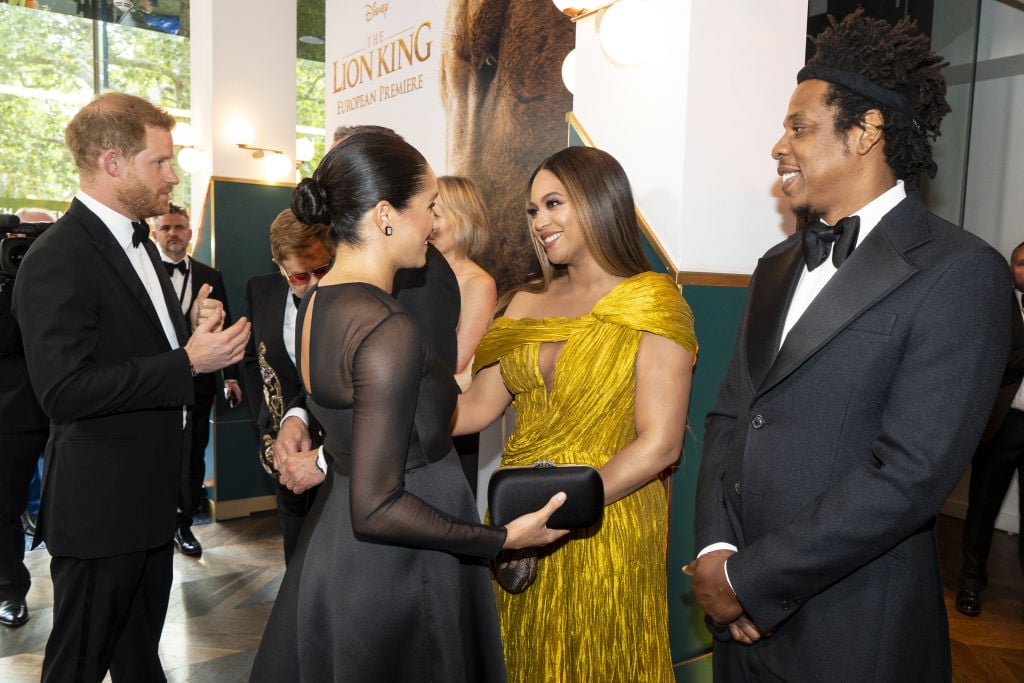 A look at Markle and Beyonce's friendly exchange
Markle and Harry wowed royal watchers when they attended the premiere at Soho's bustling Leicester Square. The two were at the event as part of the Royal Foundation. Markle dazzled onlookers with a black dress while Harry rocked a matching suit.
The couple, who recently welcomed their first child, held hands as they made their way into the event and were not afraid to mingle with the celebrity guests.
Meghan Markle's interactions with Beyonce naturally grabbed everyone's attention. According to Express, body language specialist Judi James characterized their interaction as warm and friendly. Not only did they share a quick hug, but they also kissed on the cheek, an affection that is rarely seen with members of the royal family.
In fact, it is a tradition to avoid physical contact with the royals, a rule Markle and Beyonce both ignored.
"These two greet one another with a ritual that defines them as warm friends," James shared. "Meghan performs a head tilt of friendly recognition as she gets to Beyonce in the lineup, then announces and instigates the embrace by raising her left hand up."
Experts warn Meghan Markle about backlash
When the royal family first announced Markle and Harry's plan to attend The Lion King premiere, royal experts warned that Markle would face backlash if she interacted with the pop icon. Some royal watchers believed that Markle put herself in a difficult situation no matter how she handled the premiere.
If she avoided interacting with celebrities at the event, then she would probably have been criticized for snubbing them. On the other hand, being warm and friendly with Beyonce has also resulted in backlash, mostly given Markle's previous Hollywood ties.
This, of course, is not the first time Beyonce and Markle have interacted in a public setting. After Beyonce won a Brit Award earlier this year, she gave a shout out to Markle during her acceptance speech on social media.
The award coincided with Black History Month in America, which is why the pair honored Markle in their video. It is unclear if Meghan Markle and Beyonce had ever met prior to The Lion King premiere, but they certainly seemed like close friends at the event.
Did Beyonce upstage Markle?
Another point of contention is the claim that Beyonce upstaged Markle at the premiere. Beyonce and Jay Z arrived after Markle and Harry, which was seen as a slight towards the royal couple. Members of the royal family typically arrive last as they are the most important guests at a given event.
Beyonce also chose to walk down the yellow carpet after Meghan Markle. This act is usually reserved for the most famous celebrity at the premiere and should have been saved for Markle.
If Markle and Harry felt like they were being upstaged by Beyonce and Jay Z, they showed no signs of it. Instead, Markle and Beyonce exchanged a very friendly hug and peck on the cheek and seemed genuinely happy to see each other.
Meghan Markle and Harry have not responded to the rumors surrounding their appearance at the event. The couple has enjoyed a busy week as Markle gets back into the swing of things following her maternity leave.
Markle makes the rounds with Archie
Last week, Markle showed up for a charity polo event with Prince William and Kate Middleton. Markle and Harry brought baby Archie along for the festivities, marking one of their first public outings as a family.
Meghan Markle also appeared at Wimbledon to watch her good friend, Serena Williams, compete in the final. Despite rumors of a growing feud, Markle brought Middleton along with her to the match.
Apart from meeting celebrities, Markle and Harry mingled with members of the crew during the premiere of The Lion King. Following the movie, the Duke and Duchess met with organizations about conservation efforts and environmental initiatives around the world.
The Lion King is set to open in theaters on July 19.