Meghan Markle Was Destined for Royalty Long Before She Became the Duchess of Sussex Claims Former Co-Star
Most royal watchers were surprised when Prince Harry confirmed his relationship with Meghan Markle in the fall of 2016. Although she had a promising career ahead of her, Meghan, Duchess of Sussex, was a relatively unknown actress who had a major role in the legal drama, Suits. But one of her former co-stars claims that he always knew Meghan was destined to become a part of the royal family, long before she became famous.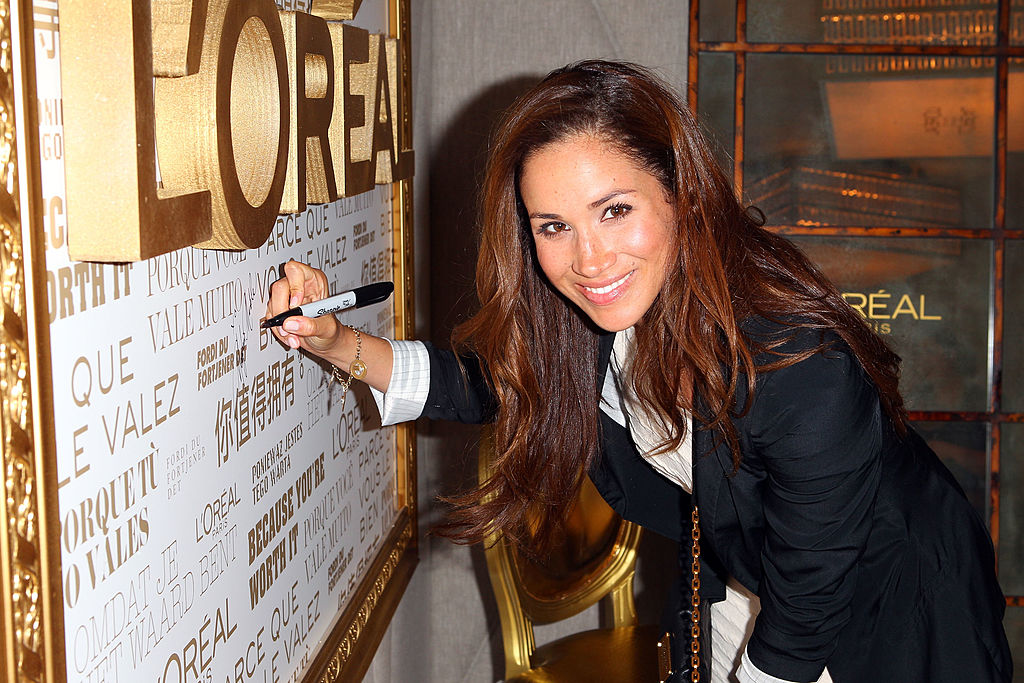 Meghan Markle gives up acting
When she first started dating Harry in 2016, Meghan was starting to make a name for herself in Hollywood. Suits was her first big break in television, and Meghan was in the middle of season 6 when Kensington Palace confirmed that she was dating Harry.
Once her romance with Harry got serious, Meghan made the decision to quit acting. She appeared in one more season of Suits before leaving her career behind for a completely different life in London.
Meghan and Harry tied the knot in the spring of 2018 and she immediately started working for the monarchy. A year after the wedding, Meghan Markle gave birth to her first child with Harry, Archie Harrison.
Although Meghan has since left the royal spotlight and is now living in Canada with Harry and Archie, one of her former co-stars claims that he always knew she was destined for royalty.
Who thought Meghan Markle would join the royal family someday?
Right after she landed the part of Rachel Zane on Suits, Meghan Markle appeared on the hit game show, Deal or No Deal. Meghan worked as a "briefcase woman" on the show.
But according to Express, host Howie Mandel recently joked that he immediately knew she was going to be royalty during their brief interactions on the set.
"I did, I saw her as royalty," Mandel stated. "Really. During the commercials, I would bow down to her. And she would ask, 'why are you doing that? why are you doing that?'"
Mandel added that he would always tell Meghan Markle that she will one day understand why he bowed to her. The actress never understood what he meant, at least not until she fell in love with Harry.
Mandel was obviously having a little fun with the fact that Meghan once appeared on his show, but there is a chance that the Duchess of Sussex returns to the world of entertainment in the near future.
What's ahead for the Duchess of Sussex?
Meghan and Harry's exit from the royal is expected to go into effect this spring. But before their departure becomes official, the two are reportedly going to return to the UK for one last public outing.
Queen Elizabeth has reportedly asked the Duke and Duchess of Sussex to attend the Commonwealth Day service in March. If that happens, it will likely be the last time we see Harry and Meghan alongside other senior members of the royal family, including Prince William and Kate Middleton.
Once Megxit is official, Prince Harry and Meghan Markle will be spending the majority of their time in North America as they look to make a living for themselves.
As part of their exit strategy, the couple will become financially independent from the crown, which means no more public funding. Exactly how they make money is yet to be seen, but acting is definitely an option for Meghan.
Prince Harry and Meghan Markle spotted in public
While fans wait to see what is next for the Sussexes, Harry and Meghan recently enjoyed a rare public outing. The couple was spotted leaving an airplane at the Victoria International Airport in Canada a few days before Valentine's Day.
Harry rocked a hat a sweater for the outing, while Meghan Markle donned a pair of jeans and a cardigan. The two were seemingly alone as Archie was nowhere to be seen.
The sighting comes a few weeks after Harry and Meghan spoke at a summit in Miami that was hosted by JP Morgan. Harry allegedly spoke about his decision to leave the royal family at the event and was paid for his appearance.
Prince Harry and Meghan Markle have not commented on the reports surrounding their exit. In their official statement, they noted that they wanted to establish a second home in North America, though it is still unclear if they will end up in Canada or Los Angeles.