Meghan Markle's Former BFF Jessica Mulroney Reportedly Considering a Tell-All 'Because She Has Nothing to Lose'
Jessica Mulroney is preparing to take her feud with Meghan Markle to the next level. The two experienced a major falling out amid Jessica's "white privilege" scandal, and sources say that she is now thinking about writing a tell-all about Meghan, Duchess of Sussex, to set the record straight. The book will reportedly cover when Meghan filmed Suits in Canada and could reveal the Duchess's dirtiest secrets.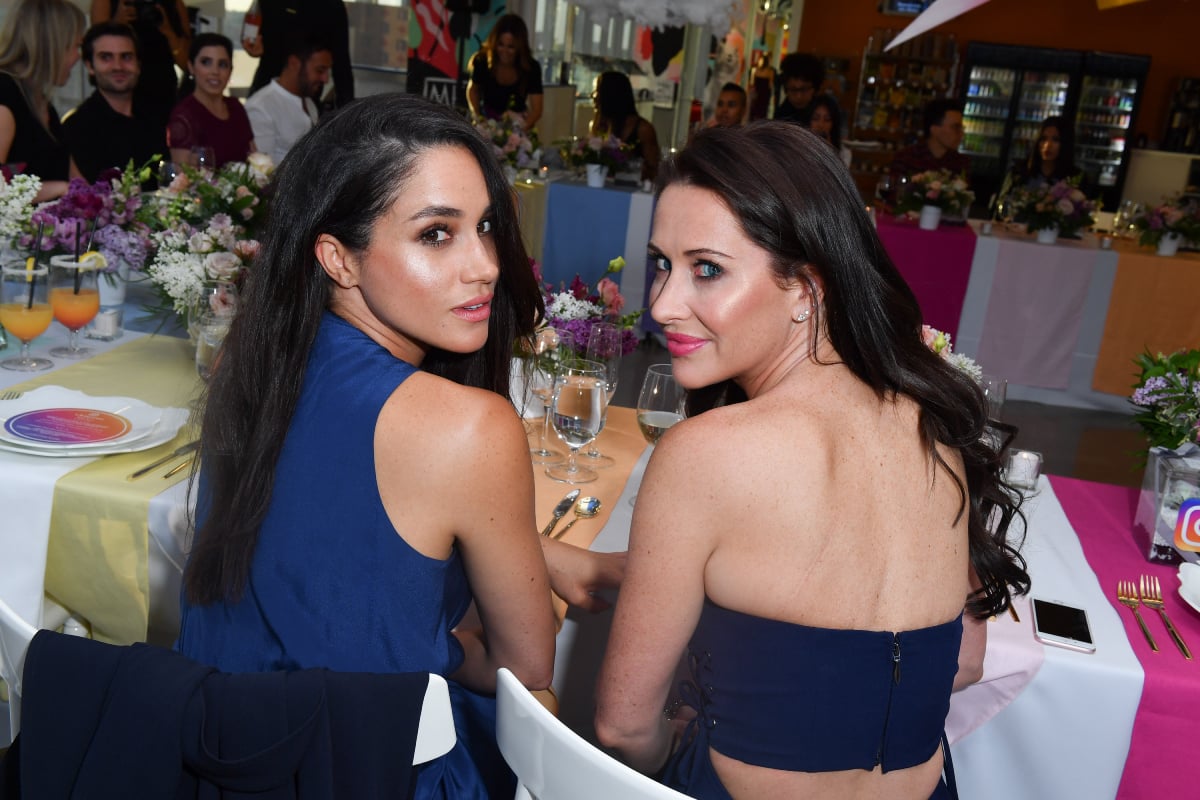 Meghan Markle and Jessica Mulroney part ways
Meghan and Jessica's friendship reportedly fell apart over the latter's "white privilege scandal" that surfaced a few weeks ago. As royal watchers will recall, Jessica found herself in hot water after sending some hateful messages to Sasha Exeter, an influencer on social media.
Jessica took issue with one of Sasha's blog posts that asked people to support the Black Lives Matter movement on social media. Jessica thought the blog was aimed at her and sent Sasha threatening messages about how she was going to ruin her career.
After the scandal made headlines, Meghan reportedly cut ties with Jessica, who allegedly tried to reach out. In response, sources told Page Six that Jessica was "warned that she is unlikely to be readmitted to her inner circle."
"Their friends have told (Mulroney) not to expect to hear back from Meghan because when she cuts someone off, she's done for good — just like with her family," the insider added.
Was their friendship over before the 'white privilege' scandal?
Although it seems as though Jessica's scandal is what ended her friendship with Meghan, some inside sources claim that their relationship was on the fritz long before that.
According to Page Six, sources say that Meghan felt as though Jessica was taking advantage of their relationship to further her career. Although Jessica was Meghan's maid of honor at her wedding with Prince Harry in 2018, the former Suits star began cutting her off long before the scandal.
"I don't know what the tipping point was, but Jess has been on the outs for some time," an insider dished. "Their friendship is definitely not what it was. And really, how can you have such a close friendship when one person is basically making a career out of the friendship?"
The source added that Jessica is very worried about the situation and believes that Meghan has ditched her "for good." The insider also added that Meghan really ended their friendship "just to look woke."
Meghan has not commented on the rumors surrounding her friendship with Jessica. The Duchess of Sussex is currently living in Los Angeles with Harry and their son, Archie Harrison.
Jessica Mulroney lost more than her friendship with Meghan Markle
There is no doubt that Jessica benefited from having a friendship with Meghan. But now that their relationship is seemingly over, Jessica has lost a lot more than her best friend.
Not only has Meghan cut ties with her, but Jessica also lost her gig on Good Morning America and her upcoming show, I do Redo. Producers apparently want nothing to do with Jessica following her scandal.
Jessica's long-time business relationship with Hudson Bay has also ended and she recently walked away from the charity she launched called The Shoebox Project.
In light of everything that Jessica has lost, sources claim that she has become very desperate. Things have even reached a point where Jessica is reportedly thinking about writing a tell-all book about Meghan, which could make things very interesting.
Is Jessica Mulroney planning to spill secrets?
A source says that Jessica is currently "at her wits" end and wants to write a book about her friendship with Meghan "because she has nothing to lose."
Jessica has not confirmed the rumors, but there is little doubt that she could find a publishing house to release her tell-all. Jessica worked as Meghan's stylist when the former actress was working on the hit legal drama, Suits, in Canada. The two sparked up a friendship and remained close even after Meghan joined the royal family.
We don't know what will happen with Jessica's tell-all, but she is not the first friend Meghan has ditched over the years.
Ever since she relocated to LA, the Duchess of Sussex has reportedly parted ways with several of her close friends in the area. In fact, an insider recently revealed that Meghan has no idea who she can trust and has not reached out to her old circle of friends.
"Meghan has cut off most of her old friends in LA. They were so excited to see her when she came back home and were expecting to hear from her," the source stated.