Meghan Markle's Invictus Games Comment Possibly a Dig at Royal Family — Expert
Meghan Markle joined Prince Harry at the first few days of the 2022 Invictus Games and while introducing her "incredible husband," the 40-year-old made what a royal expert described as a "slightly barbed" comment about service, possibly directed at the royal family.
TL;DR: 
Meghan Markle introduced Prince Harry at the opening ceremony of the 2022 Invictus Games. 
A royal expert thinks Meghan Markle addressed the British royal family in her remarks with a "slightly barbed" comment. 
Prince Harry and Meghan Markle could see the royal family in June 2022.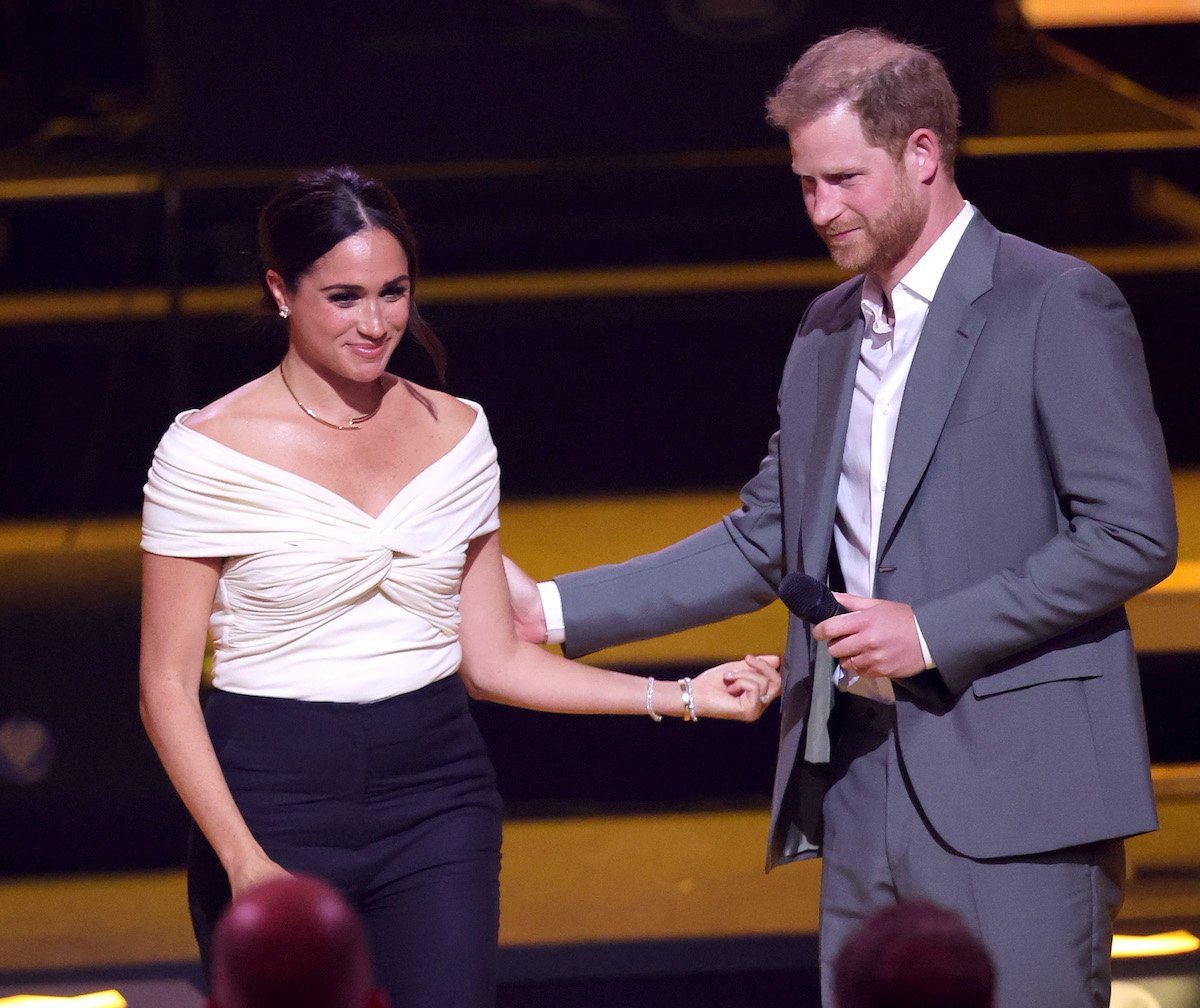 Meghan Markle kicked off the 2022 Invictus Games alongside Prince Harry in The Hague, Netherlands. Not only did the Duke and Duchess of Sussex cheer on competitors, but they also spoke at the opening ceremony of the games. According to a royal expert, it appeared as though Meghan made a "barbed" comment directed at the British royal family during her remarks.
Meghan Markle introduced Prince Harry at the 2022 Invictus Games opening ceremony
Meghan addressed competitors and their families at the opening ceremony of the 2022 Invictus Games on April 16, 2022. The 40-year-old took the stage in a black and white outfit to introduce Harry as the founder of the games. 
Harry spent "many late nights and early mornings" planning the games to make them "as perfect as possible" for competitors, Meghan told the crowd. From there, she thanked everyone for their service. 
"One thing I know for sure is that every single moment it has taken to get here will be worth it, because it is here at the Invictus Games that we honor your years of active duty on the field and your continued service to your country, to your family and your community off the field," she said. 
"Thank you so much for your service," she added. "And thank you to all the family and the friends that are here, who've been supporting you along the way. Because this is service, this is dedication, and this is the Invictus family.'
Meghan went on, welcoming Harry to the stage as her "incredible husband" and someone she "could not love and respect" more. 
A royal expert says Meghan Markle's Invictus Games speech included an 'interesting choice of words,' innuendo 
Ingrid Seward, royal commentator and editor-in-chief of Majesty magazine, examined Meghan's remarks. She told The Sun the Duchess of Sussex used "an interesting choice of words." 
"It's evocative language and perhaps is slightly barbed," Seward said, noting "there's definitely a little innuendo there."
An innuendo to what? When Harry and Meghan stepped back from royal life, Queen Elizabeth II released a statement via Buckingham Palace. In it, she said the two wouldn't "continue with the responsibilities and duties that come with a life of public service." 
While royals appeared to quietly welcome the exit, Harry and Meghan replied to the queen's statement with a short response. A spokesperson for the couple said they remained "committed to their duty and service to the U.K. and around the world."
However, the most notable part of their reply came in the form of 11 words: "We can all live a life of service. Service is ­universal."
Royal expert says Queen Elizabeth II has offered an 'olive branch' to Meghan Markle and Prince Harry
Whether or not Meghan's Invictus Games remarks included a jab at the royal family, she and Harry may be seeing them soon. On their way to the games, the couple made a surprise stop in England. They visited Queen Elizabeth II after not attending Prince Philip's memorial. 
According to Seward, their brief visit to Windsor Castle shows an "olive branch has been offered" to Harry and Meghan. Queen Elizabeth II "will be hoping they accept it," she added, explaining that the 95-year-old is "all about forgiveness."
"The Queen is all about forgiveness," she said. Look at Fergie and Andrew. And she would certainly be happy to have Harry and Meghan around her for the Platinum Jubilee celebrations."
"She wants to present a united family on an occasion like the Jubilee," Seward added. "Because an occasion like that certainly won't happen again."
So Harry and Meghan may end up at the platinum jubilee festivities despite not commenting on Queen Elizabeth II's milestone.