Meghan Markle's Poetic Necklace is a Beautiful Tribute to Prince Harry
Meghan Markle is one of the most famous members of the royal family in the world at the moment. She has also been regarded as a style icon, so it is not surprising that fans often pay close attention to every piece of her outfits. She recently traveled back to the U.K. for a bit …
Meghan Markle is one of the most famous members of the royal family in the world at the moment. She has also been regarded as a style icon, so it is not surprising that fans often pay close attention to every piece of her outfits.
She recently traveled back to the U.K. for a bit and visited London's National Theater. There, fans noticed a special necklace that Markle was wearing. On the surface, the necklace looks rather simple and understated. However, it seems that it has a beautiful meaning behind it and could be Markle's own little tribute to her husband Prince Harry.
What makes Meghan Markle's necklace so special?
Markle's necklace is a pendant made by designer Sophie Lis. The necklace has plus and minus signs made from gemstones as well as a few French words to say "+ qu'hier" (more than yesterday) and "- que demain" (less than tomorrow). It is inspired by the poem "The Eternal Song" by French poet Rosemonde Gerard, which talks about undying love between two people who have grown old together. The necklace specifically refers to a line that says "For, you see, each day I love you more, today more than yesterday and less than tomorrow."
Fans believe that Markle's necklace is a subtle tribute to Prince Harry, whom she married in 2018. The couple has one son together named Archie.
Where can you buy Meghan Markle's necklace and how much does it cost?
The necklace can be bought on Sophie Lis' website for £400 or about $463. It is currently out of stock, though you can pre-order it, and the company will ship within the next four to six weeks.
A special bonus of buying the necklace is that proceeds will go to support animal welfare. The website claims that 10% of each sale will go directly to the Wild at Heart Foundation, which hopes to "rehome 10,000 dogs, neuter 100,000 dogs and educate 1,000,000 children."
Meghan Markle sometimes likes to send messages with her outfit choices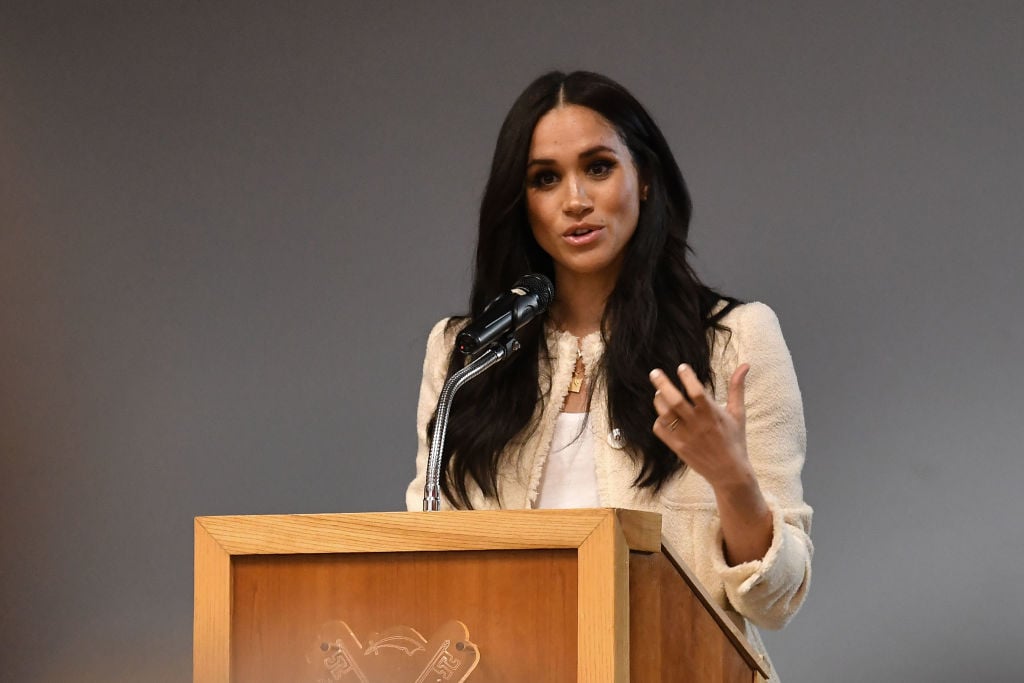 Markle has a history of sending messages with her outfit choices, so perhaps it is not surprising to fans that she chose to wear an accessory that both shows her love for Prince Harry and supports a worthy cause.
For example, Markle has shown her support for other causes as well – most notably, sustainability. She is known for wearing clothes from ethical brands that are both eco-friendly and cruelty-free, such as Stella McCartney, Reformation, Kayu, and Outland Denim. Since Markle's outfits get a lot of attention, many of these brands have been able to benefit greatly from having support from her.
In terms of sending hidden messages with her clothes, Markle has done that several times in the past. For instance, just before she and Prince Harry announced their engagement, she sported a Misha Nonoo shirt called "Husband" to an event. Markle did this again after she announced her pregnancy and wore a dress called "Blessed."
Other royals do this too
Of course, Markle is not the first nor the last royal to send statements with their outfit choices. Other royals take advantage of the attention that they draw to do this as well.
Queen Elizabeth – who often keeps her political opinions to herself – seems to talk through her brooches and jewelry choices. Fans read a lot into the accessories that Her Majesty chooses, and has even come to the conclusion that some of them were used to snub President Donald Trump when she met him.
Meanwhile, Princess Michael of Kent – one of the most controversial members of the British royal family who has a long history of racist behavior – once wore an offensive blackamoor brooch to a luncheon with Markle. Although Princess Michael's publicist denied that it was an intentional shade at Markle, many onlookers found it hard to believe that it was just a harmless coincidence.