Meghan Markle's Vancouver Fitness Routine Includes Alone Time With Archie
Find out the sweet way Meghan, Duchess of Sussex incorporates her toddler son into her fitness routine.
Fitness is a huge part of Meghan, Duchess of Sussex's life. Ever since she was a Hollywood actress, Meghan has made it a priority to stay active no matter where she is. She is known to be a fan of yoga, running, and even at-home workout DVDs.
It comes as no surprise, then, that the Duchess of Sussex is still trying to fit in exercise routines at her new home in Vancouver Island, Canada. In fact, her new go-to routine includes some alone time with her son Archie. Read on below to find out what the duchess has been doing on Vancouver Island.
Meghan Markle and Prince Harry have been living in Canada for a few months
Meghan and Prince Harry went on vacation to Canada over Christmas break. It was initially thought that the pair would simply spend time in North America for some time before returning to the U.K. However, in early January, Meghan and Prince Harry announced that they would like to step down as royals and also to split their time between the U.K. and North America.
In the statement that they released, the Duke and Duchess of Sussex said: "We now plan to balance our time between the United Kingdom and North America, continuing to honour our duty to The Queen, the Commonwealth, and our patronages. This geographic balance will enable us to raise our son with an appreciation for the royal tradition into which he was born, while also providing our family with the space to focus on the next chapter, including the launch of our new charitable entity."
Since then, Meghan, Prince Harry, and their son have been staying in a $14-million mansion on Vancouver Island, Canada. It comes with five bedrooms, eight bathrooms, a cottage, and more. Security has also been ramped up to ensure the family's privacy.
Meghan and Prince Harry occasionally make trips back to the U.K. for official business or family reasons, though the Sussexes seem to largely be residing in Canada now for the time being.
Meghan Markle and Prince Harry have been spending a lot of time with Archie in Canada
Being on Vancouver Island has allowed Meghan and Prince Harry to escape the hectic life of being British royals. The couple reportedly enjoys having a quiet existence and being able to spend time with Archie.
"They are enjoying living a quiet life," a source told Page Six. "They go for long walks, they do yoga, and Meghan cooks. [Harry and Meghan] are real homebodies who love to chill out with Archie and the dogs."
Another insider also shared that Meghan and Prince Harry really value their time with Archie, saying: "Archie is the priority. It's very much still about taking care of him and putting the family first. He's a happy kid—he loves to laugh."
Meghan Markle reportedly likes to take walks with Archie every day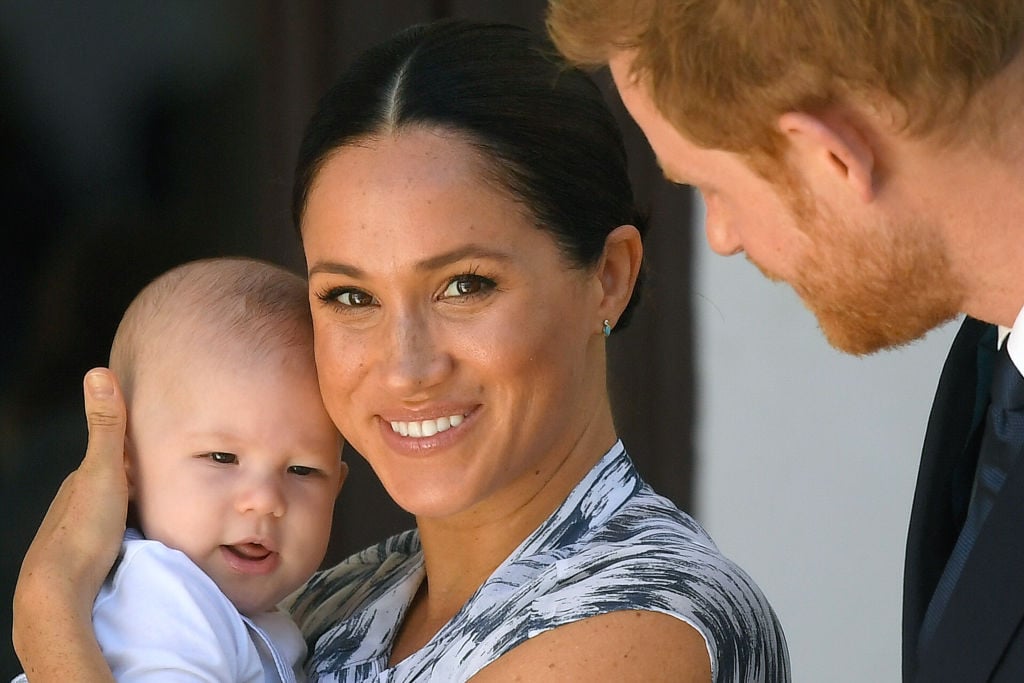 Meghan has reportedly figured out a way to both spend time with her son and get in her daily exercise. According to Us Weekly, a source revealed that the duchess can often be seen walking in the woods near her house with Archie. The insider shared that she does this everyday for about an hour or two.
"She either pushes him in a stroller through the paved trails through the public woods by their home or straps him on and walks the more rustic routes," the source said.
A number of locals have allegedly been able to encounter Markle during one of her walks, and the insider shared that she is "very kind" and "pleasant" to everyone she meets. She usually bonds with them over parenting or talks about the weather.