Meghan McCain From 'The View' Calls out Wendy Williams for Cruel Joke
Meghan McCain is one of the most vocal co-hosts on The View. The conservative does not hold back her opinions and is known to take on Joy Behar and even the show's moderator Whoopi Goldberg. McCain recently denounced Wendy Williams after the latter mocked Joaquin Phoenix on her daytime talk show.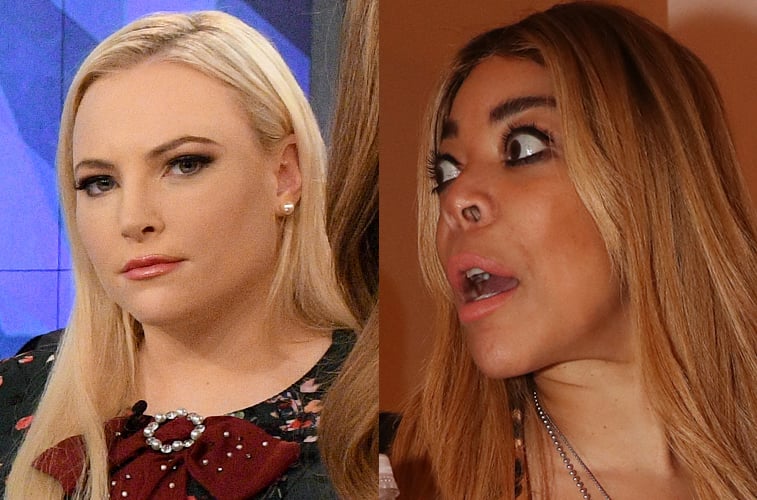 On Williams' show that aired on January 7, the host said she found Phoenix attractive. There was one particular feature that the TV personality said she liked.
"When he shaves off his mustache he's got a hairline fracture," she said about the Joker star. "He's got one of those — what do you call it? Cleft lip, cleft palate."
Williams is then seen lifting her upper lip seemingly mocking Phoenix.
"He's got this. He's got this. I find it to be very attractive," Williams said as the audience cheered and laughed.
After an uproar from audiences, including football player Adam Bighill, who called for Williams to be fired from her show, she posted an apology on Twitter.
"We're thinking about Beau [Bighill's son] today as he is in surgery," Williams tweeted. "I want to apologize to the cleft community and in Beau's honor, our show is donating to Operation Smile and [American Cleft Palate-Craniofacial Association] and encourage our Wendy Watchers to learn more and help support the cleft community."
Meghan McCain puts Wendy Williams on blast
McCain took offense to Williams's actions as she shared that her sister was born with this condition.
"Wendy, my little sister was born with a cleft pallet," The View star tweeted. "Making fun of anyone for being born with it is just gross and cruel. If anyone wants to help children born with them, Operation Smile does incredible work for providing cleft lip and palate repair surgeries to children worldwide."
Cher also called out Wendy Williams
The legendary Cher also called out Williams for her actions and even called out for her firing.
"There is no apology for what she did and laughed about," Cher wrote. "I know these children and adults. They go through hell, their parents go through hell. F***her apology. She wants to keep her job. Can't contain anger."
In another tweet, Cher tried to make Williams understand how insensitive she was.
"I was trying to try and hold my temper but I'm so f**ing angry, I can't," Cher tweeted at Williams directly. "In 1985 I made a film called Mask, through that film I became involved with children and adults who had craniofacial anomalies. You have no idea what these people go through. Twenty-plus operations."
Cher conveyed the suffering the families go through when someone has this condition and suggested Williams should be let go from her television show.
"Much of the time they are in pain, afraid, but have hope they will look normal," Cher said in another tweet. "The [heartbreak] and fear their parents go through is unbearable. If your mom saw what you did she'd be ashamed. My mom taught me to love and help [people] in pain. Who are you? You should be fired."
Although Williams apologized for her actions there is a petition where fans have asked for severe discipline. For now, The Wendy Williams show will continue to air in syndication nationwide.