Meghan McCain Hosted A Political Show Aimed At Millennials Before Joining 'The View'
Conservative co-host Meghan McCain has truly made her mark on ABC's daytime talk show The View. Often coming to verbal blows with fellow panelists Whoopi Goldberg, Sunny Hostin, and especially Joy Behar over political matters, McCain has proven she speaks her mind regardless of who may or may not agree with her.
Fans of the show may not realize that McCain once hosted her own program with a political platform on a pioneering network directed at millennials.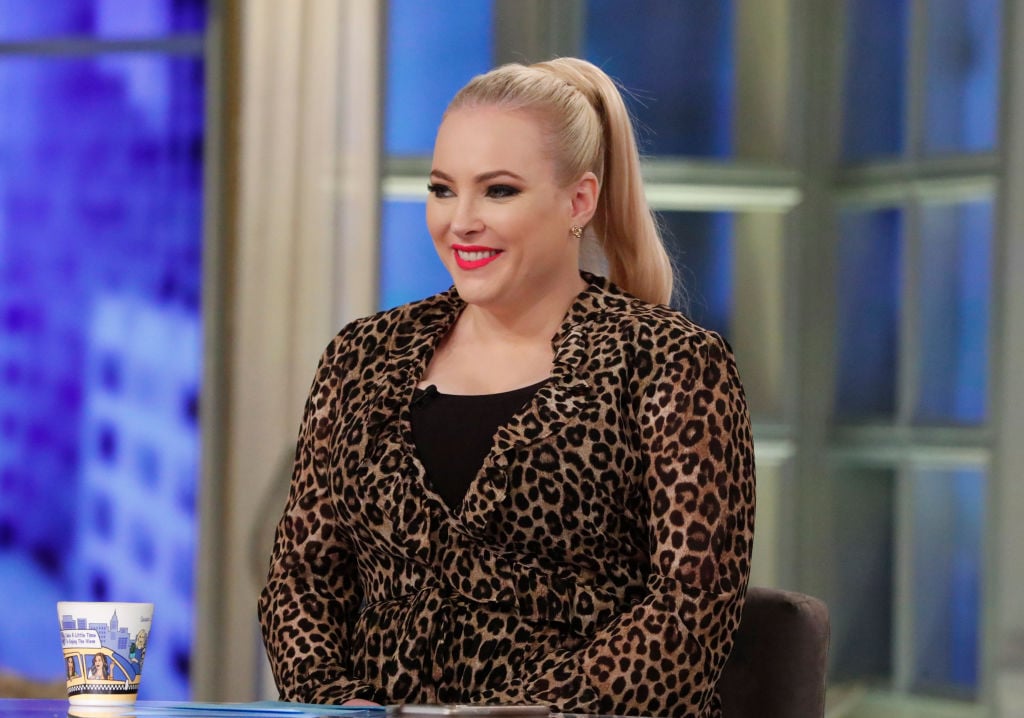 McCain's career pre-'View'
As the daughter of the late Senator John McCain, the talk show co-host knows her way around the world of politics. The graduate of Columbia University and former intern of Newsweek and Saturday Night Live has also written several books, and kept a blog reporting from her father's 2008 Presidential campaign.
Serving on radio shows and as a contributing writer for the Daily Beast, some of McCain's previous television gigs include contributor on MSNBC and co-hosting Fox News' Outnumbered before joining The View in 2017, as reported by Closer Weekly.
McCain previously revealed that she was even extended an invitation to be on one of NBC's most popular former reality shows. "I was asked to be on The Apprentice several times and said no," McCain recalled, according to People, saying she even got a call from then-future-President Donald Trump trying to recruit her for the NBC hit series.
"He [Trump] left a voice message and I didn't call back. I didn't want to be an Apprentice," McCain said.
In 2013, the co-host of The View got the opportunity to host her own show on a new network that was targeting her own demographic.
Targeting millennials
McCain launched her road-based talk-reality TV program Raising McCain in September 2013 on Pivot TV, a start-up cable network aimed at drawing in millennials.
"I am a socially liberal Republican," she said in 2013, according to SF Gate. "And in many ways, I have been ostracized from my party. I have been ostracized in the media as well. I am too conservative for MSNBC, and I am too liberal for Fox. Where am I going to go? I'm going to go to Pivot. And honestly, I believe I am here because I believe in more than this country is being given right now when it comes to news and the media." 
The View co-host wanted to mix things up in the show's format by having a different guest co-host with her for each episode, making the program a bit more unique from the traditional talk show style.
"I really wanted the guest hosts to take a little adventure, a little journey with me," McCain said. "It's kind of like 21 Jump Street, where they get their assignment from headquarters."
Topics covered on McCain's show included Internet privacy, marriage equality, immigration reform, and feminism. McCain's goal was for the show to be more of a dialogue than a one-way narrative.
"I wanted to do a show that's much more conversation with the audience, because oftentimes I watch TV, and I feel like I'm watching someone who's preaching to me because they have all the answers," she told SF Gate. "It's not stuff that I really am ever drawn to."
Not raving over 'Raising McCain'
Critics weren't huge fans of Raising McCain, writing that the show's host proved the negative stereotypes of millennials. "The media wished that millennials, as a group, could be self-absorbed, entitled and unimaginative; Meghan McCain rose to the challenge," one reviewer from Salon wrote.
"It's tempting to write some sort of contrarian defense of her new show, Raising McCain. But, honestly, there's only so much up-speak one critic can take," Emily Nussbaum of The New Yorker commented.
Some reviewers offered some positives on the show, giving McCain props for her attempt at trying something different on the air, yet still couldn't get on board.
"McCain has opted to create something more civic-minded, a news hour that makes a good faith effort to 'Dig deep into the issues that matter most to our generation,'" Willa Paskin of Slate wrote. "So, respect to Meghan McCain for aiming higher than various Palins. And thus concludes the complimentary portion of this review."
The show was on the air from September 2013 to January 2014. McCain was then put on the network's program TakePartLive as a co-host, which was cancelled in December of that year. Pivot TV ended up folding in October 2016, yet McCain has continued a successful career and is clearly enjoying her view from the ABC talk show table.