Meghan McCain of 'The View' Says She's Tired of Comments About Her Looks and Weight
Meghan McCain of ABC's The View grew up in the world of politics as the daughter of the late Senator John McCain, where she has no problem debating fellow panelists Whoopi Goldberg, Joy Behar, and Sunny Hostin on a plethora of political issues.
Each co-host has an impressive list of professional credentials to their names, yet despite their proven career track records McCain feels that viewers of the show are too focused on their physical appearance rather than what they have to say.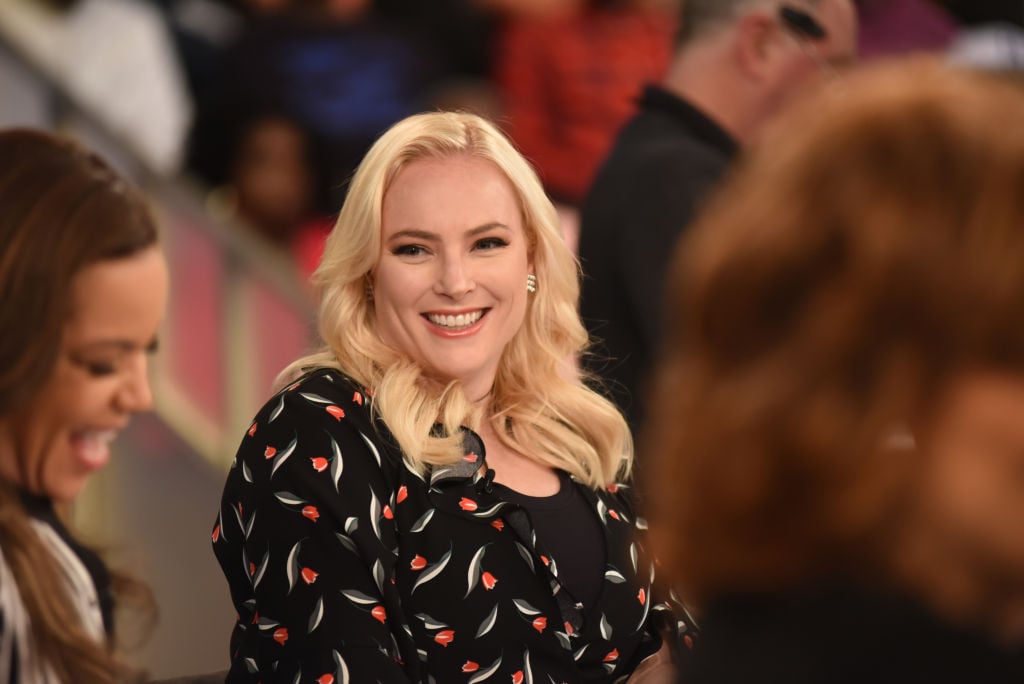 McCain's no stranger to body- shaming comments
The talk show co-host has openly shared that she regularly receives negative comments on social media regarding her appearance and weight. One example happened in October after McCain posted a pic of herself with friend and former fellow panelist Abby Huntsman in honor of Breast Cancer Awareness month, where one follower unfortunately took the opportunity to make a derogatory – and highly unnecessary – remark on Twitter.
"How many pounds ago was that profile picture? Jenny Craig, Nutrisystem or Weight Watchers (WW) would endorse you without hesitation," the user tweeted. 
McCain chose to take the high road and addressed the comment with a wake-up call on why body shaming is never acceptable. "[It's] harassment like this that can lead women to eating disorders. I am one of the lucky ones who never suffered from it," McCain responded on Twitter. "I never dieted to get a man or a job and [somehow] landed my dream [for] both — hope young girls see me and know they don't have to diet either."
The offensive tweet was soon deleted after McCain's response.
'Views' on appearance
Earlier this week, the topic of aging in women came up at The View table due to a recent interview with Paulina Porizkova on CBS Sunday Morning, where the former supermodel discussed the challenges of getting older and how her perception of using cosmetic aids such as Botox has changed.
"I used to be kind of judgmental about it. I used to go, 'Oh, you know, I can't believe that anybody's injecting themselves and changing the way they look.'" Porizkova said. "And now I think, 'No, you know what? It's really freaking hard to be a woman. And it's really freaking hard to be a woman over 50. Because we really get dismissed from the table.'"
Picking up on Porizkova's point, McCain expressed that she feels people are often more attuned to how she looks rather than what she says.
"I hope this doesn't come across as arrogant in any way, but I think I'm really good at talking about politics—it's the only thing I think I'm really good at, and I would like to talk about politics and not have every comment be about the way I look and my weight," McCain shared, according to Yahoo! Entertainment. "It makes you feel weird."
Different 'View' of men
McCain added that since The View consists of a panel of women, they experience more judgment than men when it comes to their appearance. "Men just don't have that problem," she said. "Everyone talks about how we look on this show all the time. Can't you just hear what you have to say?"
Yet guest co-host Ana Navarro brought up men in the spotlight who have received negative comments regarding their looks. "I'm not sure Chris Christie would agree, or Mike Bloomberg would agree, or Donald Trump would agree," Navarro countered.
The conservative co-host stood her ground on the point. "I'm sorry—there's no way Mike Bloomberg in any way has experienced anything like the kind of stuff I've experienced and all the women on this show have experienced in any way on social media," McCain said.
Maybe Porizkova put it best when she shared a previous comment from a music star on Instagram. "There was a quote by @pink to her little daughter, about how it was not for them to fix themselves to fit the standards of beauty, but rather to help other people discover their beauty," the former supermodel wrote on Jan. 2 alongside a no-makeup selfie. "Now, that is something to strive for."