Meghan McCain off 'The View' On Monday Has Fans Speculating
Meghan McCain was notably gone from The View on Monday. The conservative co-host was missing from the "Hot Topics" table and Deborah Roberts filled in for her. Whoopi Goldberg addressed McCain's absence at the top of the hour informing the audience that she would be back on Tuesday. Fans took to social media to speculate and add their own view on McCain missing out on the show.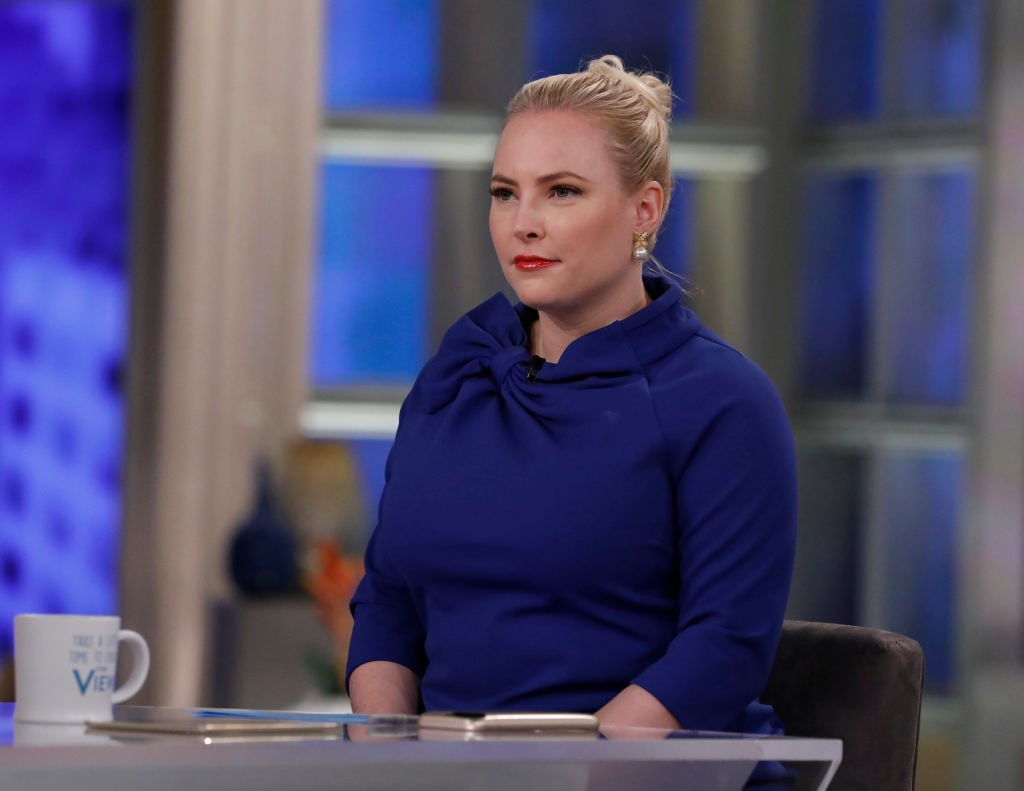 Fans react to Meghan McCain's absence
When viewers noticed that McCain was missing from the panel, they quickly took to Twitter to let their opinions be known to the world.
"Meghan McCain is off," a fan tweeted. "No screechy voice today. Deborah Roberts is guest host. Hooray!"
"No Meghan McCain, I can actually watch," a viewer added.
"When Meghan McCain is gone, I can actually tolerate this show," a Twitter user noted.
"I enjoy the show so much more when Meghan McCain is out," another fan said. "I never need to use the mute button or change the channel."
Even McCain took to Twitter to address her absence and calm people down.
"People really don't need to write conspirational think pieces every time I'm out The View for 24 hours," she tweeted. "It's mentally and emotionally exhausting and I have addressed this many times in the past. I will see you tomorrow. Unless the aliens who abducted me decided not to let me go…"
Meghan McCain is excited for Elisabeth Hasselbeck
Elisabeth Hasselbeck was confirmed to guest co-host The View on March 11. The former Republican pundit led the way for young conservative women to have a voice at the table. McCain was inspired by her tenacity in facing opposing political views and said that she would "give up her chair" for her.
"She's the only woman I would give up my chair for," McCain said on March 4. "She can sit in the conservative chair anytime. She's the OG. I love her."
Although many might assume that McCain and Hasselbeck couldn't exist and interact in the same space, the former really admires the latter. Back in March 2019, Hasselbeck was a guest on the show and McCain gushed over her greatness.
"How in God's name did you do this for 10 years? Being the lone conservative on this show is… I've always had respect for you. When I first came on my first day I said, 'I wish to emulate Elisabeth,' because you really were the OG of this seat," McCain said.
The one person that could make Meghan McCain quit
Following a tiff with Goldberg on-air where the latter told McCain to stop talking, she addressed the issue on Watch What Happens Live. McCain said "it was rough" but at the end of the day, there was no love loss. In fact, the conservative co-host loves the show's moderator so much that she would quit if she left.
"It was rough," McCain said. "I will say that she was having a bad day and we talked about it that night and the next day. It's live TV and it's really stressful times for everyone. I adore her. She apologized off-air, she apologized on-air. We all f***-up on the show. I forgive her and I love her and I could not do the show… if she leaves, I go."
The View airs weekdays at 11 a.m. ET and 10 a.m. CT/PT.