Meghan McCain Previously Revealed Her Dad's Disco-Related 'Guilty Pleasure' on 'WWHL'
The View star Meghan McCain often speaks lovingly of her father, the late Senator John McCain, and their strong bond. The two shared a very close relationship until the Republican senator's death from terminal brain cancer in August 2018.
While her dad was sometimes known as a stern politician, McCain shared that the Arizonian also had a playful side which included his affection for this iconic 70s group.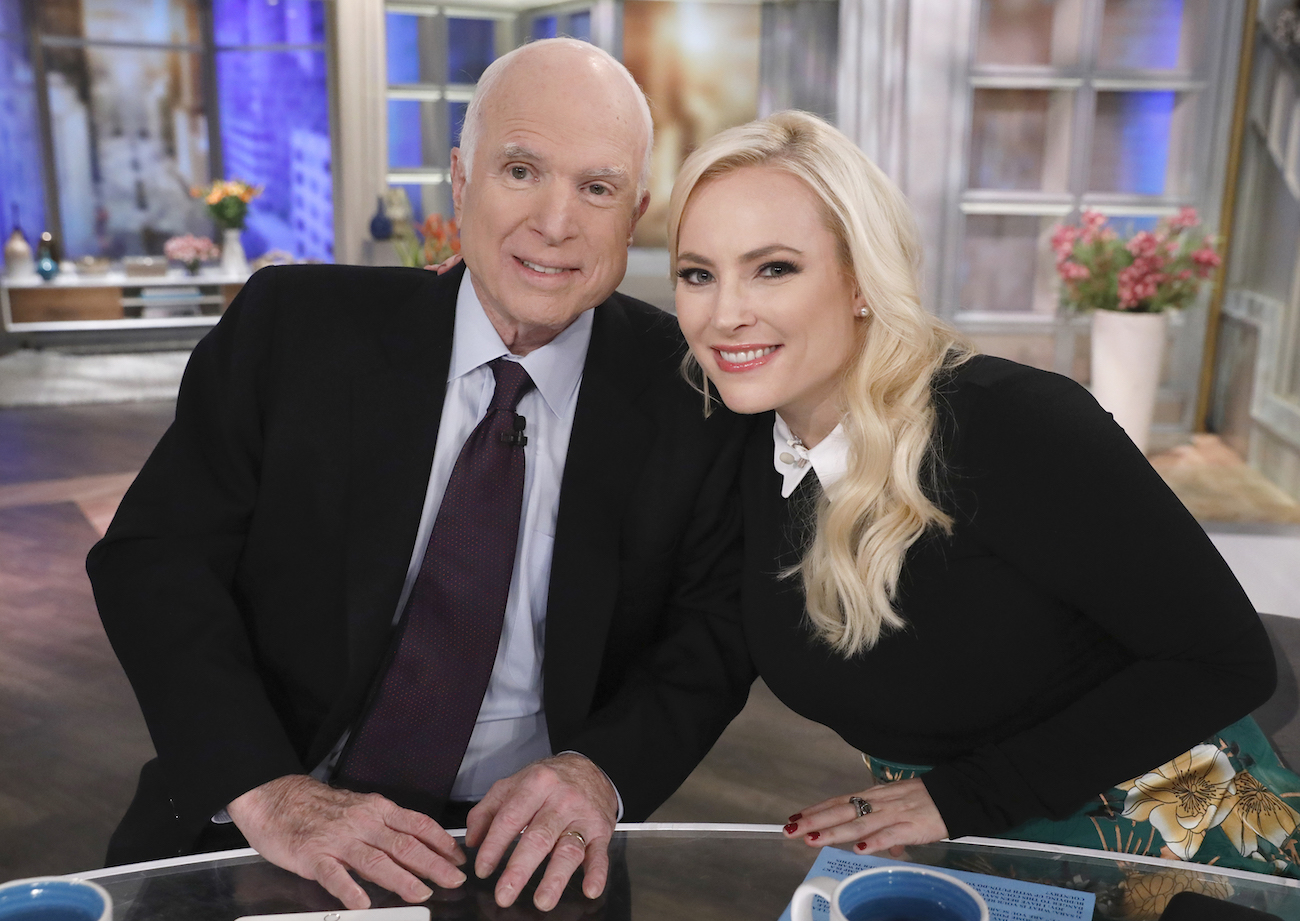 Cindy McCain's nickname for her daughter
In a conversation with the Endwell Foundation in December 2019, McCain spoke of her special relationship with her dad and the moniker her mother Cindy gave her in jest.
"We were extremely close, even since I was very little. My mom calls me John McCain in a dress," McCain shared. "Even down to our mannerisms and the way I hold a microphone is like the way he does it. And we like the same food. When I was very little, he used to take me to all his interviews … I was always surrounded by journalists."
Following in her father's footsteps, The View star shared that the senator was caught off guard when she launched her career in politics.
"I later ended up going into political media, he was surprised," McCain revealed. "And I said, 'What did you expect me to do? It's the only thing I ever knew.' And as I got older, I worked on both of his campaigns."
John McCain encouraged Meghan to take a seat on 'The View'
After Senator McCain was diagnosed with glioblastoma in July 2017, his daughter left her position as a cable news political pundit.
"I quit my job when I was working at Fox News when he was diagnosed," McCain recalled. "I thought it was going to just spend the entire time with him."
When The View producers tried to woo McCain to join the daytime talk show panel, she planned on turning it down. Yet her dad encouraged her to accept the offer.
"About four months later, I got the job offer for the show I work on right now," McCain said of The View. "I didn't want to do it because I just wanted to be with him the entire time. And he said, 'What are we going to do? Just sit around and look at each other? You have to live.'"
Meghan McCain dishes on dad's love of disco
Frequently appearing on Bravo TV's Watch What Happens Live, McCain often chats with host Andy Cohen on politics and her love for the Real Housewives franchise. During one episode in March 2017, Cohen asked some questions about The View co-host's father.
"Your dad is so well-respected," Cohen began. "What's a guilty pleasure of his that we don't know about? Has he ever watched Beverly Hills Housewives?"
Apparently, Senator McCain didn't gravitate toward Real Housewives like his daughter, but the ABC talk show personality revealed something for which her dad did have a penchant.
"He loves ABBA," McCain said of her dad's affinity for the iconic 70s Swedish pop group. "Listens to it all the time. Loves it."
The conservative co-host's response was met with audible surprise from audience members, prompting her to share more details.
"He loves 'Mamma Mia,'" McCain continued. "He makes me listen to the album at length on Thanksgiving and Christmas."
The senator was not alone in his love for the band. ABBA currently has 274K followers on Instagram!