Meghan Trainor's Dad in Stable Condition After Getting Hit by a Car
Pop singer, Meghan Trainor, is thanking fans for their "sweet messages" after her father, Gary, was struck by a car over the weekend. Meghan and her father have a tight-knit relationship. Here's everything we know about his condition.
Songstress, Meghan Trainor, and her father, Gary, are very close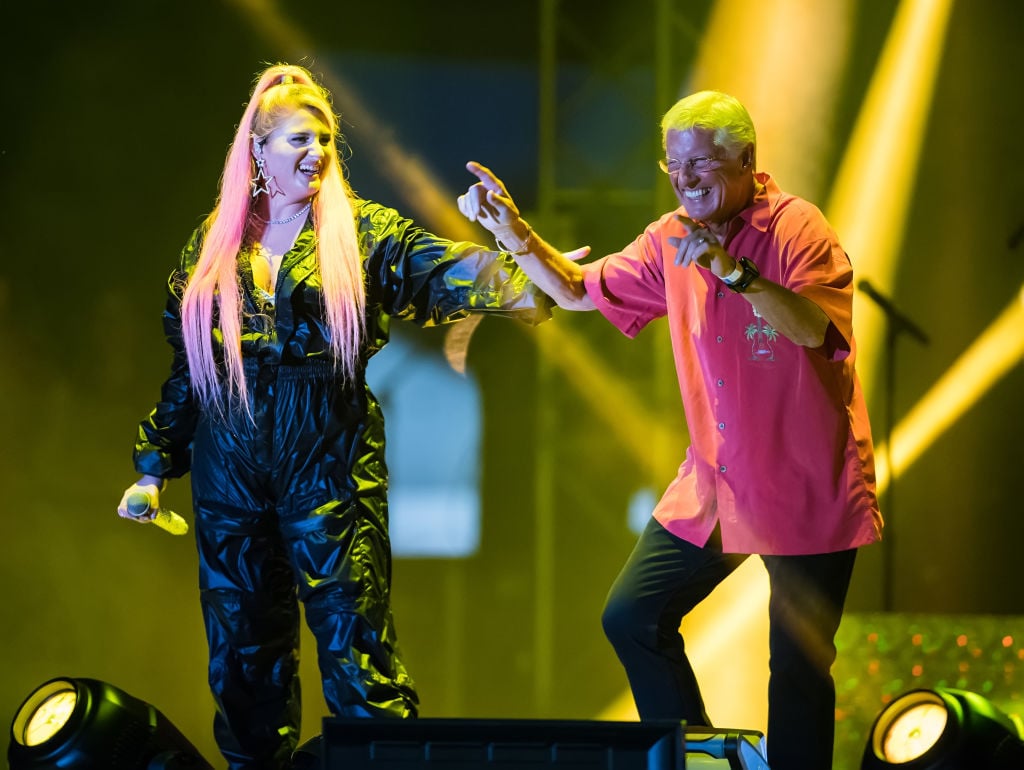 As mentioned in numerous interviews over the years, Meghan Trainor and her father, Gary, are incredibly close. When Meghan won Best New Artist at the 2016 Grammy Awards, Gary was her plus-one.
"This is me forever..bawling my eyes out," Meghan captured her feelings on Instagram. "Can't believe what happened. My dad whispered 'you made it' before I walked up and I lost it. I love my family so much. Without them I wouldn't be here today."
Gary has been a part of Meghan's entourage since day one. Fans know and love him as the man who often accompanies Meghan on the red carpet and the no-fear powerhouse who sometimes joins the singer on stage at shows.
"I look up to him all the time," Meghan previously said of her dad on Today. "Everything I do, I'm inspired by him."
She went on to explain the advice Gary gives when Meghan's faced with adversity. 
"Anytime I complain about anything, he's like, 'Life will get better if you let it,'" she said. "Sometimes in life, you can't control what happens—most of the time you can't control what happens," Meghan said, "but you can control how you look at it and how you can stay positive about it or find the good in it."
That aside, Gary's a regular piano player who appeared on her track, "Good Morning."
During a Facebook Q&A, Trainor spoke of how Gary's involvement came about.
"I was playing the piano and my nails were clicking and they were like, 'Do you have a bracelet on?' and I was like, 'No, please don't be the nails,' and it was, so I was like, 'Dad, can you play this part for me?' And he did and killed it," she said.
What happened to Gary?
According to TMZ, Gary was struck by a car as he crossed the street in San Fernando Valley. The driver reportedly said Gary was dressed in dark clothing and crossing on foot, so she couldn't see him at the time.
Previous reports called the accident a "hit-and-run," but Entertainment Tonight said, "no crime was reported." Both the driver and the vehicle in question stayed at the scene of the accident and cooperated with the police.
Gary was taken to a Los Angeles hospital Feb. 21. Per E! News, Meghan's rep said Gary is "OK and in stable condition."
Meghan's first update came via Instagram with a black-and-white photo of her and Gary.
"I'm with my dad now. Thank you for all your sweet messages. It was all very scary but he is the strongest man I know," she captioned the post.
Fans send their support through Meghan's Instagram page
Anyone who knows Meghan's love of her family — particularly her bond with Gary — knows how scary this must all feel. Fans around the world are offering support.
"Sending you all my prayers," Jennifer Love Hewitt commented. Nicki Minaj left a prayer hand emoji, while iHeart Radio, MTV, and more posted heart emojis.
"I love you so much. I'm so glad he's okay. I've been thinking about y'all non stop," another fan said. "Praying that he's okay. He's such an amazing guy. Love you guys," another added. "Keeping your dad in prayers. Dad's are everything and we only get one <3," another concerned fan said.
Both Meghan and Gary are loved by many. Here's hoping for a speedy recovery and a happy and healthy rest of 2020.