Melania Trump Swears By This 1 Exercise to Stay Fit
Melania Trump, for most of her husband's presidency, has remained one of the United States' most private first ladies. She's always been like this, hardly ever letting anyone inside her fabulous yet insanely-busy life as a former model, the wife of Donald Trump, and First Lady of the Unites States. But one thing everyone wants to know is how Trump, 49, stays in such incredible shape. And it's reportedly thanks to one type of exercise.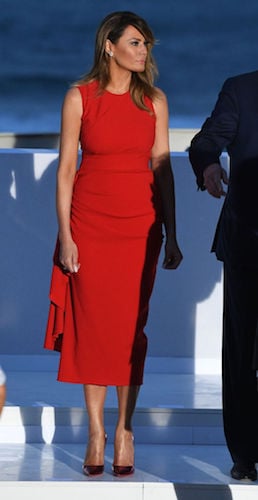 Melania eats seven pieces of fruit per day
The first lady focuses on fruit for the majority of the vitamins and minerals she puts into her body. Back in 2012, Trump said in an interview with Refinery29 that she starts every single morning with a smoothie that has "lots of vitamins" in it. Occasionally, she swaps it out for something else, such as oatmeal. She loves to snack on fruit (but admits she sometimes chooses chocolate instead), though she has remained adamant that she does not have a specific diet. "It's not a diet, I just like to eat healthy because I feel better and have more energy," she said.
She does small things to stay in shape
Staying in shape requires a lot of time. We need to remember to care for our bodies, pay attention to our diets, focus on exercising for a certain amount of time each day, etc. But as FLOTUS, Trump probably doesn't have a ton of time in her day to worry about getting a workout in. She reportedly does small things to stay in shape — exercises that she can do while she does something else. According to Insider, Trump walks around her office wearing ankle weights some days as a way to work out without sacrificing the time she should be spending doing other things. Various small efforts might seem like they don't do much, but over time, they can greatly improve one's overall health.
She swears by Pilates to keep her slim figure
The one exercise Trump makes sure to make time for is Pilates. One of the biggest reasons Trump has learned to rely on this exercise method (a low-impact exercise that improves flexibility and strengthens muscles) is because she can do it from the comfort of her home; it requires virtually no workout equipment, which is important if Trump is traveling and doesn't have easy access to a gym. The first lady also likes to move around every once in a while, and for that, she plays tennis. Both Mar-a-Lago in Florida and the Trump National Golf Club in New Jersey have tennis courts, so Trump gets the opportunity to play when she visits those places.
Despite her busy life, she makes sure to make herself a priority
Though being the first lady comes with some intense responsibilities, Trump makes sure to still find time to focus on herself. She once said that her mother always reminded her that it's important to take time and relax, and she still makes sure to do that, even when things in the White House get crazy. She also loves spending downtime with her son, Barron, 13, who is her only child and Donald Trump's youngest.