Melissa Gilbert Once Made Farrah Fawcett Cry Because She Was 'so Much Younger Than [Her]'
Melissa Gilbert and Farrah Fawcett starred in the TV movie, Hollywood Wives: The New Generation in 2003. In her 2009 memoir, Prairie Tale (a play on Gilbert's iconic role in Little House on the Prairie), the former Laura Ingalls actor writes about her time on set with Fawcett, as well as getting to know the writer of the book the film was based on, Jackie Collins.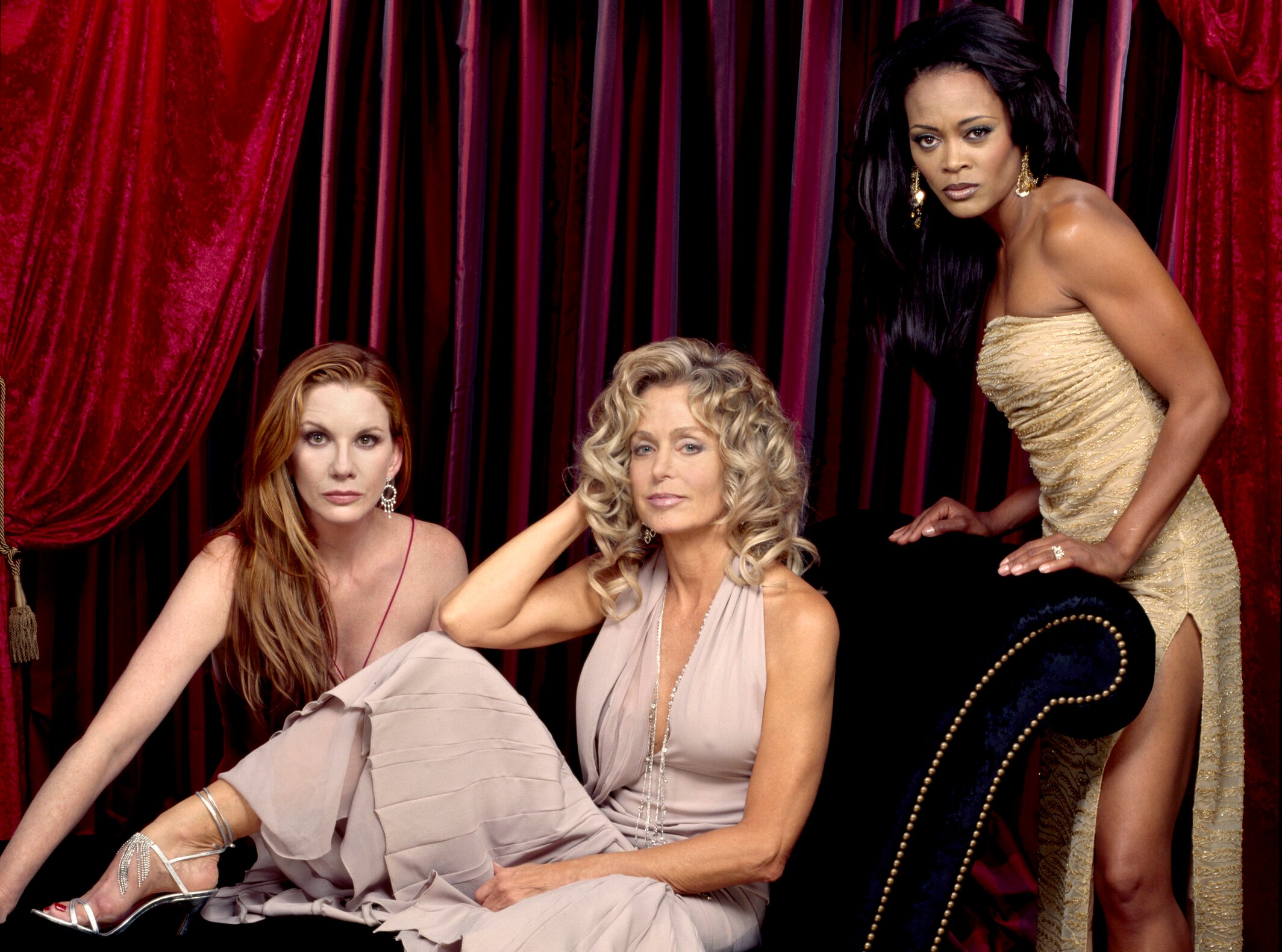 Farrah Fawcett thought Melissa Gilbert and Robin Givens looked 'so much younger' than her
"A Hollywood star (Fawcett), fed up with her husband's cheating, hires a private investigator to tail him. Emotional support is offered by her two friends – a soul singer (Givens) and a famous director's wife (Gilbert)," reads IMDb's synopsis of Hollywood Wives: The New Generation.
Gilbert writes that, from the beginning of the project, it was a luxurious experience.
"On and off camera, the movie, whose cast included Farrah Fawcett, Robin Givens, and my longtime friend Jack Scalia, was full of Jackie's trademark excess," she wrote.
Gilbert also recalled meeting Fawcett, along with Robin Givens, at the film's first photoshoot.
"Farrah took one look at Robin and me, then ran back to her trailer, sobbing, 'They're so much younger than me,'" she wrote. "We waited three hours while she redid her makeup."
Melissa Gilbert says 'waiting for Farrah' became 'part of the routine'
According to Gilbert, Fawcett slowed down production throughout the entirety of filming.
"Waiting for Farrah, who was listed number one on the call sheet, became part of the routine," she wrote. "Every day I came in and asked, 'How's Number One today?' Let me just say I read three novels while shooting the movie."
Even so, Gilbert "adored Farrah."
"There was something about her vulnerability that made me want to protect her," she wrote.
'Jackie had everything figured out'
While filming, Gilbert also got to know the writer of the book the film was based on, Jackie Collins.
"If Farrah was fragile, there was one person on the set with the strength of ten: Jackie Collins," wrote Gilbert. "I loved and admired her. She was a real dame—a strong woman who existed successfully in a man's world without sacrificing an ounce of her femininity. Jackie had everything figured out, including men and women, sex, money, and power. She shared her expertise on wardrobe, jewelry, and looking sexy, and the stories she told on the set were better than her books. She knew the most delicious dirt about everyone."
Gilbert recalls one story, in particular, that Collins told her.
"She told me about a superstar singer turned actress who would check into the Penninsula Hotel in Beverly Hills to get a manicure and pedicure, strip off all her clothes, and then order room service so she could see the reaction on the waiter's face when he walked in and saw her nude while getting her nails done," she wrote.
"I was afraid to ask what she knew about me," Gilbert continued. So she didn't. But the Laura Ingalls actor walked away from filming Hollywood Wives: The New Generation feeling like she learned a lot from her new friend.