Melissa Gorga Admits She Would Have No Relationship With Teresa Giudice if It Weren't for 'RHONJ'
Melissa Gorga from 'RHONJ' said the show is the main reason why she still speaks to sister-in-law Teresa Giudice. Adding that producers act like therapists.
Melissa Gorga revealed that she wouldn't have a relationship with sister-in-law Teresa Giudice if it weren't for The Real Housewives of New Jersey.
She recently shared that RHONJ producers act almost as therapists, who bring the two together. Otherwise, Gorga thinks she would have minimal contact with Giudice.
'RHONJ' producers have been like therapists for Teresa and Melissa
Gorga opened up about her relationship with Giudice during a discussion on her Melissa Gorga On Display podcast with Summer House's Kyle Cooke and Amanda Batula. Batula and Cooke said sometimes producers act almost like therapists on the show.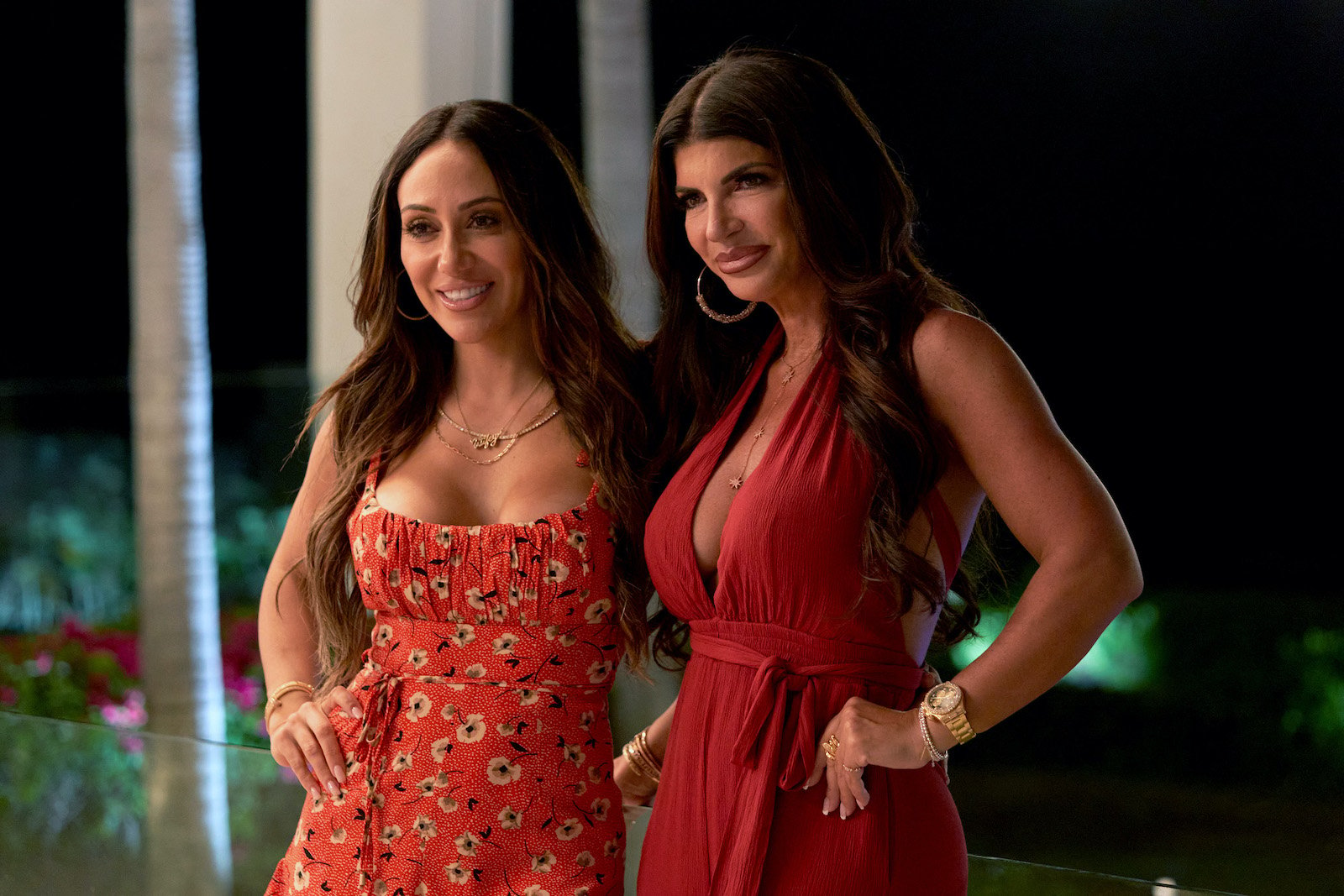 "The show does make you think it does open your eyes to what's real and what's important," Gorga said. "I have said year after year that obviously my sister-in-law and I have been through tons of nonsense, right? But if I weren't on this reality show and if we weren't on this show together, these producers have been our therapists for the last 12 years. Literally, when we don't want to look at each other, they sit us both down and they're like, You guys have to have a conversation and you're going to have lunch. And I'm like, I have to thank them a lot of the time because I think we would just avoid."
The show is the main reason they have a relationship
Gorga credits the RHONJ producers for keeping her relationship viable with Giudice. "The producers know me better than I know myself most of the time," she said. "They're also watching footage back of when you're not even paying attention. They're just watching your emotions in the way you look and your facial expressions. They know when you're upset," she said.
She also thinks RHONJ is the only bond she has with Giudice. "I honestly think there wouldn't be much of a relationship at all if we weren't on the show. If I'm being completely honest. I think it would be very quiet. I think it would be very minimal. I think it would be hey, Happy birthday. Merry Christmas. I think this show has brought us on vacations together, has made us do team building together, has worked on just family parties."
"I've always said this and I tell Andy Cohen this all the time. It's been therapy for us and it's forced us to fix our relationship when people will be like, oh, you jumped on reality TV, it's horrible. You're with your family. It's just ruining you guys," she said. "I'm like, no, you have no idea. If we weren't on this show, we would probably never speak."
'RHONJ' producers want drama but care about the cast
Gorga said as much as RHONJ producers want drama, they have a lot of love for the cast. "You know, there is a certain part of this which I totally get in your relationship aspect. That is, it's like therapy," she said. "And like all the producers, become part of your life and they know you and they do root for you as much as they do want the drama. We're not trying to kid anybody."
"But as much as they want the drama, they also do personally root for you to to to come back around," she added. "You know, they want growth. They hope for closure, they want to have that tension, but they also want everyone to get along for the most part at the end of the day. And that's what they're helping push us all along to do, right?"