A Member of the Sex Pistols Stole Gear From David Bowie's Ziggy Stardust Tour in 1973
Sex Pistols had a lucky charm when recording music for their only album, Never Mind the Bollocks, Here's the Sex Pistols; they had the gear that David Bowie's Ziggy Stardust and the Spiders from Mars used during one of their last gigs. A member of the punk band stole the equipment in 1973 but made amends for his actions years later.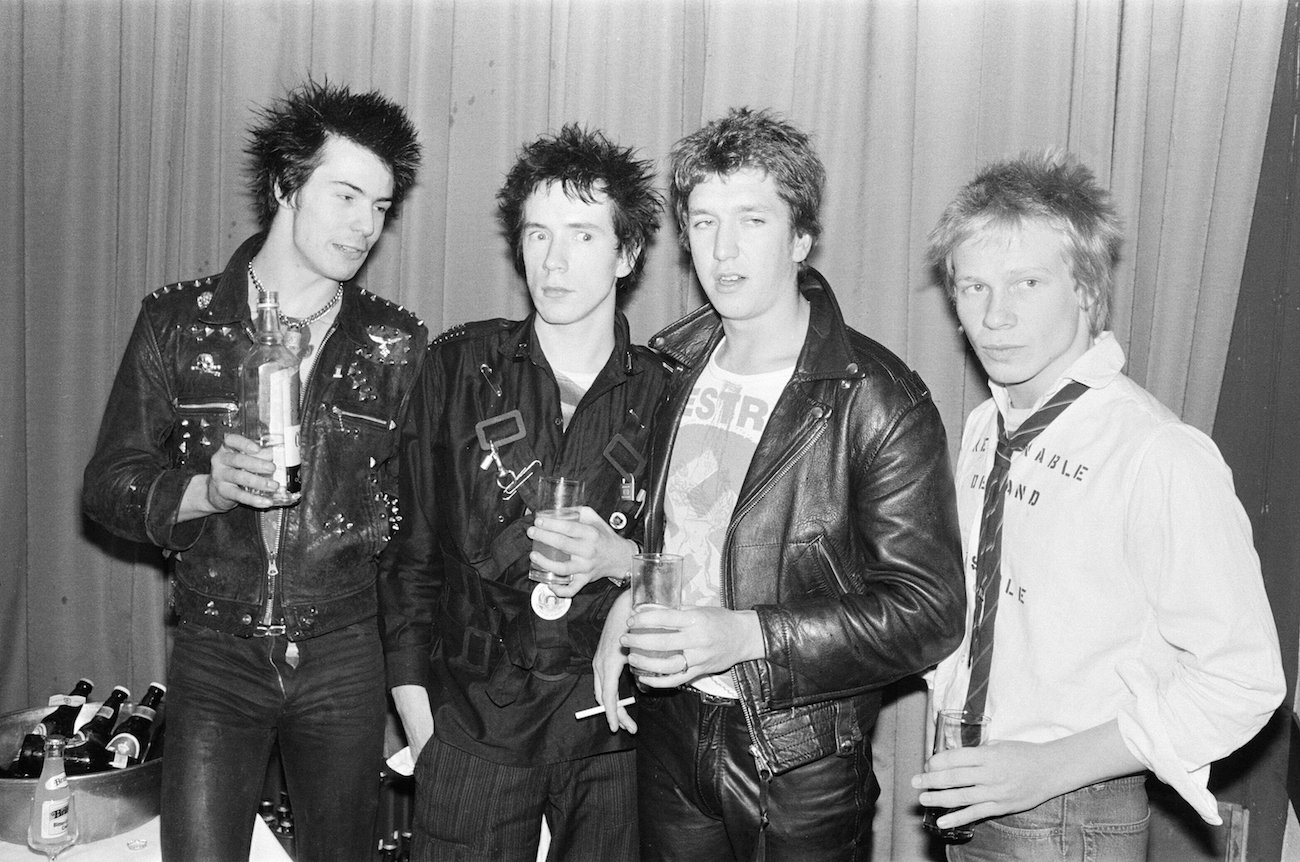 Sex Pistols Steve Jones stole David Bowie's equipment
According to the Sex Pistols' drummer Paul Cook, the band's guitarist Steve Jones stole Bowie's gear. Jones did it because he was starting a band called The Strand with Cook (which later evolved into the Sex Pistols). They needed gear but didn't have much money. However, they did have something, an opportunity. They lived near a popular music venue.
"You've got to understand, we weren't very rich at the time," Cook told Loudwire (per Ultimate Classic Rock). "We wanted to form a band, and that was one way of getting equipment.
"It was so easy to get in those places, and we'd just go around the back. We lived in Hammersmith, and so many bands played in Hammersmith Odeon. So we got a full range of equipment before we could even play, really – including the PA.
"There's a famous story about Steve when David Bowie was doing his final shows of the Ziggy Stardust tour. Between shows, they'd leave all the equipment standing overnight. It was a big mistake, especially with us around."
RELATED: Sex Pistols: John Lydon Said 'Anarchy in the U.K.' Isn't About 'Spitefully Wanting to Wreck Everything for No Reason'
Sex Pistols' Steve Jones on how he stole Bowie's gear
In the documentary, The Filth and the Fury (per The Sound), Jones discussed how he stole Bowie's gear.
He said, "I was definitely a kleptomaniac, you know, I loved lifting stuff… And I started getting into music, so I figured good stuff to lift is musical equipment.
"Because at this point, I wanted to start a band, and I figured the closest thing I could do to be close to that music was to steal band equipment.
"Yeah, it was two nights; this was the end, he didn't tell everyone, and after the first night, they left all the equipment up because they were gonna play again the next night.
"And I was at the show, and I knew Hammersmith Odeon then – it was called Hammersmith Odeon, now I think it's called The Apollo – I knew it like the back of my hand, that place, I always used to sneak in there and hang up in the rafters.
"I saw tons of bands because it was close and only around the corner. I always snuck in, never paid a penny to get in there. Back then, it was a lot easier. There was no cameras; you could just ajar the door – it was great! It was a good time. You can't do that now as much."
RELATED: Sex Pistols: John Lydon Wrote 'Holidays in the Sun' After Officials Barred the Band From Entering the Channel Islands
Jones said Bowie knew it was him all along
In 2017, Jones talked about stealing Bowie's gear to Rolling Stone. He said he made amends with Spiders from Mars drummer Woody Woodmansey and confronted Bowie about it years later.
"I was a complete fan and what's funny was I had [producer] Tony Visconti and the drummer, Woody Woodmansey, on my radio show and I made amends with Woody for stealing his cymbals," Jones said.
"He was kind of taken aback. I looked at him and said, 'What do you want?' And he said, 'Well, nothing. I said, 'Well, say something.' So he said, 'Give me a hundred bucks.' So I gave him 200 bucks, and he was chuffed."
It didn't bother Jones that he was ripping off his idols. "Yeah, it's weird. It was just a way of being closer to the idols, I suppose," he said.
When Jones met Bowie later on, Jones suspected the legend knew it was him that stole his band's gear. "I think he knew in some way or another that it was me," Jones continued. "But the thing is, it wasn't really his stuff that got stolen. I don't think they were his. I wish I had that little one, though, with his lipstick on it."
In perfect Sex Pistols fashion, Jones did what he had to do to start a band, even if that meant stealing equipment from one of the biggest acts at the time. It's punk rock at its finest.
RELATED: 'Pistol': Danny Boyle Doesn't Want John Lydon to Like the Limited Series