'Men In Black International': How Does It Compare to the Other Movies?
'Men In Black International' is the latest installment in the franchise. How does is it compare to the classic 'Men In Black' movies?
When people see Chris Hemsworth and Tessa Thompson in the Men In Black International posters and previews, they may say, "Oh, look – Marvel stars working together again." What some people may not know is the Men In Black franchise is actually tied to Marvel Comics.
With the new movie now out in theaters, we'll look at how the franchise came to be, what those ties to Marvel are, and how the four movies stack up against one another.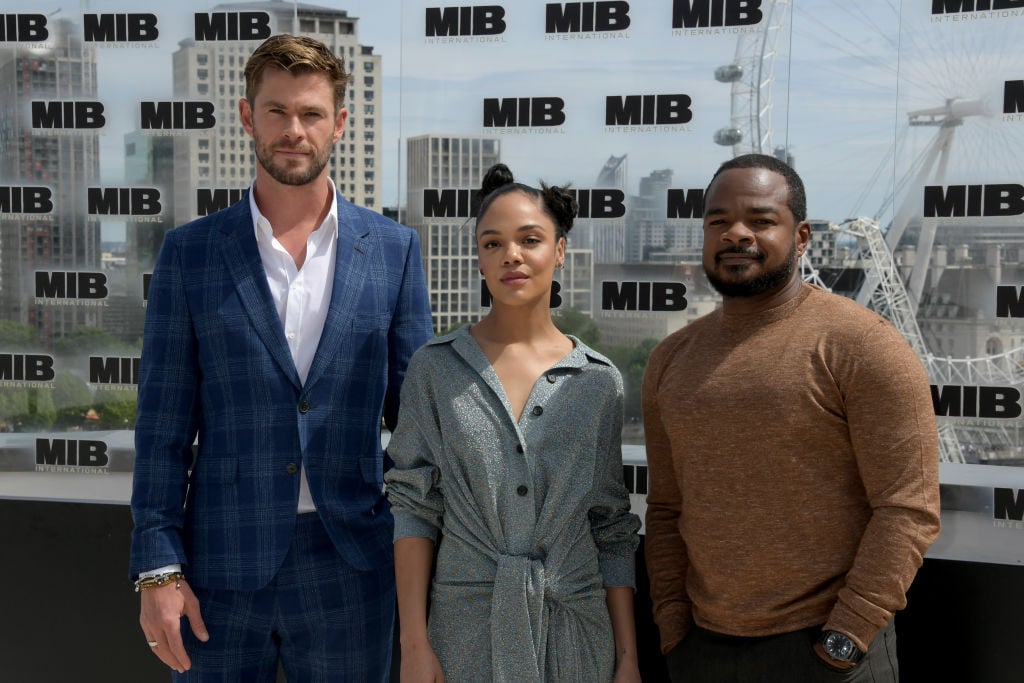 Where did 'Men In Black' come from?
Men In Black originated in comics in 1990. Created by Lowell Cunningham,  the comic sprang from a friend of his who saw a black van riding in the streets. This friend told him about the men in black, which are part of a conspiracy theory among UFO enthusiasts.
The premise is pretty much the same as in the movies: Men dressed in black suits who claim to be government agents who investigate UFO witnesses to keep them quiet about what they have seen. It is sometimes implied that they may be aliens themselves.
Three issues were published in 1990, with another three the following year. The series was originally published by Aircel Comics, which was bought out by Malibu Comics. In turn, Malibu was bought out by Marvel in 1994. When the first movie came out in 1997, it was billed as a Marvel comics adaptation.
This was three years before the first successful Marvel superhero franchise, X-Men. So in a sense, Thomson and Hemsworth are carrying on a Marvel tradition, even outside the Marvel Cinematic Universe.
The first 'Men In Black'
When the movie came out, it was an immediate hit with both critics and the public, powered by excellent chemistry between the deadpan Tommy Lee Jones and the wisecracking Will Smith. Smith's stardom was already on the rise following Independence Day the previous year.  The movie made $252 million, which is $492 million in today's money.
Cheekily directed by Barry Sonnenfeld, who was hired on the strength of his Addams Family movies. The movie was a rare successful blend of science fiction, action, and comedy. It cleverly turned real-world locations into alien relics. For instance, the observation towers at the site of the 1964 World's Fair turn out to UFOs.  When Agent J Smith asks, "So these are real flying saucers, and the World's Fair was just a cover-up for their landing?" K (Jones) responds "Why else would we hold it in Queens?"
'Men In Black' sequels go up and down
A sequel was inevitable, given the huge success of the first movie. The follow-up came out in 2002.  But like so many sequels, Men In Black II felt largely like a repeat of the hits. There was enough clever repartee and funny gags to make it mildly diverting, especially the flip of the original concept when J turns out to be the seasoned agent and the now amnesia-stricken K is the rookie. When J tried to question K, K incredulously responds, "I never worked in a funeral home. Something I can do for you, Slick?" Still, the movie felt more like a remake than a real sequel. It grossed $190 million, or $295 million adjusted for inflation. Either way, it was a steep step down.
So what do you do when your franchise hits a wall? You do what the X-Men did: prequel/time travel! Boris the Animal, an old nemesis of K, escapes and goes back in time to kill him. So J goes back in time too and finds out that K looks an awful lot like Josh Brolin. The picture's midsection moves in fits and starts, but recovers for a great third act that packs something even the first movie didn't have: an emotional wallop.
Regardless, audiences remained underwhelmed. Even if the people who actually saw the third movie liked it better than the second, too many people were turned off by the second movie to give the third movie a chance. It made $179 million, which is $199 million now. Stopping short of $200 million had to be disappointing for an expensive franchise.
So how's the new movie?
With Hollywood being rather stuck on extending franchises with name recognition, we got a fourth movie whether we wanted one or not. Men In Black International is the first film in the series not to be directed by Sonnenfeld, with F. Gary Gray (Fate of the Furious) taking over. Here, Thompson basically has the Will Smith part as the talented civilian who quickly works her way into the agency. Hemsworth, the experienced agent, is not world-weary like K, but more reckless and roguish like James Bond.
The movie fails, but it's at least an amiable failure. Thompson and Hemsworth continue to have good chemistry. Gray moves the action along briskly, but inspiration runs on fumes. The only new element that worked was a three-armed Rebecca Ferguson.
Whereas the original film had the heart of a B movie in the body of a summer tentpole, this is little more than a hollow sequel that cannibalizes other franchises. It has a little Harry Potter, a little James Bond, and a little Star Wars – but not enough personality of its own. This is just another summer movie with a handful of clever touches, but that's not enough to make it stick. We won't need one of the neuralizers to forget it.