'Messyness': Are Nicole 'Snooki' Polizzi and '90210's Tori Spelling Friends?
Messyness is Nicole "Snooki" Polizzi's first venture into hosting a show by herself. Beverly Hills 90210's Tori Spelling joins the Jersey Shore: Family Vacation star on her latest MTV project. Spelling provides commentary for the viral videos discussed on Messyness, a la Rob Dyrdek's Ridiculousness. Since this is Polizzi's first time working with Spelling, many fans wonder if she's close with the Beverly Hills 90210 star.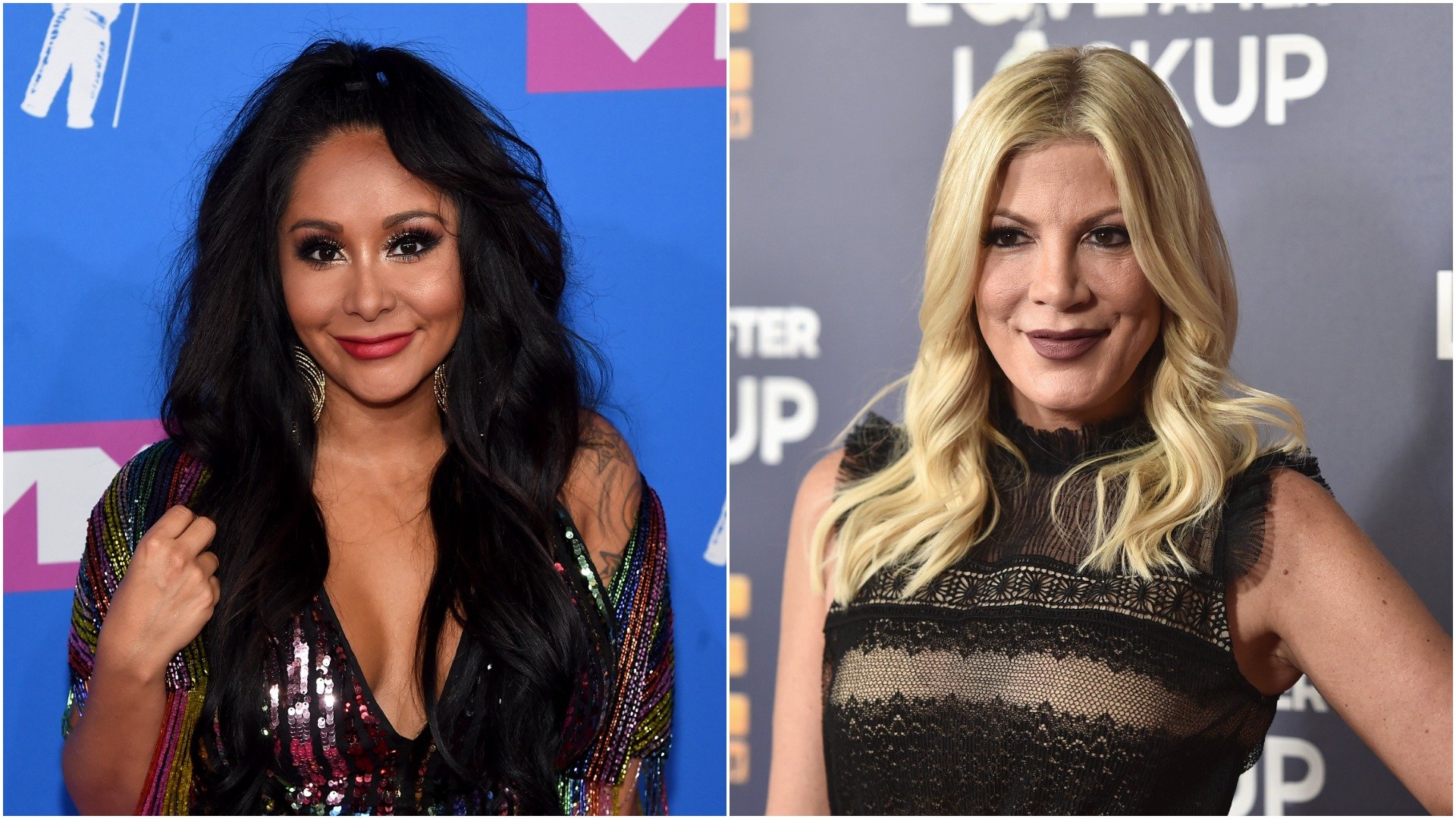 'Snooki' and Tori Spelling will be on 'Messyness' together 
After her exit from Jersey Shore: Family Vacation, Polizzi spoke at length about wanting to do more hosting work. Now, it's happening! 
When season 4 of Floribama Shore ended, Polizzi and Jenni "JWoww" Farley hosted the two-part reunion special. A few weeks later, Polizzi announced she would be host the upcoming Ridiculousness spinoff Messyness. 
Polizzi spent time in Los Angeles in June 2021 filming episodes for the series, which will feature "the most debaucherous" clips from the internet. The Jersey Shore star is joined by Spelling, comedian Teddy Ray, and professional figure skater Adam Rippon. 
Nicole 'Snooki' Polizzi feels 'honored' to work with Tori Spelling
Although she was in LA to film, Polizzi mentions having downtime between episodes on her podcast It's Happening With Snooki & Joey. She often posted to her Instagram Stories during these breaks, too.
Polizzi and her castmates were filming multiple episodes daily. That meant a lot of behind-the-scenes action for Polizzi to share with her followers.
Polizzi's Instagram Stories showed her bonding on the Messyness set with Spelling, Rippon, and Ray throughout the week. The Messyness cast would often go out to dinner, have cocktails at the bar, or goof around when they weren't filming. 
"I'm honored," Polizzi wrote over a post to her Instagram Stories featuring Spelling. "She's an actress legend."
"She's iconic," Polizzi expressed on an episode of It's Happening With Snooki & Joey. "We're blessed to work together." It's clear Polizzi enjoyed working with Spelling, but how does the 90210 star and podcast host feel about working with the MTV reality star?
Tori Spelling says 'Snooki' is 'great' and unlike anything she expected 
As Spelling mentioned on the 9021OMG podcast, she shares a mutual adoration for Polizzi. "She's great!" Spelling says during the "Valentine's Day" episode of the 9021OMG podcast. 
"Obviously, we all have our perceptions of what she was like back then," Spelling adds. During the early days of Jersey Shore, drinking was Polizzi's number one priority. Now, Polizzi is best known for operating her own businesses, starring in reality TV, and hosting her podcast.  
"Everyone has their thing that they're known for and sometimes that perception never goes away," Spelling adds. "She's so smart, so funny, so humble, a kick-ass entrepreneur, a great mom." According to Spelling, Polizzi was "totally not what [she] expected and [she loves] it."
It's safe to say Polizzi, Spelling, and the rest of the Messyness crew formed a bond while they were filming. Whether the show gets picked up for more episodes remains unclear, but one thing is for sure — Polizzi and Spelling would love to work together again.
'Messyness' release date
MTV has yet to confirm an official release date for Messyness. However, Polizzi has mentioned on her podcast how she thinks the series could air sometime in November 2021. Similarly, Spelling has also hinted at an end-of-year release for Messyness. Stay tuned to Showbiz Cheat Sheet for updates.