'Messyness': Tori Spelling Talks About Working With Nicole 'Snooki' Polizzi; 'Totally Not What I Expected'
Nicole "Snooki" Polizzi has found a new friend in Tori Spelling working on the forthcoming Ridiculousness spinoff Messyness. But does the Beverly Hills 90210 star feel the same? Find out what Spelling thought of working with Polizzi on Messyness as discussed on the 9021OMG podcast.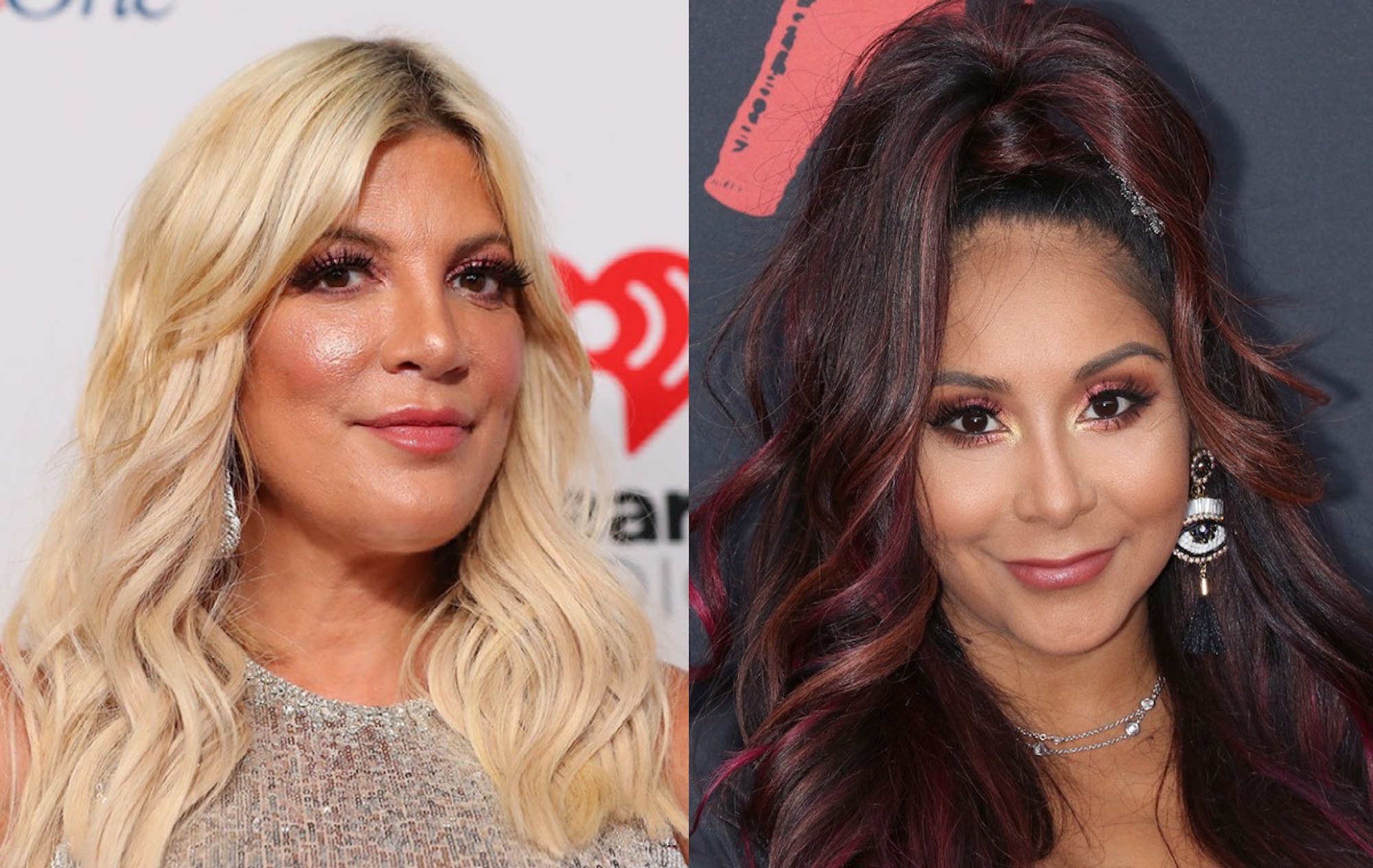 'Jersey Shore: Family Vacation' star 'Snooki' to host 'Messyness'
In the past, Polizzi has mentioned wanting to do more hosting work. So far, Polizzi has hosted How Far Is Tattoo Far and the Floribama Shore Season 4 reunion. Now, Polizzi is taking on the new MTV series Messyness.
Like the Rob Dyrdek-backed comedy series Ridiculousness, Messyness will feature viral videos analyzed by a couch of panelists. According to Deadline, the series will showcase "the most debaucherous clips found on the internet."
Fans can expect everything from awkward proposals to nights at the bar gone wrong. Or, as Polizzi would say, "hot messes" of every variety.
Messyness' panelists include Beverly Hills 90210 royalty Spelling, comedian Teddy Ray, and professional figure skater Adam Rippon. As Polizzi mentioned on social media and her podcast, It's Happening With Snooki & Joey, her friend Joey Camasta also works on the show doing her hair and makeup.
Tori Spelling says Nicole 'Snooki' Polizzi is 'great'
During the "Valentine's Day" episode of the 9021OMG podcast, Spelling speaks briefly about her time filming Messyness with Polizzi. "She's great!" the Beverly Hills star proclaimed.
"Obviously, we all have our perceptions of what she was like back then," Spelling continued, teasing Polizzi's early days as the resident "party" on Jersey Shore. "Everyone has their thing that they're known for and sometimes that perception never goes away."
RELATED: 'Jersey Shore: Family Vacation': Ronnie Ortiz-Magro Is Engaged; When Will He Marry Saffire Matos?
Fortunately for Polizzi, most people's perception of her — including Spelling's — have changed entirely. "Now she's so smart, so funny, so humble, a kickass entrepreneur, a great mom," Spelling added.
Spelling and Polizzi filmed episodes of Messyness over a week. As Spelling concluded, Polizzi was "totally not what [she] expected and [she loves] it."
As discussed on the podcast, Spelling is unsure of when Messyness will air. But per the actor, it'll "definitely be this year on MTV." So fans can likely expect Messyness episodes by the holidays, if not this fall. Stay tuned to Showbiz Cheat Sheet for updates.
'Snooki' feels 'honored' to work with Tori Spelling
While Polizzi was in Los Angeles filming Messyness, she was highly active on social media. Since she and her castmates were filming multiple episodes daily, there was a lot of behind-the-scenes action for Polizzi to share.
Polizzi's Instagram Stories highlighted her bonding with Spelling, Rippon, and Ray during their week of filming. Polizzi and her Messyness castmates were often out to dinner, at the bar, or goofing around when they weren't filming.
"I'm honored," Polizzi wrote over a video of Spelling that she shared to her Instagram Stories. "She's an actress legend," Polizzi added. And as Spelling mentioned on the 9021OMG podcast, the feeling is mutual.
See Polizzi in new episodes of Jersey Shore: Family Vacation every Jerzday at 8 PM on MTV. And stay tuned to Showbiz for updates on the release of Messyness.