MET Gala 2021: Jennifer Lopez Rocks 2 Jaw-Dropping Looks Back to Back — but Where Was Ben Affleck?
After making a jaw-dropping appearance at the 2021 Venice Film Festival, Jennifer Lopez turned heads by serving not one but two iconic looks at other red carpet events. First, the actor debuted a daring ensemble at the 2021 MTV Video Music Awards. The next day, she hit the Met Gala 2021 red carpet in yet another show-stopping outfit.
Though J.Lo looked amazing in her stunning attire, both of her looks were missing one important component: Ben Affleck. So where was Lopez's better half while she walked the red carpets of these exclusive events?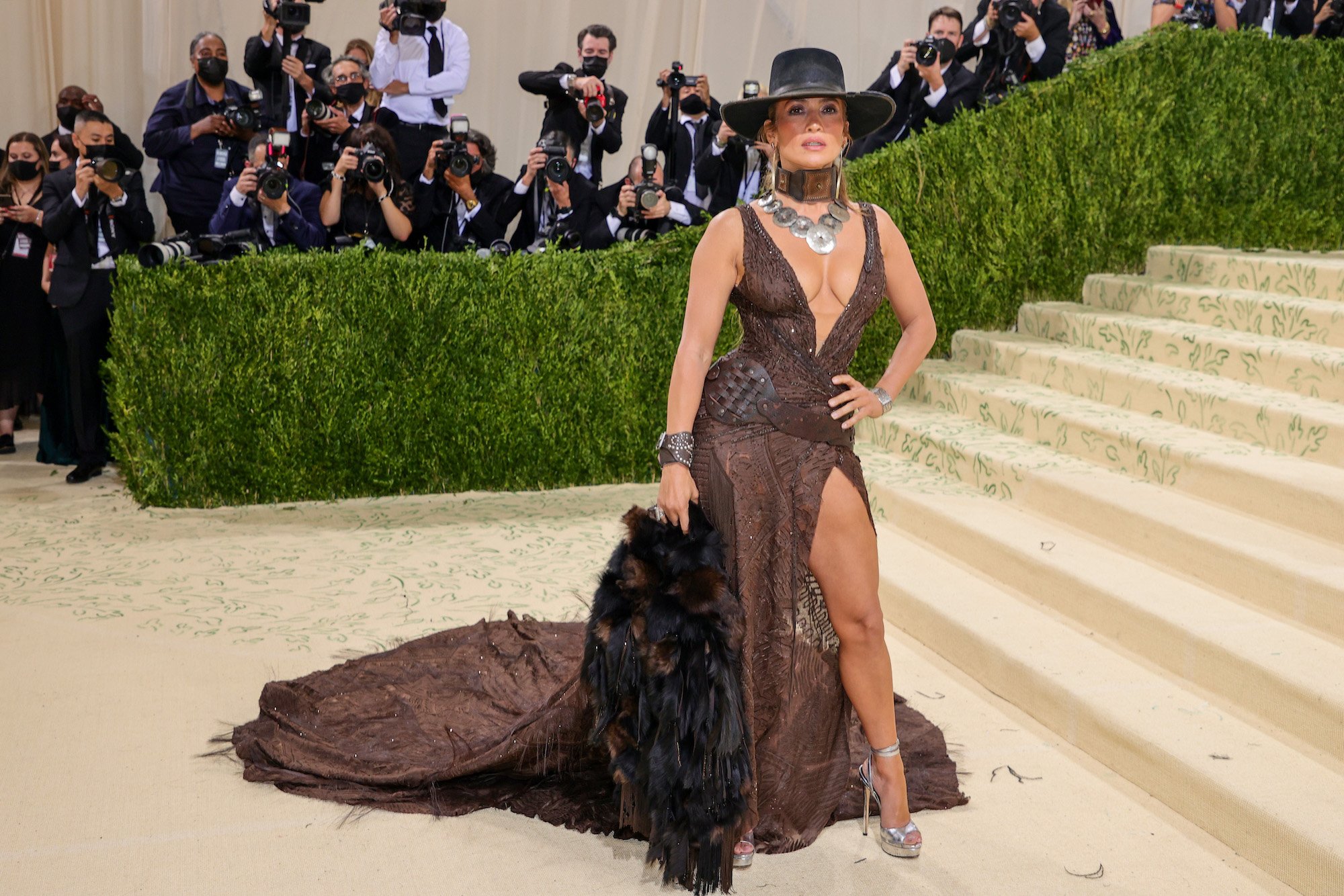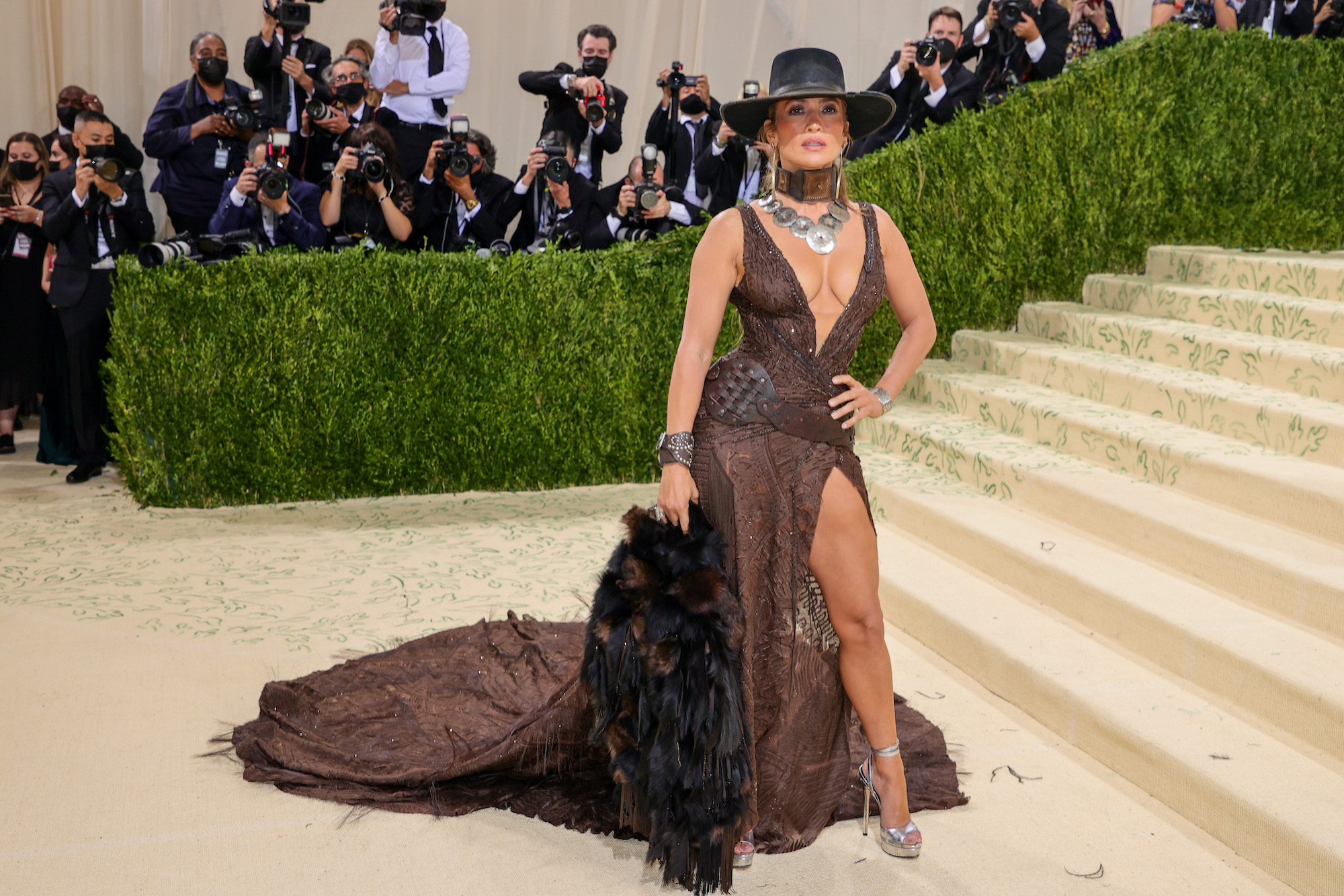 Jennifer Lopez attended the 2021 MTV VMAs solo
After making her first official appearance with Ben Affleck at the 2021 Venice Film Festival and before the Met Gala 2021, Jennifer Lopez attended this year's MTV Video Music Awards sans her new/old boyfriend.
Like many other celebrities who attended the event, Lopez pushed the style boundaries with her award show look. She showcased a daring ensemble for the annual ceremony, donning a black front-tying crop top and a body-skimming silver and black sequin skirt, with peek-a-boo, crossed lace-up detailing on the sides.
Lopez debuted the look on social media. "Let's go VMAs," she captioned photos of herself wearing the outfit, which she shared on Twitter.
RELATED: Jennifer Lopez Makes Her Alex Rodriguez Breakup Instagram Official
Later in the evening, the Maid In Manhattan actor took the MTV VMAs stage wearing the show-stopping garb to present the night's first award, all while the crowd went wild.
Have no fear, Ben Affleck showed his support for J.Lo at the 2021 Met Gala
Though Jennifer Lopez attended the MTV Video Music Awards solo, she didn't arrive alone at the 2021 Met Gala.
When the "Jenny from the Block" singer first appeared on the red carpet of the coveted fashion event, many were disappointed that Ben Affleck wasn't by her side. However, fans' spirits were soon lifted when photos of Lopez on Ben Affleck's arm surfaced online.
Although Affleck let Lopez take the spotlight on the red carpet, their chemistry was on full display inside the event. Not only couldn't they keep their hands off of each other, but Bennifer even made out with their masks on while showing off their outfits.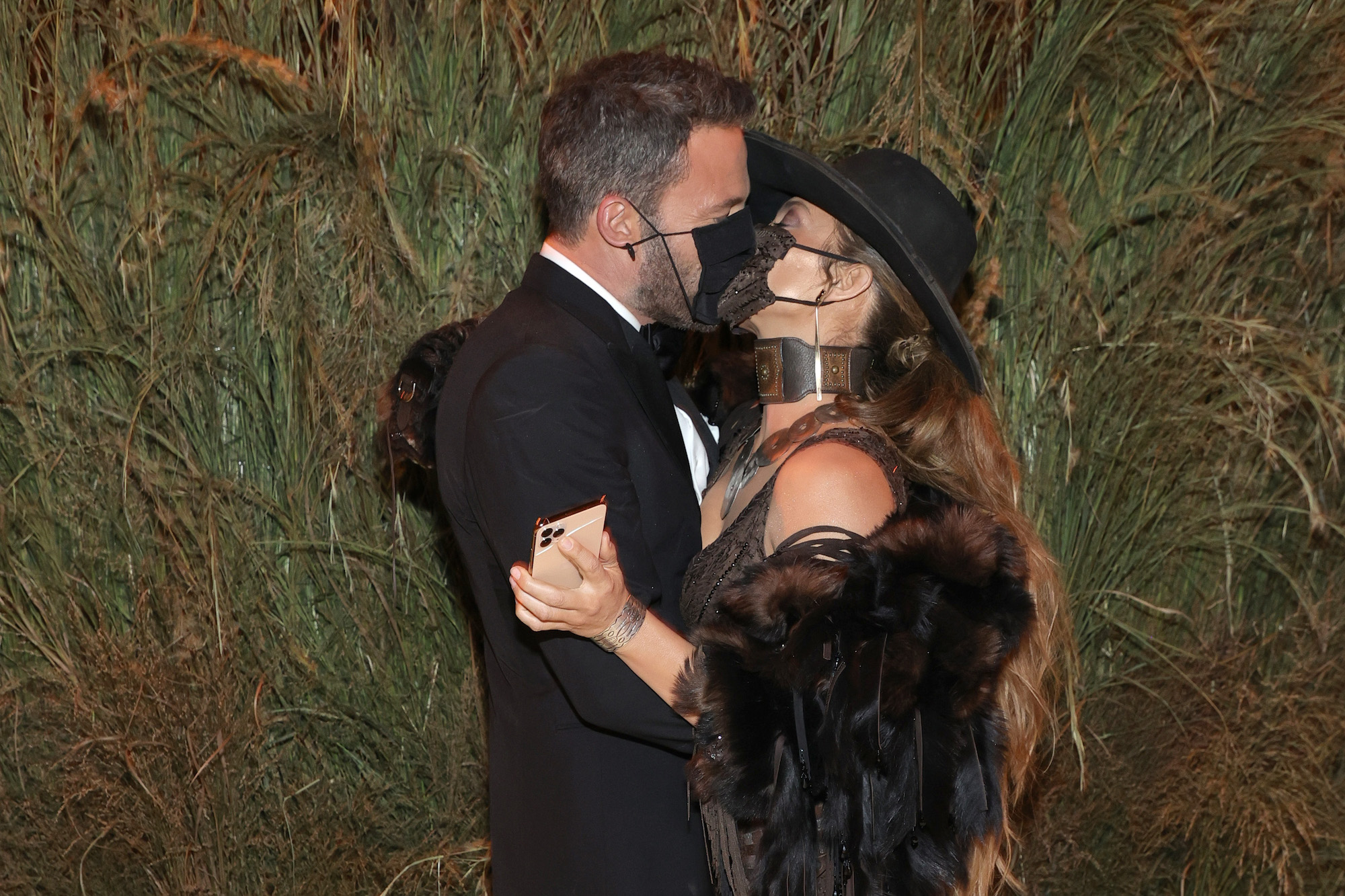 RELATED: Jennifer Lopez Once Said Ben Affleck 'Wears the Pants' in Their Relationship
While Lopez wore a dramatic beaded brown Ralph Lauren gown with a plunging neckline and a high slit, along with a feather bolero jacket, holster belt, a wide-brimmed hat, and silver pumps, the Gone Girl actor donned a simple black suit.
Based on the PDA-filled snapshots, it looks like Lopez and Affleck are still madly in love and are just getting started with their red carpet appearances.
Jennifer Lopez is 'super happy' amid her rekindled romance with Ben Affleck
Since getting back together with Ben Affleck, life has been really good for Jennifer Lopez.
While speaking with Apple Music's Zane Lowe in July 2021, the Hustlers star opened up about how happy she is at this point in her life and career. Though she didn't mention Affleck by name, Lopez seemingly hinted that a portion of her happiness stems from their rekindled relationship.
"I'm super happy," she said during the interview. "I know people are always wondering. How are you? What's going on? Are you OK? This is it. I've never been better. And I want my people who care about me because I care about them so much, to know that I've really gotten to a place in my life where I'm great on my own."
J.Lo continued, "I think once you get to that place, then amazing things happen to you that you never imagine in your life happening again. And so that is where I'm at. And I love all the love that's coming my way right now and all of the good wishes. And I just want everybody to know that it's the best time. It's the best time of my life."