MET Gala 2021: Rihanna, Justin Bieber, and 5 Other Stars Who Made the Worst Dressed List
After more than two years, the Met Gala 2021 returned with a bang. The smaller-than-usual event featured A-list celebrities fusing fashion and art with over-the-top outfits. Some took the "In America: A Lexicon of Fashion" and ran with it. Many guests stunned in the ensemble's but others, like Rihanna, totally missed the mark. Here's a look at the worst-dressed.
7. Rihanna and A$AP Rocky arrived at the MET Gala in mistmatched outfits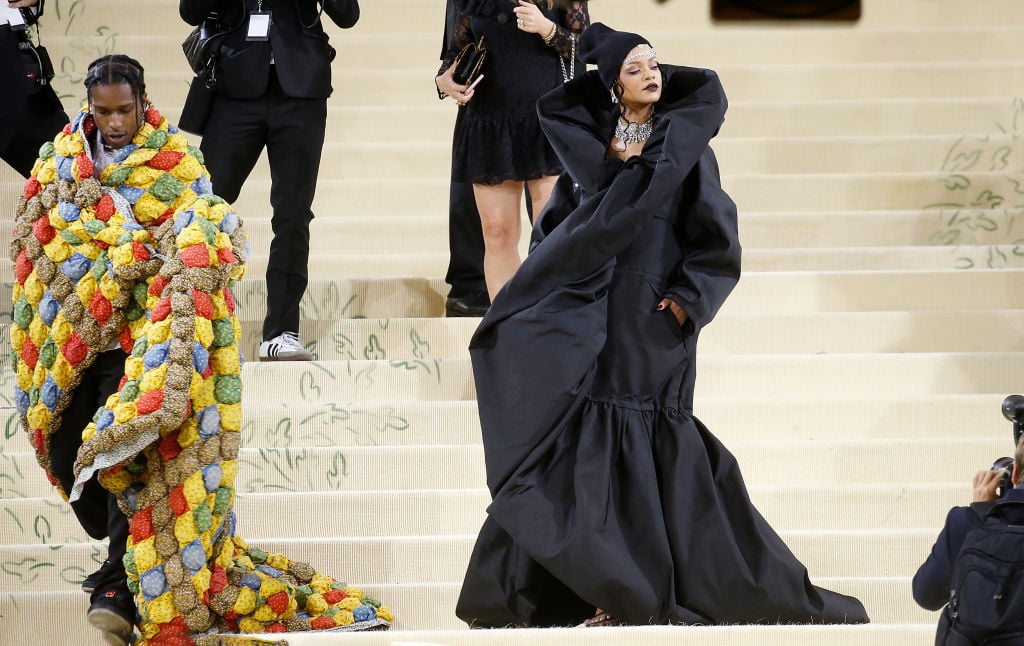 "Umbrella" singer Rihanna is typically known for her killer vocals and iconic wardrobe choices. But, her choice for the 2021 MET Gala fell short. Her long, black Balenciaga coat dress billowed so much, Rihanna appeared lost in the fabric. She paired the dress with a matching black beanie and oversized jewels.
Her boyfriend, A$AP Rocky, arrived in an oversized red, blue, and yellow printed wrap that resembled a handmade quilt with a loose-looking suit beneath. The two have been romantically linked since 2020.
6. Justin Bieber didn't match wife Hailey's look
Pop singer Justin Bieber didn't exactly level up to his wife Hailey Bieber's jaw-dropping strapless black dress. His navy suit had an oversized fit, which he topped with white shoes. Though Bieber's isn't the worst of the outfits this year, it could've been a little better — especially with Hailey at his side.
5. Dan Levy's whimsical choice wasn't all that bad, actually
Schitt's Creek star Dan Levy made a statement in his periwinkle blue shirt, featuring a bedazzled couple kissing, with large, puffy sleeves. His matching map pants were only outdone by flower-adorned boots and a white clutch. The actor also traded his naturally curly locks for a sleek comb-over and arrived sans his trademark glasses. It's one of the most "ew, David" moments of the night.
4. Alexandria Ocasio-Cortez took a political stand
Alexandria Ocasio-Cortez showed up with a bold political statement written across her strapless, white, mermaid-fitted dress. "Tax the Rich" was written in red as the New York representative aimed to call out the wealthy elite. Some were quick to point out the hypocrisy considering the event reportedly cost at least #30,000 per ticket.
3. Gabrielle Union's MET dress bubbled over
Gabrielle Union's white, bubbly dress might've had good intentions — and we understand what look she was going for — but the dress overpowered the star. There were definitely stranger outfits through the night, but Union's intergalactic design didn't inspire.
2. Kim Petras worse a horse head and yes — we're confused
In one of the more bizarre choices of the night, singer Kim Petras arrived in a flower-printed, floor-length dress with a horse head for the shirt. She even styled her hair to match the tail of a pony. Designer Hillary Taymer joined Petras in her own horsehead piece, marking these two the biggest "what?" moment of the night.
1. Kim Kardashian West made a gala statement
Leave it to a Kardashian to take things to a whole new level. Kim Kardashian West walked the cream-colored carpet in an all-black Balenciaga outfit that covered her from head to toe — including her face. She arrived with Balenciaga designer Demna Gvasalia, who dressed in a similar outfit.
Some think Kardashian West's choice alluded to reconciliation with Kanye West, but that's neither been confirmed nor denied.
RELATED: Kim Kardashian West's MET Gala 2021 Look Has Fans Thinking She and Kanye West Are Back Together