Met Gala 2022: Blake Lively and Ryan Reynolds' All-Time Best Looks
Blake Lively and Ryan Reynolds have walked plenty of red carpets together, but there is no look like a Met Gala look. Here are the couple's all-time best Met Gala outfits.
Every year, the Met Gala has a star-studded list of hosts. This year's event featured Blake Lively and Ryan Reynolds, among several other A-listers hosting the event. The two have walked the red carpet together for several years, and each year, their Met Gala personas take on something even more jaw-dropping than in years' past.
Lively's looks are arguably more pronounced than her husband's, but the two still turn heads together on the big day. Here are some of the couple's best-ever Met Gala outfits. Spoiler: They both love a pop of blue.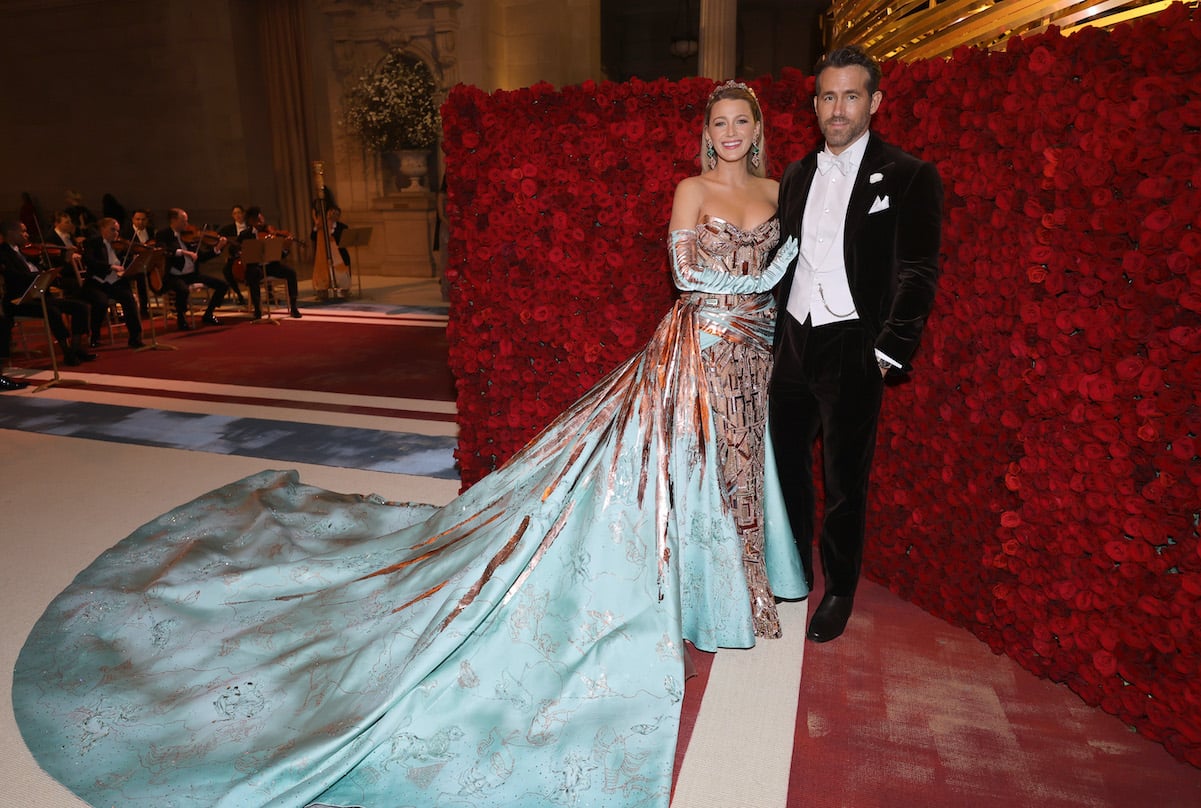 Blake Lively stunned in her Statue of Liberty look at the 2022 Met Gala
Lively and Reynolds appeared on the red carpet together, as usual — but it's safe to say that all eyes were on Lively at this year's event. As a host, everyone knew she'd have a Met Gala outfit to envy, but nobody could have expected how perfectly she executed her ode to the Statue of Liberty. The Versace dress paid homage to the American landmark with its copper-toned color paired with a teal blue-green that was meant to reflect the Statue of Liberty's oxidation through the years.
Of course, Reynolds was by his wife's side; the couple walked arm-in-arm until Lively removed the bustles on her dress that were hiding the green hues of the gown. Reynolds then let his wife have her moment as the photographers captured the look.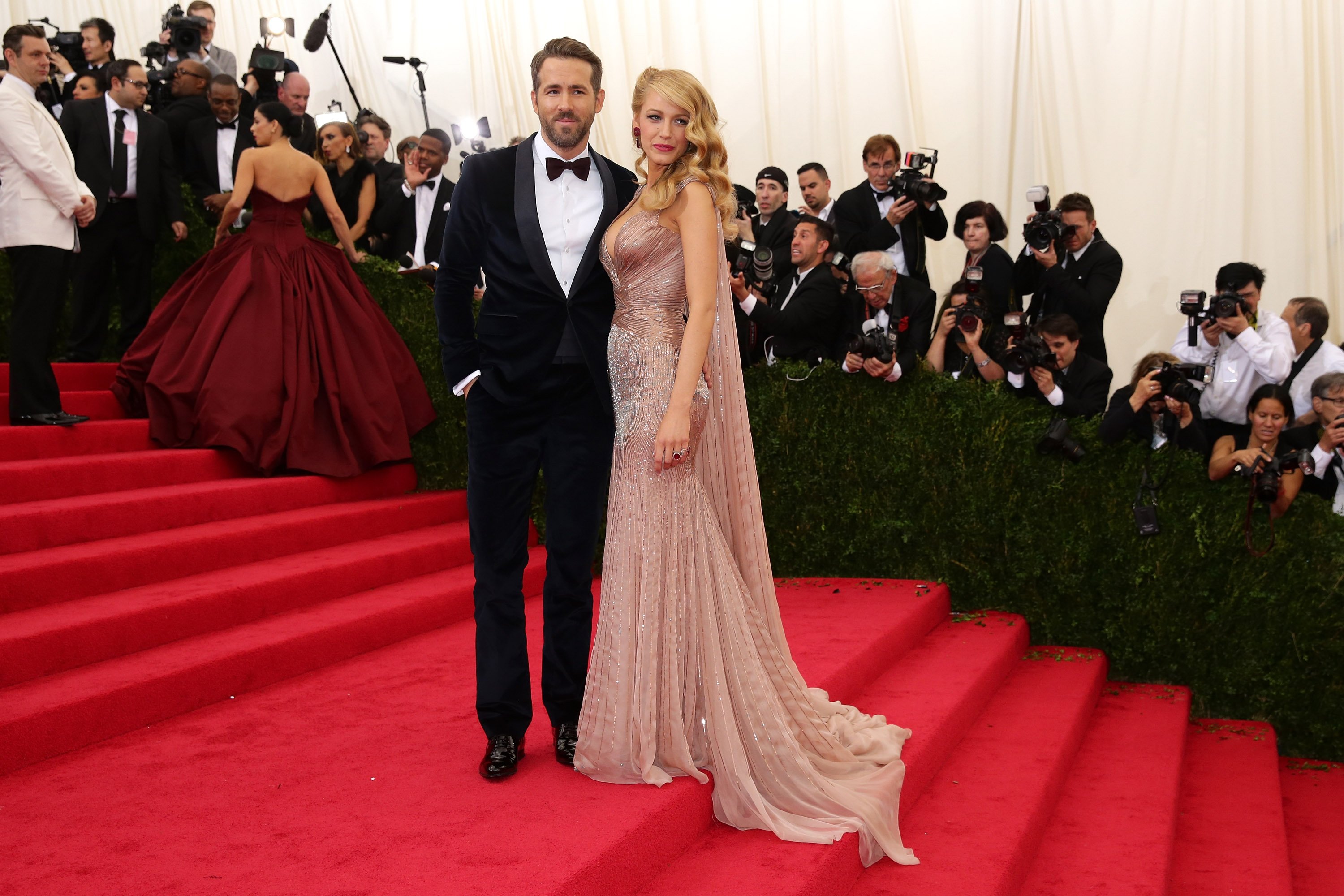 Blake Lively shimmered with Ryan Reynolds by her side at the 2014 Met Gala
Reynolds and Lively have appeared on plenty of red carpets together, but no look compares to a Met Gala look. In 2014, Lively arrived in a rose gold gown by Gucci, and Reynolds was at her side wearing Gucci as well. Reynolds went with a velour suit that year and strayed from the classic black in favor of a midnight blue, according to People.
Lively's gown shimmered, and it had a train that was just long enough to make a statement without being over the top. And, of course, we now know that Reynolds is a big fan of velour — he wore it in 2022 as well.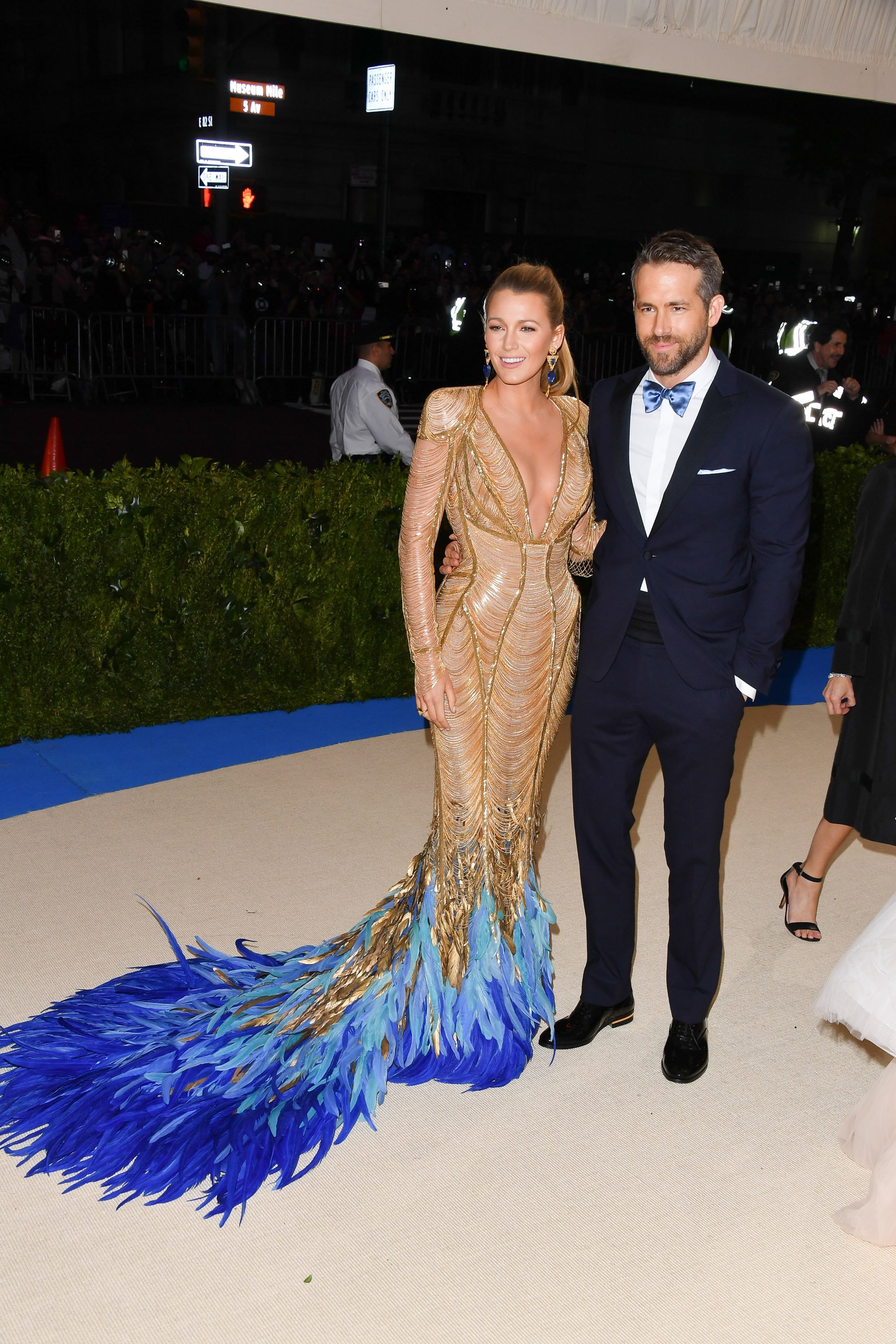 Blake Lively and Ryan Reynolds' Met Gala looks paired perfectly in 2017
We'll say this: Blake Lively hardly ever attends a Met Gala without some kind of blue involved in her gown. In 2017, she and Reynolds walked the red carpet together, and Lively's gold dress stunned. But it was Reynolds bow tie that paired perfectly with the blue at the end of her gown that had people in awe. The two looked iconic together, and their outfits made it clear they were attending as a duo; most Met Gala couples don't look that complementary.
Though Lively's gorgeous gowns often steal the show, her husband is always right beside her; talk about a power couple.