'Miami Vice' Spiked Sales of Ray-Ban Wayfarer Sunglasses
Ray-Ban's Wayfarer skyrocketed in popularity when 'Miami Vice' was on air.
If you liked watching TV in the 80s, there's a good chance you were a Miami Vice fan. Even if you weren't, any attempt to revisit that era can't be done without at least a brief mention of the show. Miami Vice was one of the seminal shows of the 80s. Beyond just being good TV, it also had a clearly defined aesthetic that's come to help mark that era. Let's take a closer look at how that show and its popularity actually helped propel a pair of sunglasses to success. 
The cultural impact of 'Miami Vice'
Miami Vice acts as equal parts action cop drama and time capsule. It was one of the most recognizably 80s TV shows.
Created by famed film director Michael Mann before he'd have later success on the big screen, it introduced an iconic style into the cultural milieu. Don Johnson's Crockett and Philip Michael Thomas' Tubbs were endlessly cool. Their wardrobes became a sign of the times: Both men's casual but classy look of frequently wearing blazers with t-shirts become etched in the memories of many '80s TV fans. 
It didn't hurt that the show was also extremely well-written and well-put together. Mann clearly had talent, and Miami Vice is where he developed his filmmaking skill he'd later apply to classic films like Heat and Collateral. Mann even adapted the show for the cinema, making a movie starring Colin Farrell and Jamie Foxx. 
Along with the show's great dialogue and action sequences, it also featured cool clothes. One accessory that helped define the show were the sunglasses the two main characters wore: Ray-Ban Wayfarers. 
What are Ray-Ban Wayfarers?
According to the Ray-Ban website, Wayfarers represent "the most recognizable style in the history of sunglasses."
They come in three distinct styles: New, Original, and Folding. They also come in a large variety of colors, gradient lenses, and other customizations.
Some people go with a sleek, black look. Others go for more sophisticated wood paneling. Either way, they're extremely well-regarded and the first name many people turn to when buying eyewear. In many ways, they've become like the Babe Ruth of sunglasses — synonymous and almost interchangeable with the word itself. 
Of course, this wasn't always the case. There was a time when Wayfarers and the Ray-Ban brand in general were so down, it looked hopeless. With the help of a movie and a TV show, they rose like a phoenix. 
Why Ray-Ban owes 'Miami Vice' a debt of gratitude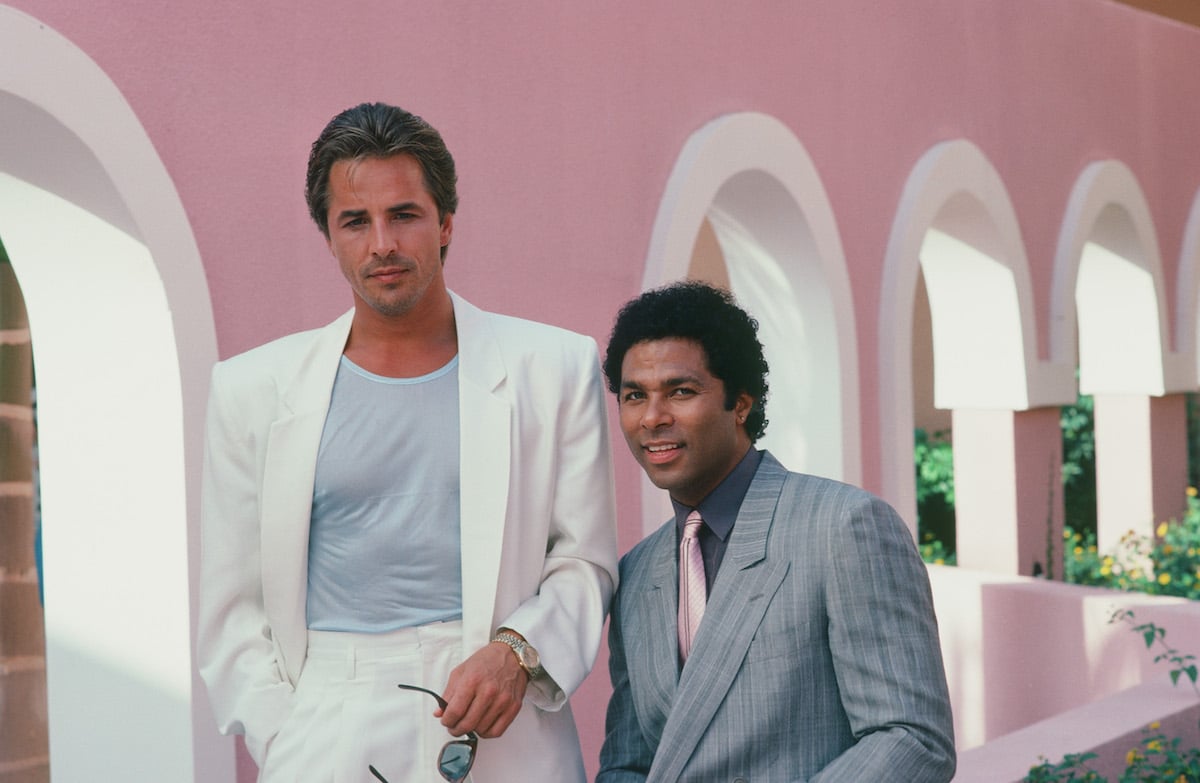 In the early-to-mid-80s, Ray-Ban didn't have nearly the same market share they have now. In fact, the brand itself was at death's door. According to Mental Floss, however, Miami Vice played a big part in their resurrection and subsequent success. 
Though Ray-Bans are worn by many people now, they weren't very popular in the early 80s. What began the reversal of that trend was a young star named Tom Cruise. Cruise wore a pair of Ray-Ban Wayfarers in the film Risky Business. This caused an uptick in sales.
To add fuel to the fire, Johnson wore them on Miami Vice. By 1986, thanks in no small part to the dual efforts of Cruise and Johnson, they were sold 1.5 million pairs. 
What's the lesson here? If you have a clothing or accessory brand, get someone as popular as Johnson was in the 80s to wear your brand. While he's seen as an elder statesman of the acting world now, at the time, Johnson was a heartthrob and very popular. Just donning the Wayfarers was enough to bump up their sales. The sunglasses fit right in with the rest of his wardrobe, so it didn' t seem forced at all.