Michael B. Jordan's 'Creed III' Fitness Regimen Involves Shorter Workout Sessions
As the writer and director of 'Creed III,' Michael B. Jordan had to reconsider how he works out and prepares for filming.
Michael B. Jordan is known for his roles on The Sopranos and Friday Night Lights. He also succeeded in feature films like Without Remorse, Black Panther, and more recently the third movie in the Creed trilogy. Staring in Creed III and being 2020's "Sexiest Man Alive" does not happen without a lot of hard work in the kitchen and the gym.
When preparing Jordan for his role as Adonis Creed, trainer Corey Calliet took a new approach to fitness.
Corey Calliet built Adonis Creed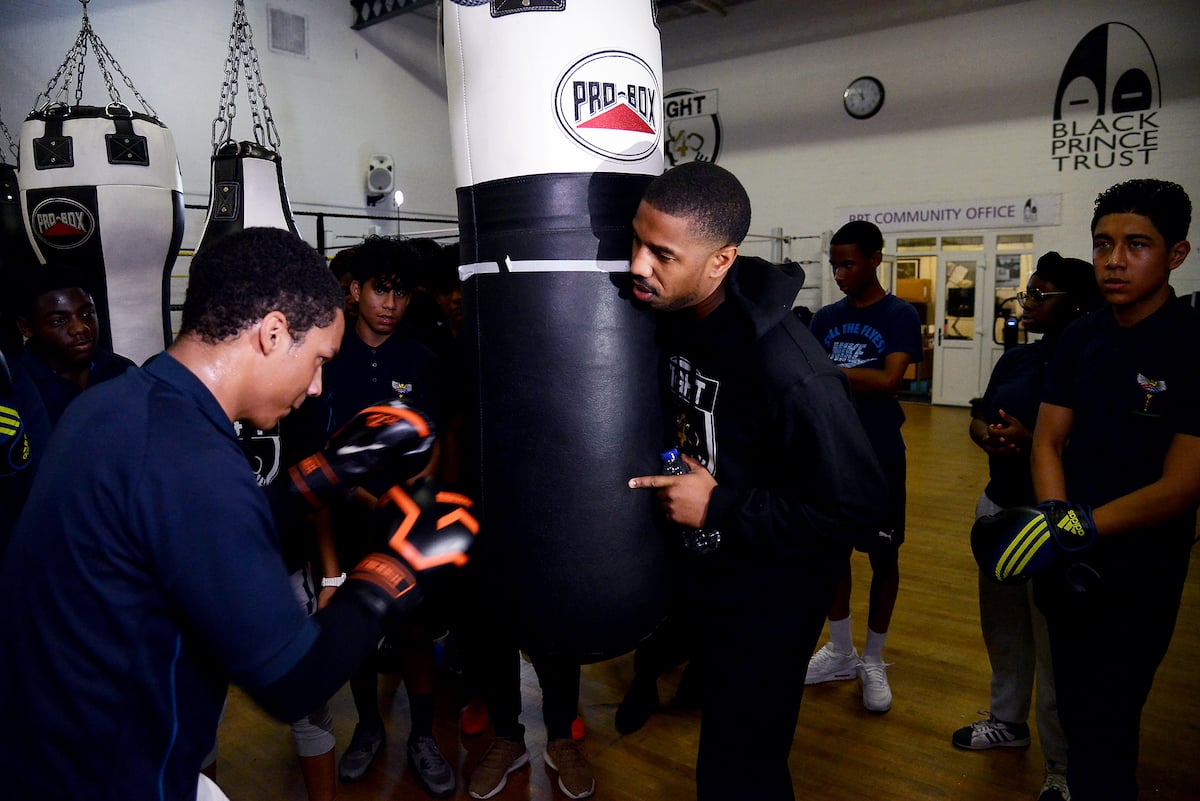 Jordan will step into the ring again not only as an actor but also as the director. He will return to the leading role of Adonis Creed in the 2022 release of Creed III and also occupy the director's chair. Insider reports that to get ready for such a heavy commitment he called on Calliet, a trainer to the stars.
Jordan is no stranger to Calliet. He built Jordan's physique for Creed (2015) and Creed II (2018) with great success. Calliet knows what he's doing when preparing a client for an action film, and Jordan knew he was in good hands. 
Calliet had to change things up for Michael B. Jordan's fitness routine 
While Calliet and Jordan have worked together in the past, Calliet knew he needed to modify training strategies. Barbend reports that one of the unique challenges he faced was creating a workout that would get Jordan physically and visually ready for the role as well as able to direct the film. Calliet said, "I need him to be able to function as a director and as an actor at the same time." 
The long and intense workouts of the past no longer work for Jordan's already grueling schedule. He needs efficient and effective workouts. And you can have noticeable gains with much shorter workouts.  
Instead of giving Jordan one long workout per day, Calliet gives him three to four shorter workout sessions per day. Each session is high-intensity in order to speed up muscle growth and build endurance. 
Typical training begins with conditioning utilizing sprints. Starting with cardio helps set the tone of the day with more energy and also helps with sleep. A few hours later, Jordan will follow the conditioning workout with a boxing session using a punching bag. While this workout pairs well with Jordan's role as Creed, boxing is an excellent workout regardless.
Jordan will then finish out his day of training with another cardio or weight lifting session. By breaking up each dimension of fitness, Calliet is able to help Jordan grow more muscle and improve his endurance, so he can have the ideal boxer's body. 
Jordan also works hard in the kitchen 
The magic of building a star's body doesn't happen entirely in the gym. In fact, most of it happens in the kitchen. Calliet, like any good trainer, knows this truth all too well, and he used his extensive knowledge and finesse to properly formulate Jordan's diet. 
Again, since Jordan is directing and acting in Creed III, his training and diet need to accommodate both roles. Jordan needs to eat in a way that will sculpt his iconic Creed physique and fuel him for the mental elements of directing. Basically, Calliet can't be too restrictive of calories in Jordan's diet.
When the film gets closer to principal shooting, the diet will be trimmed down for the final push to optimize Jordan's body. 
According to IMDb, Creed III will release on November 23, 2022.