Michael B. Jordan Nearly Choked Out Jamie Bell While Filming 'Without Remorse'
Michael B. Jordan has made a career out of playing tough guys on the big screen. From Black Panther to Creed, he always seems to land roles that have him playing intense, macho guys, and his latest release, Without Remorse, is no different.
In the film, he plays John Kelly, a Navy SEAL seeking revenge for the murders of his pregnant wife and unit members. Without Remorse features a number of intense, highly physical scenes, but one in particular nearly went too far.
Believe it or not, Jordan nearly choked out of his co-star, Jamie Bell, for real while they were filming a tense moment in the movie.
Michael B. Jordan almost choked out Jamie Bell while filming 'Without Remorse'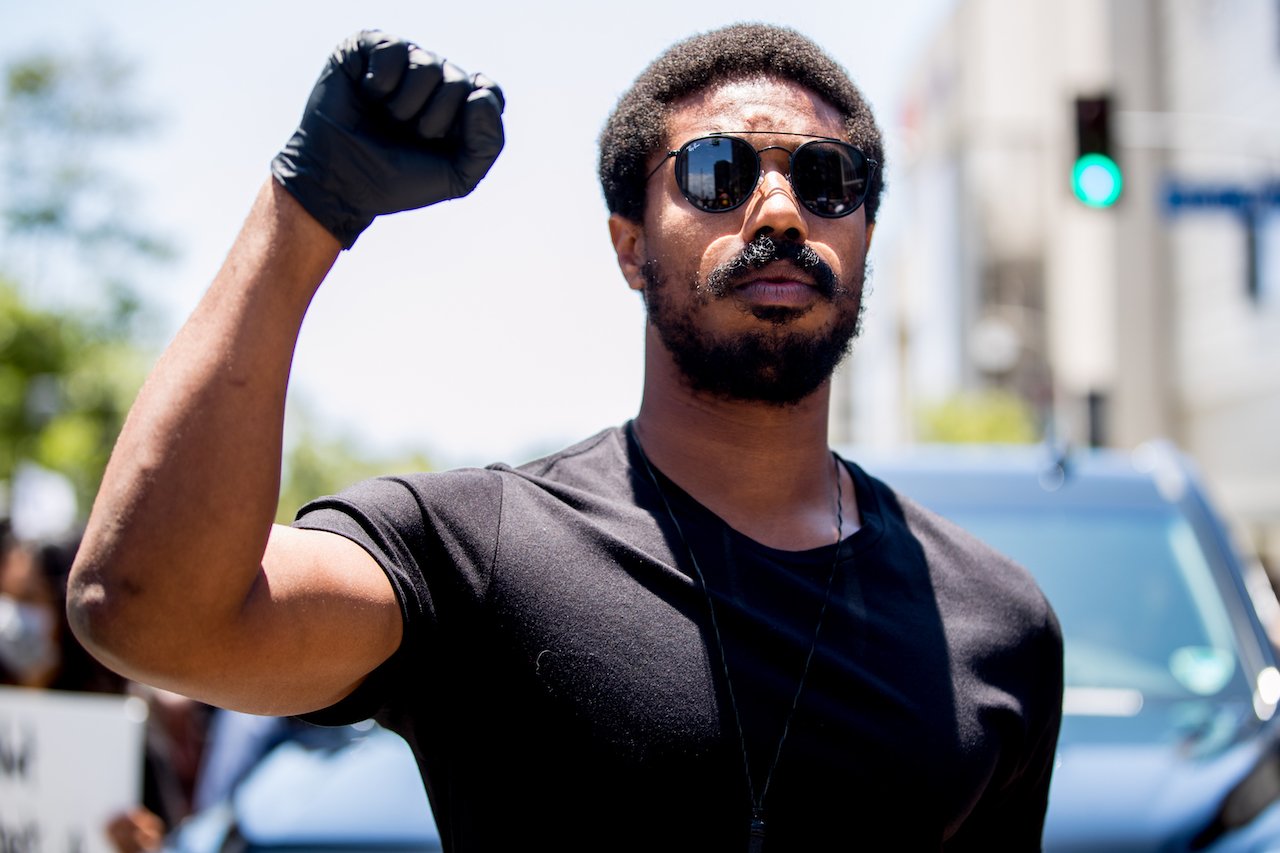 RELATED: Michael B. Jordan Reveals What the 'Next Challenge' of His Career Will Be — 'It's All Downhill From Here'
Jordan discussed the mishap during a recent interview with Entertainment Tonight, noting that Bell asked him to do it. 
"Yes, that was actually very intense," Jordan said, laughing. "And Jamie, I am so sorry, but … to my defense, he wanted it, ok? He told me to keep going, and I was like, 'Hey man, you sure?'" Jordan recalled. "At this point, my forearm is actually sore. For the next three or four days, my entire forearm was sore from choking him out, but he's a little glutton for punishment."
According to Jordan, he choked Bell so badly that Bell had bruises on his neck and could barely talk afterward.
"He was sore," Jordan said. "I mean drinking tea, his voice was messed up, but that's why I love that guy, he doesn't stop. He is one of the best scene partners I've ever had and I was extremely blessed and lucky to work with him on this one."
He didn't use any stunt doubles for 'Without Remorse'
Even though Jordan might've momentarily hurt Bell while filming their scene, Jordan went through significantly more pain while shooting Without Remorse. Jordan revealed in a separate interview with Trevor Noah that he did all of his own stunts for the movie, a rare feat for big Hollywood stars. 
"These types of movies are the things that I grew up watching," Jordan admitted. "I love action movies, you know? So I was like, 'One day, I want to do my own action movie, and I'ma do my own stunts,' and this was the one for me to check that box."
In order to prepare for his role, Jordan had to train with a bunch of ex-military personnel who showed him important techniques.
"I worked with ex-military, ex-Navy SEALS, ex-Marines, military divers for a lot of the water work that we had to do," Jordan said. "Really, every stunt that you saw, I had a specialist that I spent enough time to get comfortable within the stunt and then went out and executed."
He had to hold his breath underwater during one scene
One stunt, in particular, that's been impressing Without Remorse viewers occurs during a scene in which Jordan must hold his breath for an extended period of time underwater. Jordan told Noah that the scene was by far the most challenging part of the movie.
"That was the one that… You know, it took us about a week and a half to shoot, and every day I would get up, and I would go to set, and I would be like, 'Who wrote this? Why did we decide to do this?' It was my favorite thing, and then it was my least favorite. I mean, I hated it. And then I fell in love with it all over again once we finished it, just because we accomplished it and we got it done. … It was very ambitious, but it was something that I had to do because Stefano wanted to shoot it in a way that you knew it was me doing those stunts."
Without Remorse is available for streaming on Amazon Prime Video.