Michael Jackson's Real Parents Are Motown Stars According to This Conspiracy Theory
Some are questioning the very roots of that legacy. The latest conspiracy theory suggests that there's something secretive about Jackson's parentage.
As far as celebrity conspiracy theories go, there are the relatively tame (Prince Harry and Meghan Markle are in a fake relationship) to the truly bizarre (several celebrities, including Gary Busey and Lady Gaga, are actually intergalactic visitors from another planet). A recent theory floating around falls somewhere in between, and it involves Michael Jackson. 
There have been several posthumous controversies surrounding the King of Pop. From the explosive accusations leveled against the once-beloved musician in Leaving Neverland to the fascination with Jackson's kids and how they're managing to live their lives with such a cloud hanging over their heads, it's clear that fans and critics alike are still tuned in to Jackson's legacy. 
Now some are questioning the very roots of that legacy. The latest conspiracy theory suggests that there's something secretive about Jackson's parentage. 
Michael Jackson was in the spotlight his whole life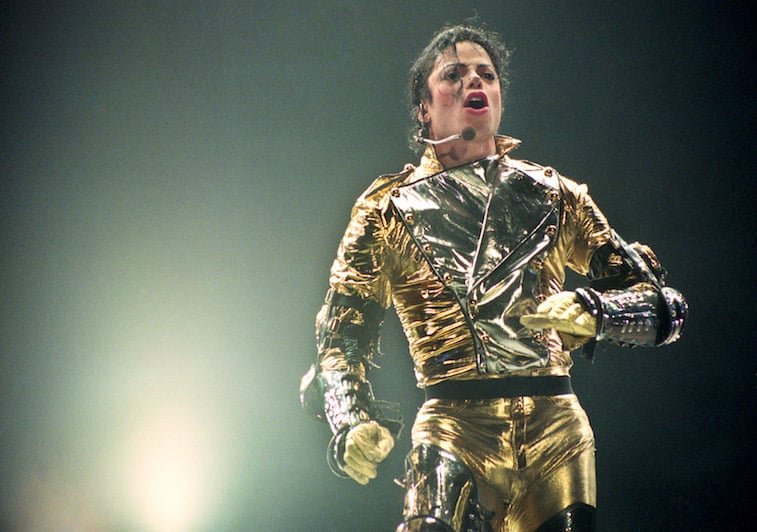 Jackson became an entertainer at a very young age, so almost his entire life was spent under the scrutinizing glare of fandom and media. He was born in 1958 in Gary, Indiana to devout Jehovah's Witness Katherine Jackson and musician-turned-crane operator Joseph Jackson.
Michael Jackson had nine siblings, and when he was only five years old, he began performing alongside several of them in the Motown group The Jackson 5.
Young Michael Jackson became the lead singer of the sensational group, and they earned worldwide renown while opening for such megastars as James Brown and Gladys Knight and the Pips.
By the time Jackson was 11, The Jackson 5 was really taking off, and Jackson and his brothers lived with Diana Ross in Los Angeles while they got settled into their new role. 
Their first album, Diana Ross Presents the Jackson 5, had a single hit number one on the charts shortly after its December 1969 release. By the early 70s, Jackson had launched a solo career that would see a meteoric rise, making him one of the most recognizable, beloved, and celebrated musicians of all time.
His eventual reclusiveness and tragic death would also leave behind a legacy scarred with controversy, rumors of an abusive childhood, and confusion. 
A theory suggests Diana Ross was more than a fellow musician 
Obviously, Diana Ross played a major role in getting The Jackson 5 off the ground. Her support and promotion gave the child-filled group a foothold into the industry. Some fans believe, however, that Ross was more than just a fellow musician and mentor.  
In a YouTube video, an account called An American Scheme reveals what he calls the "truth" about Jackson's legacy and parentage. He claims that Ross is actually Jackson's mother. 
A Reddit thread takes the conspiracy even further. A post suggests that when Smokey Robinson was 18 and Diana Ross was 14, they had a child. Berry Gordy, the founder of Motown and music producer, passed the baby (whose birth would have derailed talented Ross' up-and-coming-career if it had been made known) to his friend Joe Jackson to raise as his own. 
The analysis goes so far as to compare clothing Ross wore on the set of the film Double Platinum with clothing she actually wore on stage alongside Jackson.
It also suggests that the lyrics to Jackson's famous hit "Billie Jean" are not about a man denying the parentage of his pregnant female acquaintance but about Ross revealing to Jackson that she is his birth mother but that he is no longer her son because she gave him up. 
Could the Michael Jackson conspiracy theory be true? 
Like most conspiracy theories, there's enough "evidence" to give the theory some weight. There is a certain satisfaction in using such a tremendous reveal — that his family is not really his own — to explain young Michael Jackson's descent into shyness and his Peter Pan obsession.
This theory also points to Jackson's tremendous innate talent and looks that don't match his siblings' as further evidence that something is amiss. 
Skeptics used the thread to point out that Michael Jackson and his sister Janet Jackson have very similar features and that Michael, Janet, and Jermaine Jackson all share a similar voice. He obviously isn't the only one in the family with immense musical talent, and there's plenty of childhood trauma that could explain his behavior later in life. 
The theory might be something to help fans pass the time and remember a musician they adored through a different lens, but it would need to be much more substantial to be believable.