Michael Jordan's Son, Marcus Jordan, Took a $3 Million Gamble During a Preseason UCF Game: 'I Was in Constant Communication With My Dad'
Michael Jordan's Nike partnership presented a problem when his son Marcus Jordan decided to attend a college that had a contract with Adidas.
When you're the son of Michael Jordan and you play basketball, the spotlight is on you whether you want it or not. With that legacy to live up to, a lot is expected when you take the court.
With Michael's longtime, lucrative relationship with Nike, it's not a surprise that his son would want to follow in his dad's footsteps and play while wearing Nike shoes.
It presented a bit of a problem, though. Marcus Jordan decided to attend college at a school that had a contract with Nike competitor Adidas. It turned into a $3 million gamble for Marcus and his school.
Marcus Jordan chose the University of Central Florida despite the Adidas connection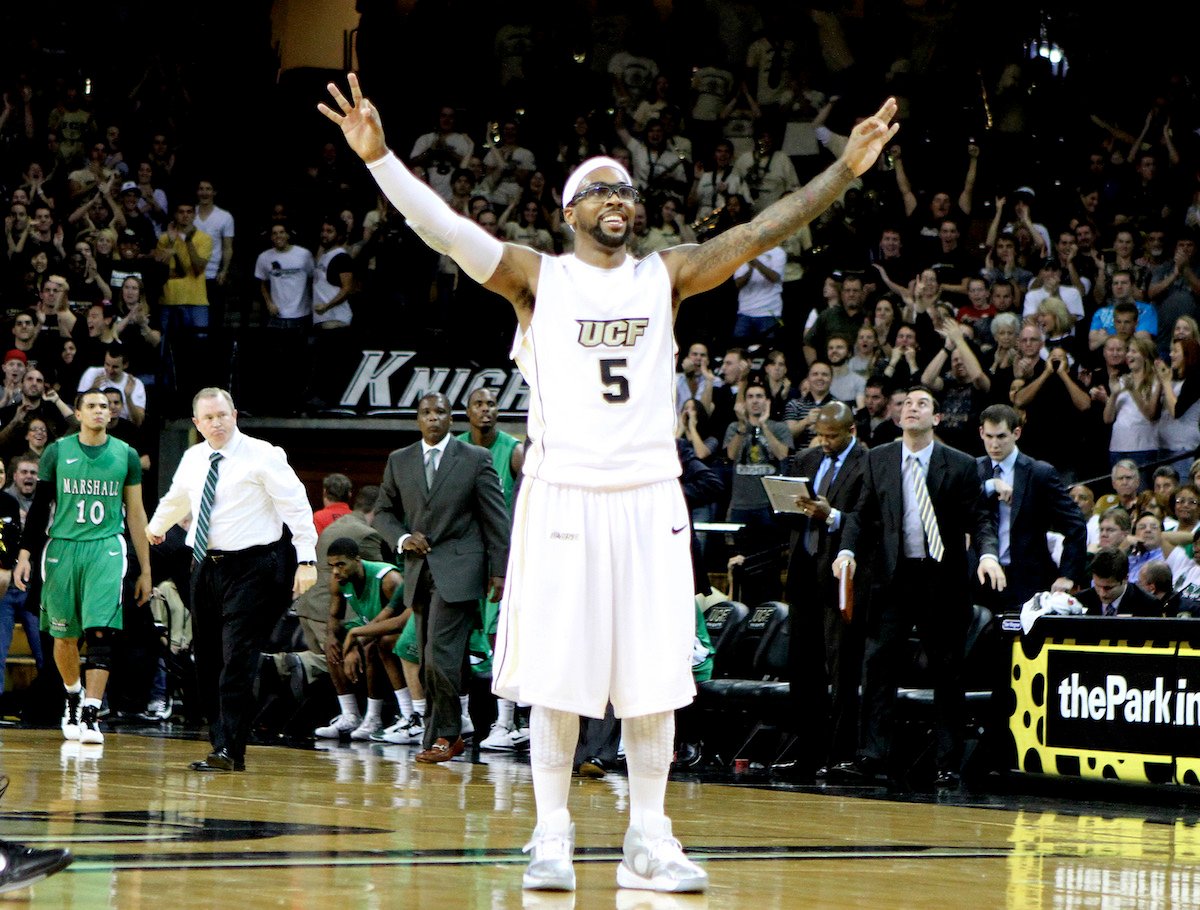 Complex writes about the complex situation involving Marcus and his shoes in 2009. In an interview with the site, Marcus recalls that he was recruited by UCF. When he visited the school he was told that "it wouldn't be a problem" if he wore Nike-owned Jordans.
Marcus says he was assured that representatives from the school spoke to regional Adidas reps. "it wouldn't be an issue" because they understood as Michael's son it made sense for Marcus to wear Jordans.
When Marcus got to campus in the fall, he heard rumblings that Adidas was mad. The company wanted him to wear their shoes instead of the Jordans. UCF's athletic director and coach at the time stuck by Marcus. He told the young athlete, "We're gonna honor what we told you, because the people we were dealing with told us it wasn't an issue."
This didn't sit well with the folks from Adidas, though. The situation blew up when Marcus wore his Jordans during a preseason game against Saint Leo University.
Adidas dropped UCF's $3 million contract
After Marcus wore the Jordans in that exhibition game, Adidas quickly dropped UCF, costing the school about $3 million in sponsorship money. Nike saw that as an opportunity and tried to pick up the UCF sponsorship.
UCF had to be careful about signing the deal with Nike so that there weren't legal repercussions to deal with. They wanted to ensure it didn't look like Marcus wore the shoes on purpose so the school could switch from Adidas to Nike to appease his father. "I was in constant communication with my dad," said Marcus. "It was never to the effect of, 'We need to get Nike to come in and take over the school.' It was more like, 'This is what's going on.'"
UCF didn't want to appear as if it was breaking its contract with Adidas. As Marcus explains, it's not like they sat down and said, "Hey, we need to make this school Nike." Marcus says "it just kind of happened," with Nike "coming in and taking over the school" with what he believes was a five-year deal.
How Marcus Jordan's schoolmates treated him during the situation
When Adidas ended its contract with UCF because of Marcus wearing Jordans, you might think his classmates would be upset over what happened, but they weren't.
It describes it as "more of an inside joke" because Adidas dropped UCF entirely, so "nobody in any sport was getting any product. There were no more tees, there was no more anything." The athletes joked that it was all Marcus' fault.
When word spread that Nike was taking over the school's sponsorship, Marcus says "every kid in the school was excited — even the ones that didn't play sports." It didn't just mean Nike gear for the athletes. It meant Nike gear would be available in the school's bookstore as well.
He says people even thanked him when Nike came on board with UCF. Marcus says, "I guess, I get a little credit for that," even though his schoolmates didn't necessarily know the full story at the time.