Michael Myers Is Much More of a Merciless Monster Than Before in the New 'Halloween Kills' Preview
He isn't just the Boogeyman anymore—the Halloween movies established Michael Myers as an ominous presence. This time, he's a quicker, more sinister force. It was going to be the ultimate Halloween movie of 2020. But it's never too late for Michael to creep back into our lives. A new Halloween Kills trailer dropped on Sept. 20, 2021. And horror movie fans were surprised at the new preview.
Michael has unleashed his wrath on children before. He took it a step notch further in Halloween 2018. But he emerged from the house fire with an edgier vengeance than ever.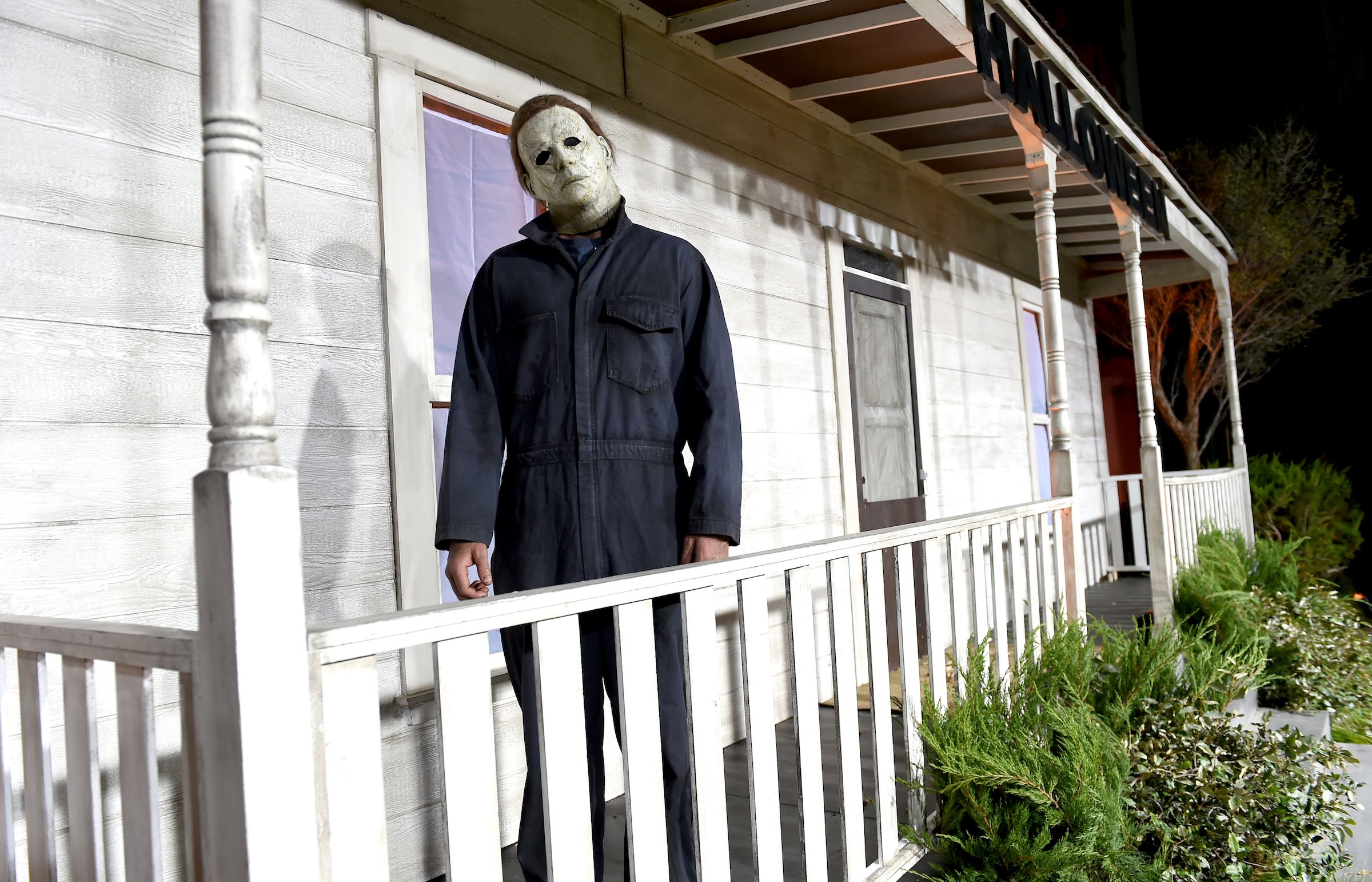 What does the final 'Halloween Kills' trailer show?
Horror fans thought they'd seen it all when it came to Halloween Kills. They thought wrong. The final trailer shows several refreshing details about the new Halloween movie. A young Laurie Strode (Jamie Lee Curtis) reappears, and Lindsey Wallace (Kyle Richards) talks.
The preview begins with a scene from the movie. A frantic grown-up Lindsey learns from two children on a swing set that a "creepy man in a white mask" has been "trying to play hide-and-seek." In good-old Michael Myers fashion, Lindsey turns around to see him standing in the distance.
But the next shot is more unnerving. Marion Chambers (Nancy Stephens) is in a car with others. In an almost cartoonish style, Michael quickly pops his head around and overpowers the vehicle.
Next, viewers are taken back in time to the original characters' experiences. But viewers caught a flash of one chilling image: the same swing set where the two children were has a masked, hanging body. So viewers can only assume the worst.
The Halloween Kills trailer played a classic game of trick-or-treat on its audience.
What's different about Michael Myers?
Back in the 1978 original movie, The Shape slowly walked the streets of Haddonfield. But Michael doesn't seem like The Shape anymore. He now appears as a belligerent, supernatural entity.
Gone are the days of Michael's steady walk, taunting his prey. He doesn't run in either the Halloween Kills official trailer or the final preview, but he moves differently. In every other Halloween, Michael playfully tips his head to one side. The image is almost laughable. In Halloween Kills though, Michael kills with frighteningly abrupt actions.
Viewers can also notice how his head snaps more frequently than an animated character. In the clip between Allyson and Michael, he is more relentless than in the first film.
Halloween fans should remember how Michael left his victims in the past. The twisted killer left a few covered by a sheet, for example. Now, he masks them. Through his trail of murders, viewers can notice how many of his kills are covered with Halloween costume masks.
Seeing this trend in each Halloween Kills trailer made viewers wonder, where is Michael going with this?
Why Michael Myers' face might not actually appear in 'Halloween Kills'
Every time Universal Pictures released a new official trailer, it teased the audience. Everyone wants to see Michael Myers' face unmasked. It's changed since 1978. So what could he possibly look like now?
Laurie intends to take off his mask before finishing him off. And a new clip reveals someone aggressively removing it from his face. At one point, Karen has it in her hand; She threatens, "You want your mask? Come and get it" in the first Halloween Kills official trailer.
While the Haddonfield residents possibly see Michael's face, viewers might not. The likely reason reverts to the franchise's history. Each movie (aside from 1978) refuses to give its viewers the killer's true face. Therefore, Halloween Kills might not break this tradition.
All in all, horror fans have to wait until Oct. 15 to see what happens.