Michael Rapaport Names His Three Top 'Real Housewives' on Bravo
Not one to (ever) hold back, Michael Rapaport revealed who are his top three favorite Real Housewives are of all time.
Rapaport was put on the spot during the Watch What Happens Live with Andy Cohen After Show. Rapaport was fresh off a long rant where he weighed in on a number of Bravo shows offering his refreshingly no-holds-barred opinion on a number of topics.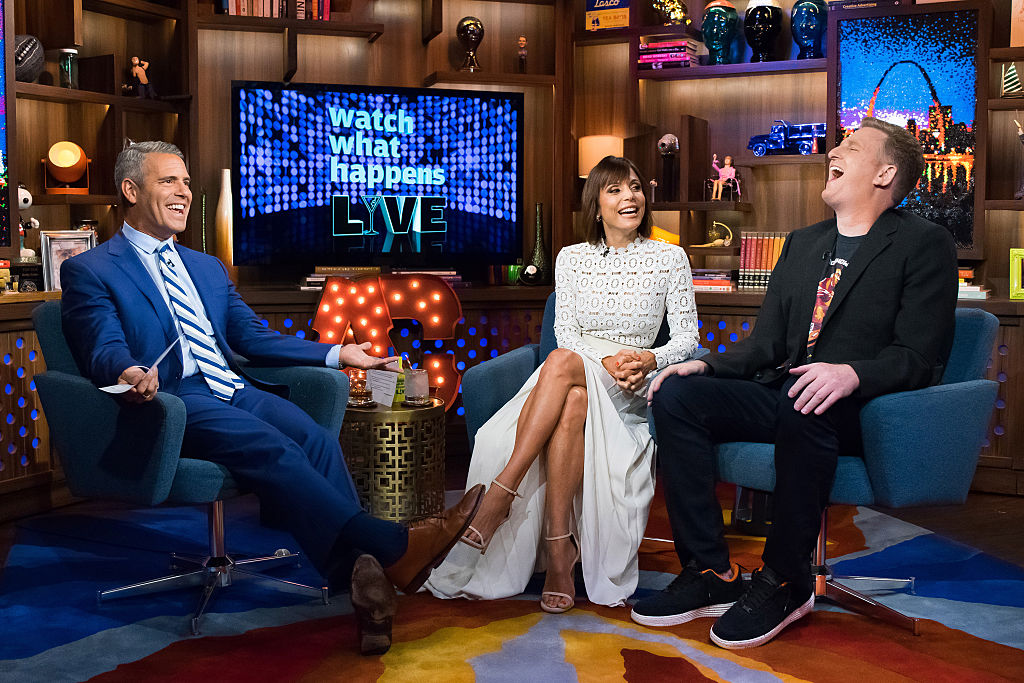 He was a co-guest on the show with Margaret Josephs from The Real Housewives of New Jersey. While some guests may have felt pressure to name the person sitting next to them as part of the list, Rapaport put it on the line and offered an authentic and honest answer.
His top 3 are all 'OGs'
Rapaport went with classic cast members who paved the way from the beginning. While some guests would struggle with the question, since so many iconic women have graced the series, Rapaport said the answer was actually quite easy.
"Top three of all time that's easy," he said smiling. "Okay, I'll go [with] the great Bethenny Frankel, the great Nene Leakes, and I have to say, I have to go with Teresa Giudice." Josephs nodded along in agreement.
When Rapaport appeared on WWHL in June he seemed fiercly protective of the RHONY cast. Bethenny Frankel had yet to announced her depature at the time. He was asked about which RHONY cast member could be replaced. "Man I don't know who, that's a tough replacement," he said. "And there's nothing. You can't touch anything with that New York cast. That is a finely, finely tuned machine that is revving on all cylinders."
Rapaport was definitely crushed when Frankel left
Rapaport's list is probably not a huge secret for fans. He's openly shared his love of Frankel in the past. In 2018, he tweeted that she was definitely one of the greats. "Bethenny is still the greatest Housewife, because good,bad or indifferent she always keeps it Real. It's called the 'Real Housewives' It's not called the friendliest,happiest or always chipper Housewives."
He was clearly crushed when she announced her departure. He shared his heartbreak with Jenny McCarthy on The Jenny McCarthy Show. "I gotta be honest, Bethenny Frankel leaving the Housewives to me, it felt a little bit like a death. The character of Bethenny on the Real Housewives leaving, that breaks my heart. Now Bethenny Frankel, the real person, I wish her nothing but luck, love and success."
But he admits he was pretty upset when Frankel decided to call it quits. "But the selfish fan, and I consider The Real Housewives of New York, I'll be honest my favorite show on television. And last season, in my opinion, my humble opinion, was the greatest collective season of any Housewives show ever." Rapaport added that Frankel was the star of the show. So having the "focal point" ripped away was very similiar to how basketball great Michael Jordan stepped away too.
Rapaport is an OG 'Stan'
Rapaport also named Leakes and Giudice as his all-time favorites. In fact, he would love to see Leakes and Frankel hang out together. When he appeared in the Clubhouse in January with Leakes, host Andy Cohen asked a question that got Rapaport revved up. "If there was a Housewives version of the Super Bowl, which two 'Wives from different cities would you wanna see…" he began. But Rapaport blurted out, "Nene Leakes and Bethenny Frankel!"
Cohen was actually asking which two Housewives should go "head to head" whereas Rapaport wanted to see the women "hang out."
Rapaport was also upset with the lack of remourse Giudice's husband Joe showed for his part in their legal woes too. "That's the thing, unless we're missing something, and somethings gone on and it's on the editing floor," he said on WWHL. "Or it happened in private. But to not say I am so sorry. I'm so sorry for what happened. It's crazy. I mean just simple, basic apology. The whole thing is very upsetting."