Michael Strahan's Dad Supported 9 Kids on a Janitor's Salary
NFL star Michael Strahan received plenty of support from his family, including his dad, who supported nine kids on a janitor's salary.
Michael Strahan might just be the American dream personified. He worked hard to become not just an NFL player but a Hall of Famer. He won a championship, rode off into the sunset, and parlayed his earlier success into a career as a TV presenter. Now, the 49-year-old is a personality on multiple popular TV shows. So how did he get so successful? 
Talent and work ethic played a big role, but Strahan also received plenty of support from his family when he was younger. Here's the story of Strahan and his dad, who supported nine kids on a janitor's salary. 
The role of Michael Strahan's dad in his life
Strahan's father was named Gene. According to ABC News, Gene commanded an Army unit of the 82nd Airborne. He was stationed in Mannheim, Germany where he also helped load a truck with relief aid and supplies headed for Yugoslavia, an area suffering from internal strife during that era. Gene and his wife Louise had nine children (including Michael). 
Michael came from humble beginnings, but it was here that he honed his need to work hard and give back that would later serve him greatly in his professional career — both in football and TV. 
How Gene Strahan helped prepare Michael Strahan for NFL stardom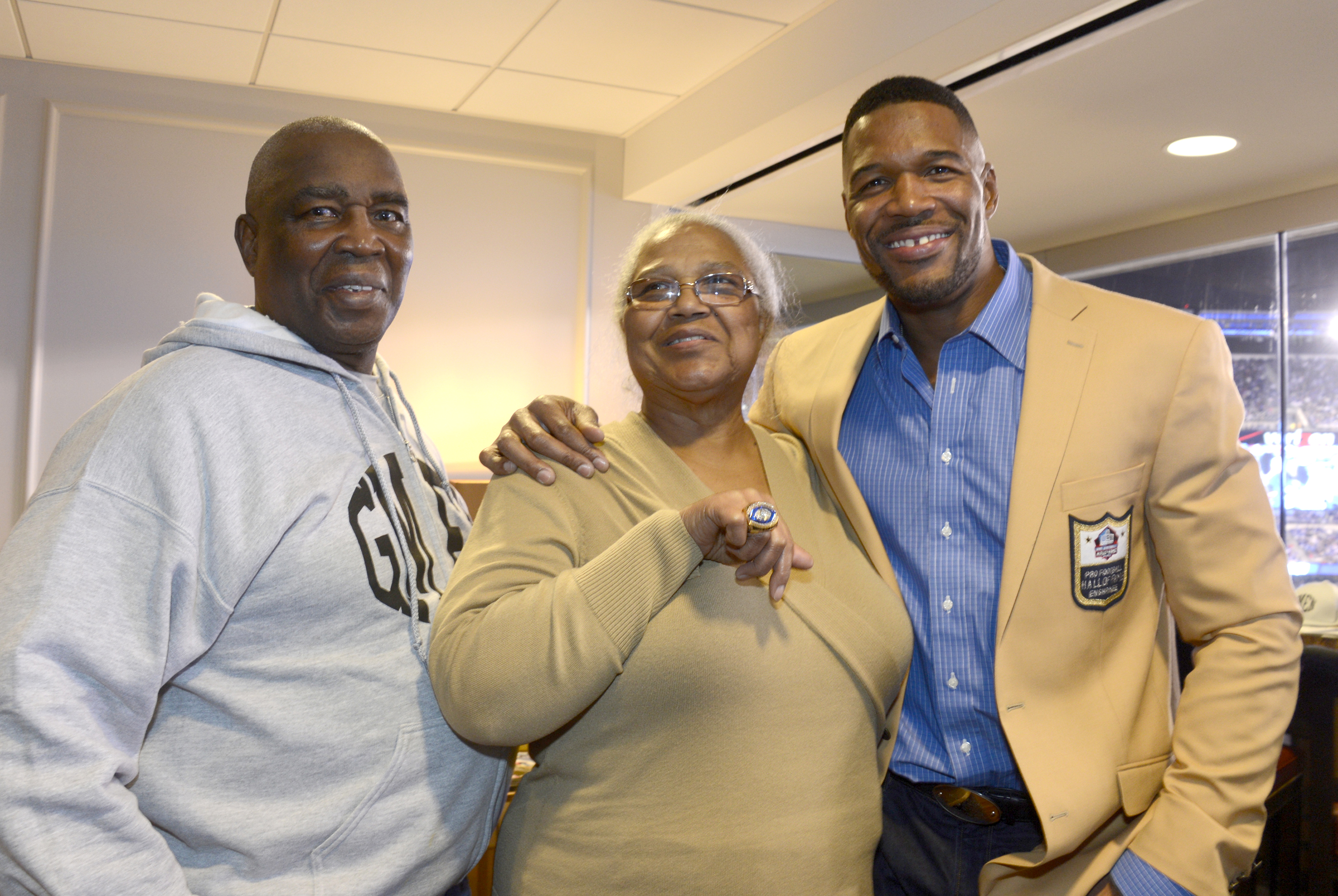 Gene took a tough love, no-nonsense approach with all of his children. Michael was no different. He supported him for sure, even sending him to Houston for high school for a better chance at success. But he had a military background, and he helped Michael prepare with equal parts love, support, and discipline. 
Once he made the NFL, Michael was able to score big on the football field. With the New York Giants, he had 141.5 sacks and holds the record for most sacks in a single season. He was one of the league's top pass rushers for much of his time in the league.
Toward the end of his career, Michael played for another disciplinarian: Tom Coughlin. Though the two didn't get along at first, as Coughlin told ABC News, it was his upbringing that helped prepare him for greatness: 
"I've thought about this many times … I'm grateful for what [Michael's] dad and mom instilled in him at home. I know there was discipline there, and as time went on that was one of the main reasons that when Michael did come on board, he came on with both feet. We never talked about it, but there's no question Michael's upbringing definitely helped him accept the way the program was going to be run."
Michael and Coughlin may have clashed, but it's hard to deny the results. The two won a Super Bowl championship together in 2008, capping off the defensive lineman's career with football's ultimate prize. 
The legacy of Gene Strahan
RELATED: The Dark Side of Michael Strahan's $15 Million Divorce
Related post url: 
Sadly, Gene passed away at the age of 83 according to Entertainment Tonight. Michael has his own family now, though he's seen some tough times with them as of late. He's been married and divorced twice. He recently settled an ugly custody battle for his daughters. That said, he seemingly has a great relationship with his daughters, much like he did with his father. 
Michael's legacy is one of a Hall of Fame NFL player in no small part thanks to his father Gene. Along with serving his country and working as a custodian to provide for his family, he gave Michael the structure and support he needed to excel. It's impossible to say if Michael would have made it as far as he did without his dad. But Gene certainly played an unmistakable role in his upbringing and success.