Michelle Zauner Posed With Angus Cloud at Coach Fashion Show
Michelle Zauner is known for her work with Japanese Breakfast, her best-selling memoir Crying in H Mart, and her unique sense of fashion. She even attended the Coach 2022 fashion show, posing for a picture with one Euphoria cast member.
Coach hosted several celebrities at the 2022 fashion show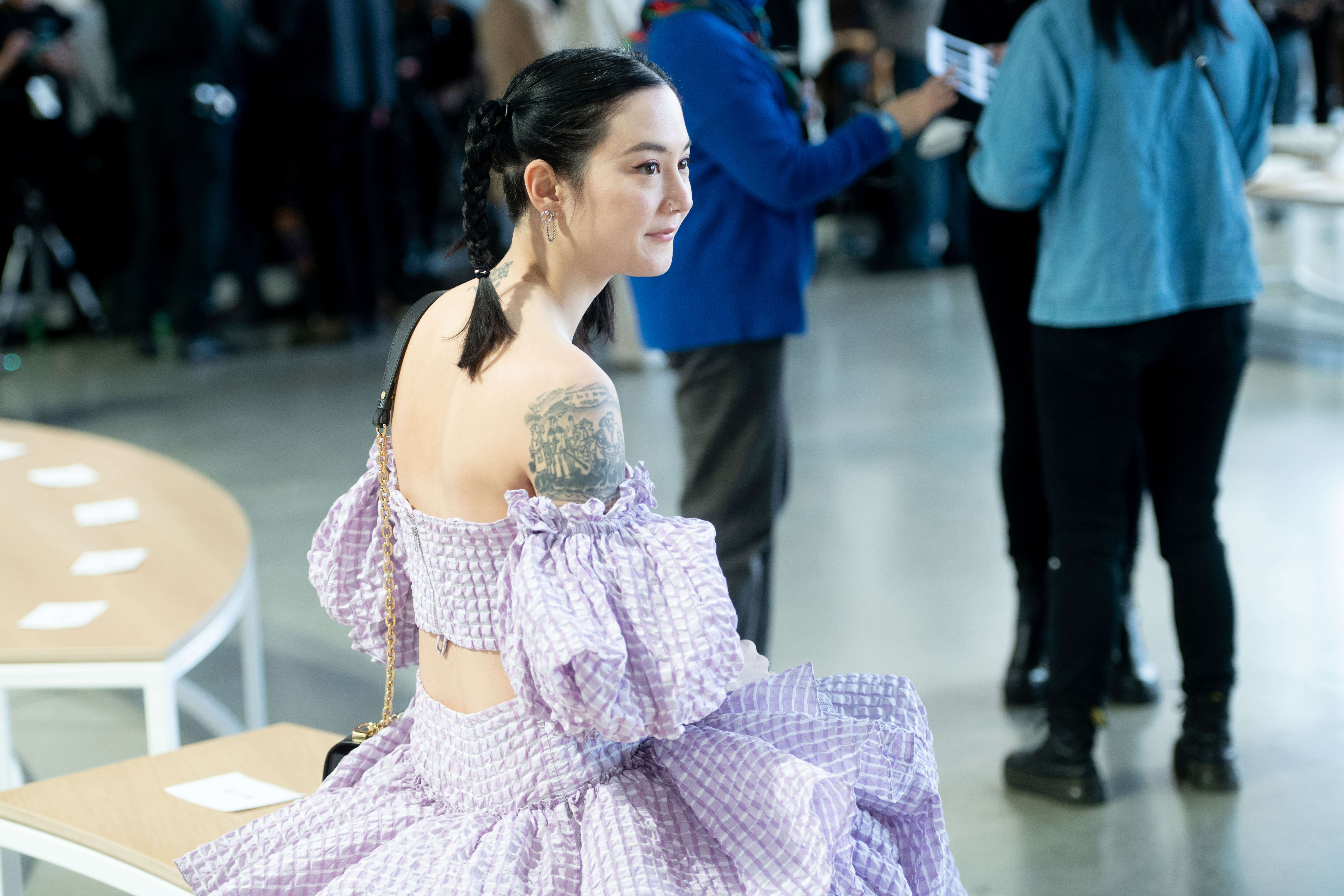 Coach turned heads with more than just the runway at their February 2022 fashion show. This year included Angus Cloud in attendance — an actor best known for his work with HBO's drama series Euphoria as Fez.
Angus Cloud appeared alongside Megan Thee Stallion and singer Rina Sawayama at the front row of the show, with RuPaul's Drag Race winner Aquaria also in attendance. Other celebrities also enjoyed cameos at the fashion show. That includes the mastermind behind Japanese Breakfast's "Everybody Wants to Love You," "Savage Good Boy," and "Be Sweet."
Michelle Zauner posed for a picture with Angus Cloud
Japanese Breakfast's Zauner appeared at the event, later posing with Cloud for a picture. The artist posted the photo to her Instagram story, throwing up a peace sign and writing "Yay Fezco."
Moments later, fans took to social media, sharing their appreciation for the two celebrities and the unlikely crossover. Additionally, Zauner commented on her appearance at the Coach fashion show, saying it was an especially sentimental event. 
"The first proper bag my mom ever bought me was a brown leather Coach one. I was 18 or something. My mom was like, 'You have to have a frickin' purse!'" Zauner said during an interview with Harpers Bazaar. 
Zauner herself dressed in a brown coat, sporting two different Coach bags. With an affinity for Final Fantasy, Zauner shared that the Coach runway reminded her of the video game.
"The entire time I've been at Coach, a lot of the jackets have these high-buckle collars that really remind me of some of the characters," she continued in the same interview. "Also the Lulu collar, and some of the wide-legged shorts, too."
Japanese Breakfast's Michelle Zauner appeared at several other fashion shows
Zauner is known for her unique sense of style, which evolved as she did musically. At the Shadow of the City music festival in New Jersey, the artist sported a Jigglypuff-esque pink dress. In several pictures, Zauner adorns braided pigtails.
With an added interest in fashion, Zauner appeared in several fashion-related projects. That includes Rodarte's first-ever "Pre-Fall Campaign," where she modeled alongside the songwriter/visual artist Kilo Kish.
In addition to her music with Japanese Breakfast, Zauner is known for her New York Times Best-Selling novel Crying in H Mart. First published as an essay, this memoir detailed Zauner's experience as a Korean American coping with the loss of her mother.
Crying in H Mart is available at bookstores like Barnes & Noble and Amazon, while music by Japanese Breakfast is available on most major streaming platforms. 
RELATED: Michelle Zauner Names 1 Way She Can Distinguish the 'Real' Japanese Breakfast Fans From the Casual Listeners