Mick Jagger Says Harry Styles Is a 'Superficial Resemblance' to His Younger Self
Mick Jagger has revealed his thoughts on those long-standing Harry Styles comparisons. He says Styles bears no resemblance to his younger self.
The press and fans can't stop comparing Mick Jagger and Harry Styles. They believe the two rock stars bare a striking resemblance in every way. Styles is the new Jagger. However, that notion hasn't gone over well with The Rolling Stones' frontman. Jagger has finally opened up about those comparisons. He disagrees that Styles is a younger version of himself. They have nothing in common.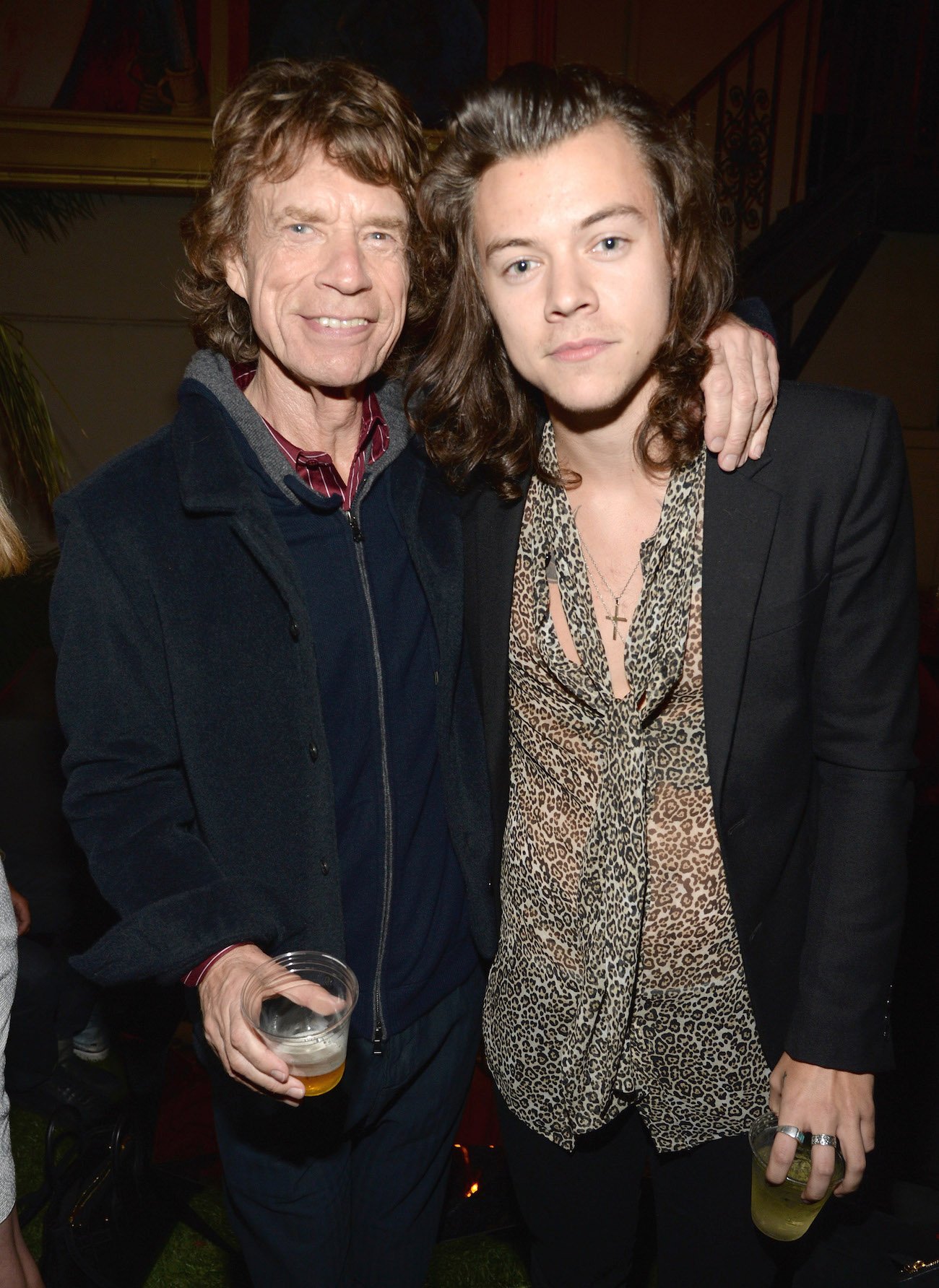 Many people have compared Mick Jagger and Harry Styles
Ever since Styles stepped out with One Direction, fans and the press have compared him to The Rolling Stones' frontman Mick Jagger.
Publications like Pop Sugar shed light on the similarities between Jagger's on-stage outfits and Styles' in articles like: "7 Times Harry Styles Copied Mick Jagger's Iconic '70s Outfits."
"There have been a number of occasions where Harry's love of statement suits, androgynous outfits, and sensual, on-stage swagger have been compared to Mick's," they wrote.
"We aren't the only ones who think Harry and Mick are doppelgängers separated by half a century. Rumors of the One Direction singer being tapped to play the Rolling Stones rocker in a biopic were swirling online for years, until Harry set the record straight by confirming he had 'never heard anything about the film.'
"Even so, it's pretty clear to see why he would be an ideal pick. Besides the comparable passion that he brings to the stage, Harry loves a statement, slim-fit suit like Mick."
In 2017, fans took to social media to say how much Styles oozed Jagger vibes during his performance of his song "Kiwi" on X Factor (per Yahoo!)
One fan wrote, "Has @Harry_Styles grown up and turned into a modern day Mick Jagger? Fabulous! Loving his rock'n'roll vibes on the #XFactor tonight!"
That year, Daily Mail claimed Styles was "determined to emulate his idol that he will go to endless lengths to mimic the 73-year-old rock legend." They also claimed Jagger thought Styles' idolizing him was "quite sweet" and "rather flattering." However, Daily Mail claimed Jagger's friends said, "It's a bit odd and Mick is somewhat nonplussed by the whole thing."
Now, we know what Jagger thinks about being compared with Styles.
Jagger says Styles is a 'superficial resemblance' to his younger self
In an interview with The London Times, Jagger finally touched on what he thinks of the comparisons between him and Styles. He says he likes Styles and that the pair have "an easy relationship," but he doesn't believe people can compare them.
"I mean, I used to wear a lot more eye make-up than him," Jagger said. "Come on, I was much more androgynous. And he doesn't have a voice like mine or move on stage like me; he just has a superficial resemblance to my younger self, which is fine — he can't help that."
More comparisons have come since the release of 'Harry's House'
The comparisons between Jagger and Styles have continued. In Rolling Stone's review of Styles' newest album, Harry's House, they said, "He's a Mick Jagger for our more enlightened age."
Meanwhile, Spin wrote a similar thing in their review, writing that Styles evokes "comparisons to a modern-day Mick Jagger" in Harry's House.
Even after working with Styles on his eponymous solo album in 2016, producer Jeff Bhasker said there are similarities between Jagger and Styles.
In 2017, Bhasker told Variety (per AP), "I want to squash all these comparisons between Mick Jagger and Harry, but he really does have that energy where he's, like, the coolest guy in the room.
"After working with Mick, there's a similarity there. There's only one Mick Jagger and there's only one Harry Styles, but they both have that kind of charisma. It's like what life should be – be cool, man. Love one another."
It's easy to find similarities between Styles and his many classic rock idols. Jagger is just one of them. This is not the first time people have compared Jagger to a younger rock star. People think Aerosmith's Steven Tyler shares similarities with The Rolling Stones frontman. Although Tyler hastes the comparisons.
One thing's for sure, though, musicians rarely enjoy it when other, especially younger, artists bare striking similarities with them. Especially if the press writes about it so much. However, Jagger thinks there's nothing to compare. Jagger and Styles are completely different artists.