Mickey Guyton on CMT 'Colors' Performance With Black Pumas: 'That Was So Fun' [Exclusive]
Country singer-songwriter Mickey Guyton said her CMT Awards performance of "Colors" with Black Pumas was as magical for her as it was for the audience.
Guyton joined Eric Burton and Adrian Quesada on stage during the CMT Awards for what is being considered a groundbreaking and historic performance. Shortly after the performance, Guyton recalled the collaboration with Showbiz Cheat Sheet, sharing how thrilled she was to perform with Black Pumas for the first time ever.
Mickey Guyton wanted to perform with Black Pumas long before CMTs
"Black Pumas and I, we've been talking about how we've wanted to do something together for a long time," she said. "And then I got the opportunity with CMT to do a Crossroads, and they're like, 'Well, who would you like to do a Crossroads with?' And I was like, 'I don't know. I don't know …' We're like, 'Oh my God, what about the Black Pumas?'"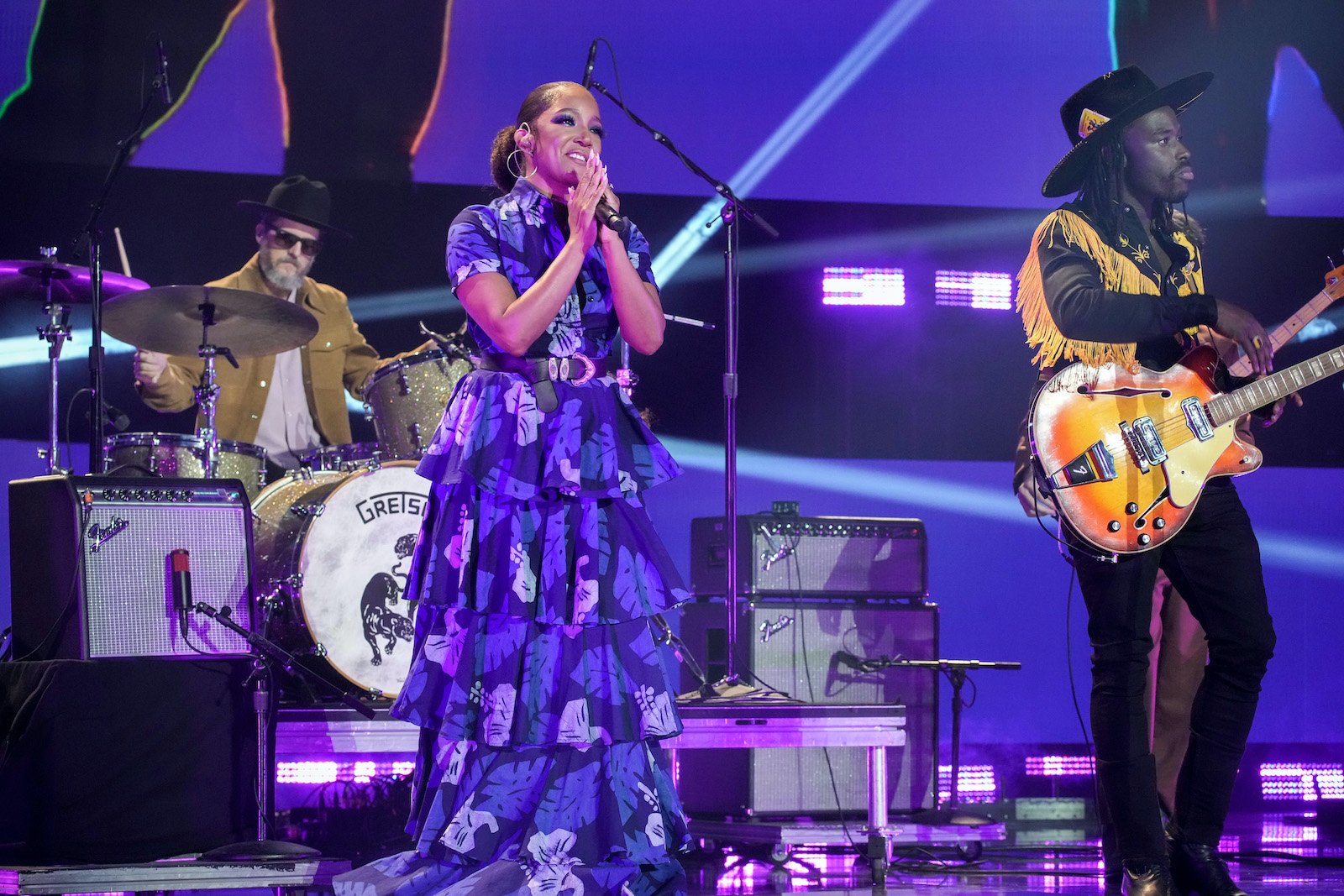 "And that was our opportunity," she continued. "And so ahead of our Crossroads episode, they asked if we wanted to sing 'Colors' at the CMT Awards, and I said, 'Do I have a pulse? Yes, I want to go.' It was so much fun. I had such a blast singing with them. I always get nervous about singing somebody else's song because I want to do it justice, but it was really cool."
CMT cameras captured the magical moment during 'Colors' performance
Cameras captured the elated reactions in the crowd. CBS News journalist Gayle King looked awe-struck in the audience as she immersed herself in the music. Guyton said she could feel the love from the crowd.
"What I thought was so cool was looking out and seeing all these different nationalities coming to view the country awards show," she remarked. "I think that's something we've all wanted for a long time and didn't know how to reach that. And it's happening, and it just feels like we're together. It's still not there yet. But country music is so universal and everybody loves it. And now people feel like they have permission to love it. And it's OK. It's just really cool."
She also said the setting for the CMT Awards was special. "I really, really enjoyed that award ceremony. It was at the Municipal Auditorium. I really liked the intimacy of it. It kind of reminded me of award shows back in the day when they were smaller and more intimate. It just felt just like everybody was a part of it."
Guyton hopes country music continues to evolve to be more inclusive. "I think it's just refreshing that you're seeing all different kinds of country music. You have the traditional country music you've got bro-country music. We need more women country musicians! Like I love Priscilla Block! And I think that is what the world desperately needs. That's what America looks like, it looks like all of us, so it's so cool to finally see that that's what country is."
Mickey Guyton shares a new initiative close to her heart
After their amazing CMT Awards performance, Guyton looks forward to performing with Black Pumas again in the future. She's currently focused on completing new music in the studio and spending time with her son Grayson. Guyton said she's enjoying Grayson's early years before he heads off to school someday in the near future. She laughed about how she's quickly learning that being a parent is joyful, but also a revolving door of never-ending worry.
To help ease some of those mom worries, Guyton recently partnered with 3M to create safer school zones throughout the country. "It is Distracted Driver Awareness Month," she shared. "When I've driven through school zones, I've paid attention to the signs and the flashing lights. And I've seen kids walk home from school, but I never thought I need to make sure that that kid gets home safely to their mom."
"There's so much that kids are going through these days, especially since the pandemic," she continued. "The last thing they need to worry about, in addition to everything else they're facing, is getting to and from school safely. So what 3M is doing is by 2024, they will have improved 100 school zones globally. That goes from the reflector lights, on the busses, to the reflecting paint."
"They started here in North Nashville at Robert Churchill Elementary and they're improving these schools in underserviced communities," she said. "And that's right up my alley because the last should be first and the first should be last. And I think in order for our community together to be better is we need to look at where it's the worst and let's focus on them and make sure that they're OK for a change."