Mike 'The Situation' Sorrentino Doesn't Think He'll Be Invited to Sammi 'Sweetheart's Wedding
Jersey Shore star Sammi "Sweetheart" Giancola got engaged to her boyfriend, Christian Biscardi, in March of last year. Now she's in the process of planning her nuptials, checking off essential tasks like buying a wedding dress!
It has been some time since Sammi "Sweetheart" got together with her former roommates, but many fans are wondering if she'll invite the Jersey Shore cast and crew to her wedding. Mike "The Situation" Sorrentino doesn't seem to think they'll be getting an invitation to Giancola's wedding ceremony.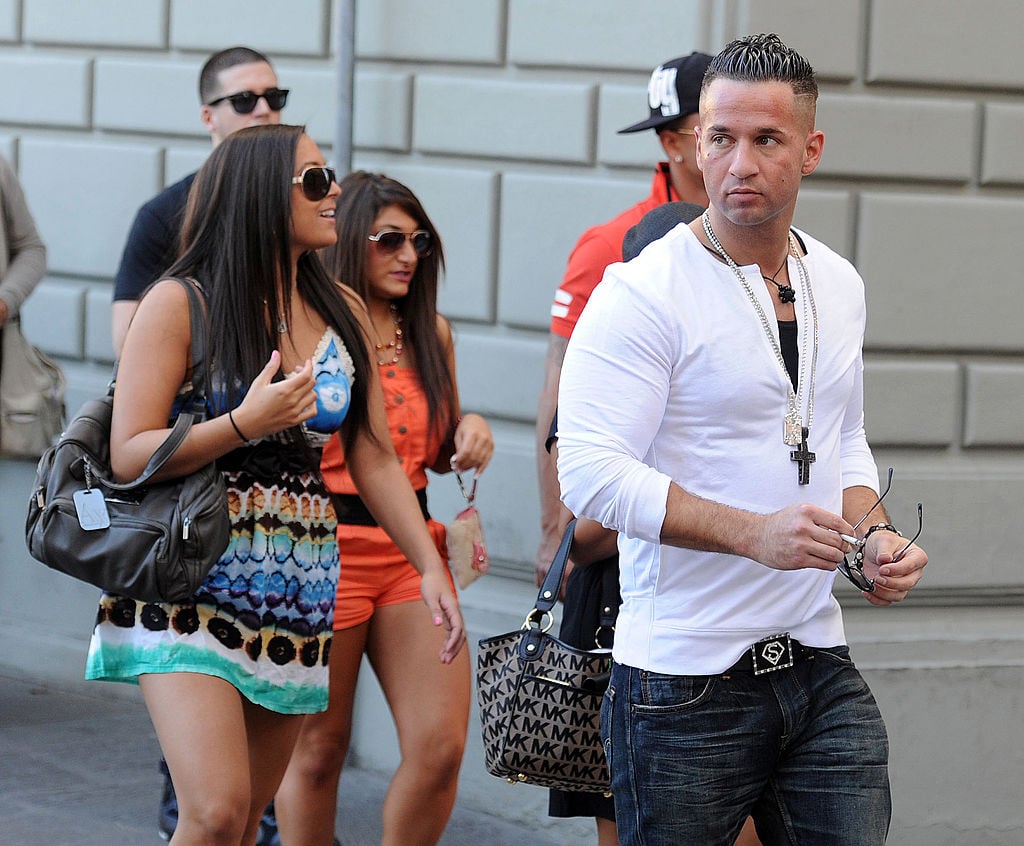 Mike Sorrentino and Sammi Giancola's 'Jersey Shore' fling
Back in 2009, MTV introduced the world to eight guidos and guidettes. After spending the summer together in Seaside Heights, New Jersey, the strangers formed a familial bond that they still share today.
Before she ever dated Ronnie Ortiz-Magro, Giancola went after Sorrentino. In an early episode of the show, the two were filmed holding hands on the boardwalk. That didn't last long, though, and Giancola would enter into an eight-year relationship with Ortiz-Magro. MTV cameras captured three years of their on-again, off-again relationship.
Ortiz-Magro went on to have a relationship with Jen Harley, and Giancola is now planning a wedding with fiancé Biscardi.
'The Situation' with Sammi' 'Sweetheart's wedding
Jersey Shore fans are dying to know if Giancola will invite any (or all) of her old roommates to her bid day.
The Sorrentinos told The Morning Toast that they didn't know if they were going to be invited to Giancola's nuptials. Sorrentino's wife, Lauren, said they hadn't received a formal save the date yet from Giancola.
"We did invite her to our wedding, and I think we got the decline button," Sorrentino pointed out. Giancola could not attend Big Daddy Sitch's wedding back in November of 2018, but the couple said she "sent a nice gift."
Giancola has yet to set a date for her wedding to Biscardi, but she did recently purchase her wedding gown.
Sammi Sweetheart's wedding planning
Giancola made quick work of finding a wedding gown. The former MTV star shared the process of buying her dress with her fans on YouTube. In an interview with the Bridal Manager at boutique Castle Couture, Giancola explained:
I came in, like, I'm dead set on this bridal gown, and then they pulled a bunch of dresses for me, and I picked something that I never thought I would ever pick, ever. I ended up being so happy with this dress that it completely blew my mind.

Sammi "Sweetheart" Giancola, YouTube
Excited about the experience, Giancola added:
I'm kind of a control freak, where I'm like, 'No, I need to look and find my dress. I need to search this store. I came to this place and found love with this whole experience, and I picked the dress like right then and there. I knew what I wanted when it was on my body.

Sammi "Sweetheart" Giancola, YouTube
Meanwhile, her fiancé joked on Instagram about cutting the sleeves off of his tux for the wedding — "the way that God intended."
Overall, the couple seems to be enjoying the wedding planning process. Fans are eager to hear when Giancola and Biscardi will tie the knot.