Mike 'The Situation' Sorrentino Wants to Help 'California Sober' Demi Lovato
Jersey Shore star Mike "The Situation" Sorrentino is five years sober. As someone who publicly struggled with addiction, "The Situation" feels for singer Demi Lovato, who has spoken out about her decision to be "California sober." 
Sorrentino knows that kind of lifestyle won't work because he has tried it himself. Instead, the Jersey Shore: Family Vacation roommate is using his platform to encourage Lovato to try another route.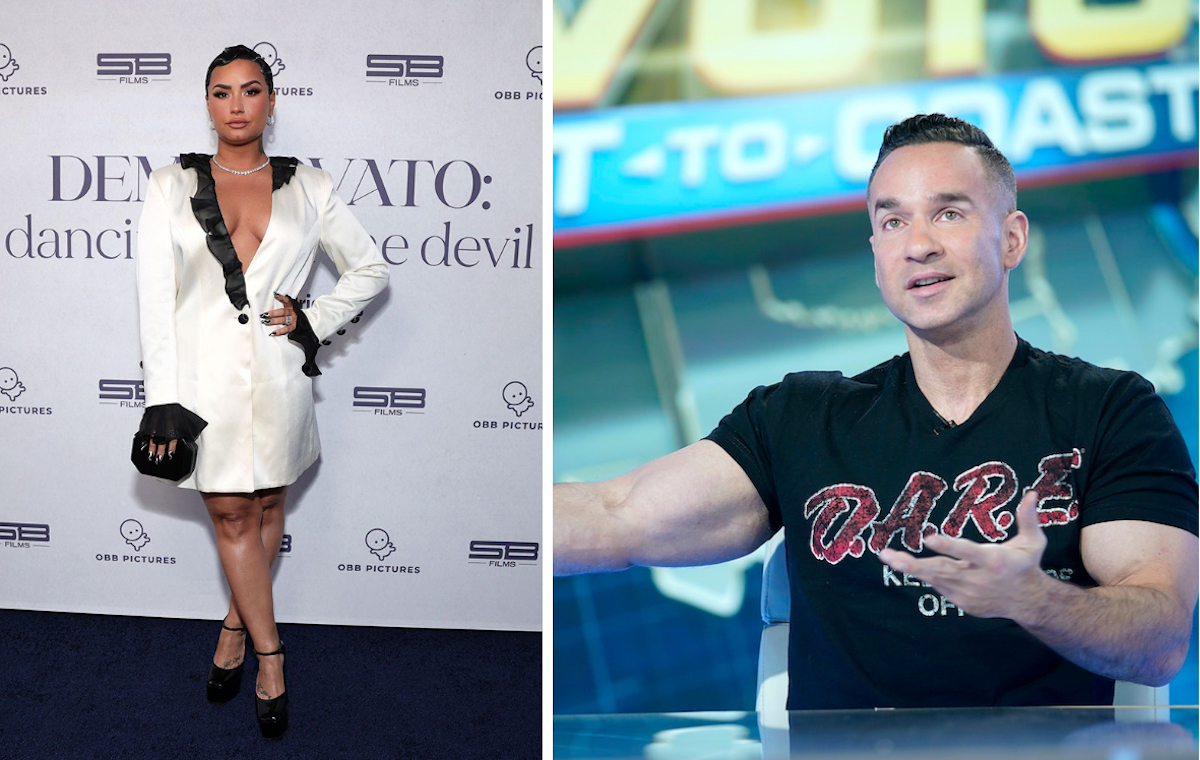 Demi Lovato is 'California sober' 
The "I Love Me" singer made headlines recently when she explained her current lifestyle: "California sober." In the docuseries Demi Lovato: Dancing with the Devil, Lovato gets candid about her addiction, her 2018 overdose, and the fact that she's not entirely sober right now. 
To be "California sober" is to abstain from drugs except for marijuana — and alcohol. "I've learned that it doesn't work for me to say that I'm never going to do this again," Lovato explained. "I know I'm done with the stuff that's going to kill me, right?" 
Sober celebrities like Cheryl Burke have a problem with the term 'California sober' 
Celebrities like Sorrentino and Dancing With the Stars pro Cheryl Burke have shared their recovery journeys with their fans. Burke is currently two years sober and completely disagrees with Lovato's choice to be "California sober." 
"It is black or white, there's no gray area when you're dealing with sobriety, and I think you're just playing with danger," Burke said on the  Pretty Messed Up podcast, which she co-hosts with AJ McLean and Rene Elizondo. "Clearly she's not ready to stop using." 
For Burke, Lovato's decision to define her recovery as "California sober" is offensive. "We take pride in [being sober]," Burke explained. "It's disrespectful to use the word sober when you're not sober." 
Mike 'The Situation' Sorrentino and his wife are concerned for Demi Lovato 
With five years of sobriety under his belt, Sorrentino knows a thing or two about the path to recovery. When he heard about Lovato's decision to smoke marijuana and drink alcohol while abstaining from other drugs, Sorrentino was concerned. 
"If you're in recovery ['California sober'] sounds good but it's just a really slippery slope," the Jersey Shore: Family Vacation star said on the Here's the Sitch podcast. Sorrentino's wife Lauren also mentioned how the term "California sober" is disrespectful to people in California who are sober. 
"How sh*tty is that to claim to be 'California sober' when you're admitting you're not sober?" Lauren said. While both Sorrentinos disagree with the notion of "California sober," they understand Lovato is capable of making her own choices. 
Mike Sorrentino wants to help Demi Lovato with her sobriety 
Lovato believes swearing off alcohol and marijuana use would be "setting [herself] up for failure." But "Big Daddy Sitch" thinks the opposite. 
"'California sober' is a set up for disaster," Sorrentino said. "The clinical term for that is substitution. And I tried this. It worked out horribly.
At the time, Sorrentino was in early recovery and not ready to give up his party-heavy lifestyle. But eventually, "The Situation" realized abstinence is key. 
"I know what works for me, and drugs and alcohol and addiction have showed me where those roads will lead," Sorrentino concluded. "You have to turn those 'L's into lessons. You can't go back to what almost killed you. Everyone's recovery is different, but everyone's foundation is the same." 
The Sorrentinos are hopeful their message will reach Lovato in some way, and she can get the help she needs.