Mike Tyson Net Worth: How Much Is The Former Boxer Worth?
Despite his troubles, Mike Tyson is one of the most famous and successful boxers out there. Although he earned much of his wealth from boxing, he's also made some interesting business choices since his retirement. Here's a look at how Tyson made — and preserved — his millions.
Mike Tyson's boxing career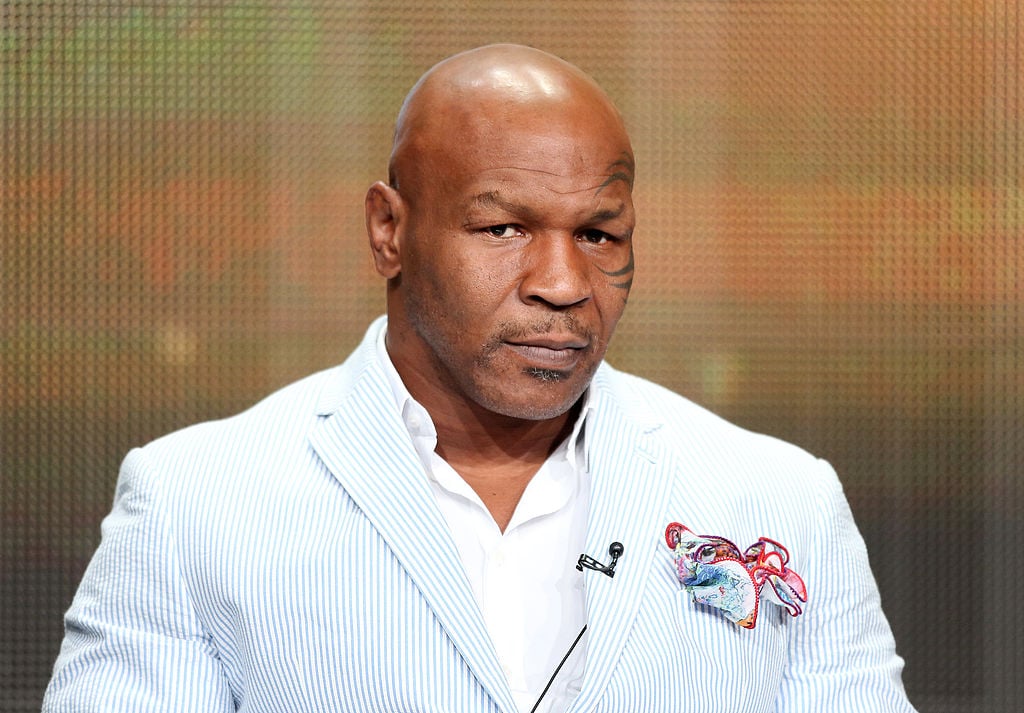 Tyson started boxing when he was just 18 years old, and he quickly took the boxing world by storm. In a little over two years, Tyson beat the 28th man in his career to become the world's youngest heavyweight champion ever.
His reign would last two years and he would captivate America by knocking people out in spectacular fashion. His fans attended his events in droves, and fans at home would buy pay-per-views for his fights. With every win, his bank account grew bigger and bigger.
Despite Tyson's stint in prison and despite losing his title to Buster Douglas, he remained a household name that many Americans wanted to watch. In fact, according to Business Insider, Tyson was responsible for 6 of the top 54 best selling pay-per-views ever. His best selling fight was his most infamous one: His rematch against Evander Holyfield where he bit Holyfield's ear.
However, after Tyson's back to back losses against Holyfield, he was never the same again. People started losing interest in him and his fights never sold as well after those losses. Tyson, then 35 years old, was given his last big fight, a title shot against the heavyweight champion, Lennox Lewis. This fight sold really well, almost as well as his rematch against Holyfield. Tyson got knocked out again and this fight was his fight that sold well, and it marked the end of his global appeal as a boxer.
Mike Tyson's peak net worth and financial issues
All said and done, Forbes, after counting every penny Tyson's made from boxing, says that he's the 11th best-paid athlete ever with career earnings of $685 million. That said, that was how much money he made from all of his fights, but it wasn't how much money he kept. After all, the man has expenses, and when that's accounted for, Tyson's net worth peaked at about $300 million, according to Wealthy Gorilla.
Like many athletes though, Tyson lost much of his wealth. In fact, in 2003, he declared bankruptcy. According to ESPN, Tyson blamed his misfortunes on his lavish lifestyle choices. However, that isn't where Tyson's story ends, as he's found new opportunities outside of the boxing world.
What has Mike Tyson been up to?
Since his retirement from boxing, Tyson has tried his hand at many other ventures, some more successfully than others. In Hollywood, Tyson famously had a small but powerful role in The Hangover series of movies.
On TV, Tyson has his own cartoon show called Mike Tyson Mysteries. The show, which airs on Adult Swim, premiered in 2014 and is still on the air. It features Tyson as a fictional Mike Tyson who solves mysteries in strange and hilarious situations.
He also has his own podcast, Hotboxin' With Mike Tyson, and it serves as an easy way for him to talk with his friends and to his fans while making some money. As the name of the podcast implies, Hotboxin' With Mike Tyson usually involves his guests smoking weed with him, and that also helps promote his other business: a marijuana farm.
Tyson's weed farm, known as Tyson Ranch, sells over $500,000 worth of weed a month. Tyson Ranch would make more money from sales if Tyson doesn't smoke $40,000 worth of weed a month with his guests, though.
These are just the current adventures of the 53-year-old boxing legend. Right now, according to Wealthy Gorilla, his net worth is $3 million, a shadow of his past life. But, as he continues to be successful in his other ventures, he may reclaim some former financial glory.