Mike Tyson Once Withdrew $1 Million in Cash From the Bank— Here's How He Got Away With It
Mike Tyson's crazy money stories will always serve as valuable lessons on how to manage money properly. Whether it be buying a $7 million diamond necklace or giving away 17 cars, Tyson is known for making some questionable financial decisions. 
One of his biggest mistakes may have been giving his ex-wife Robin Givens unchecked access to their finances. Apparently, Givens had taken it upon herself to make secret bank accounts while Tyson was busy making his millions. This led to him storming into the bank one day and somehow taking out $1 million in cash. 
Mike Tyson made a ton of money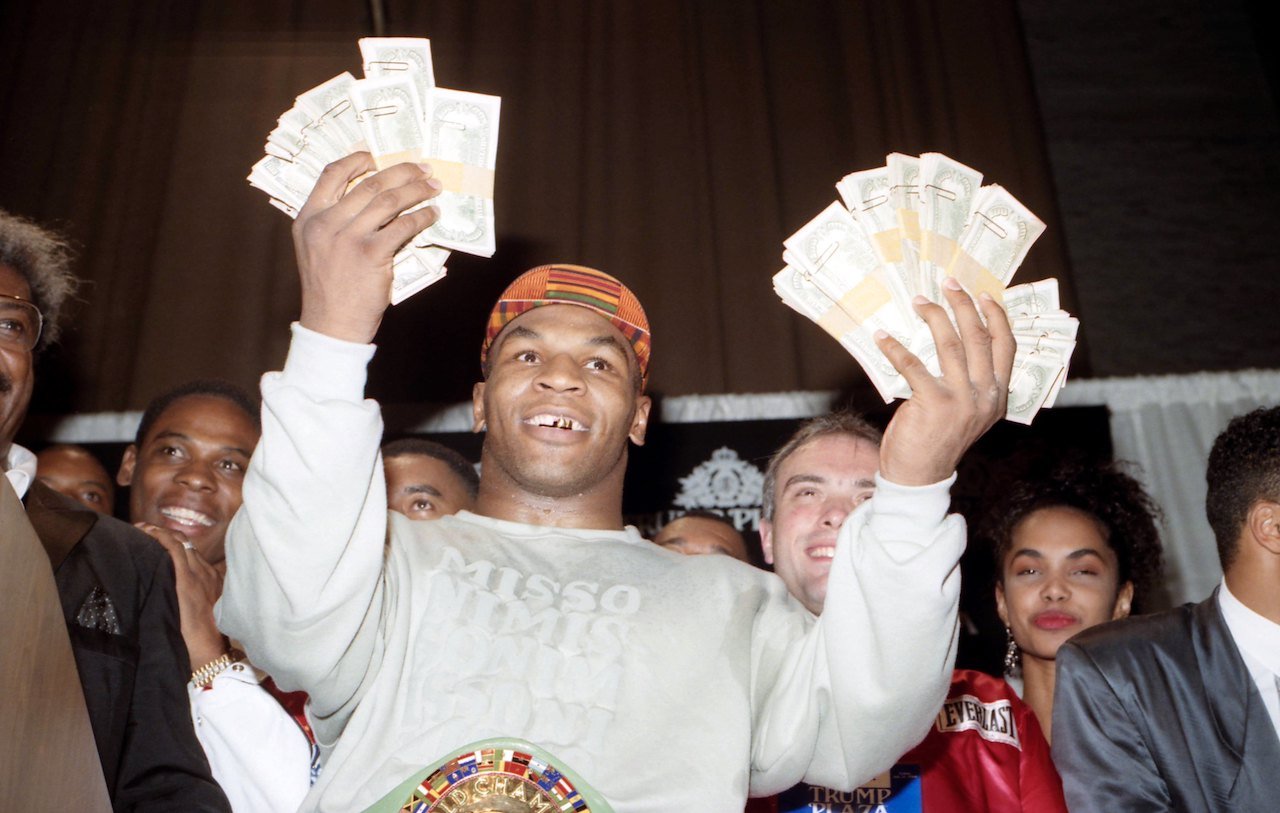 When Tyson was in his prime, he was one of the highest-earning boxers of all time. His matches were extremely popular and he frequently drew millions of viewers to pay per view networks. Thanks to lucrative promotional deals cut by his former manager Don King, Tyson was earning as much as $30 million per fight.
Outside of the matches themselves, Tyson also received millions from endorsement deals he'd signed with major brands including Nintendo and Pepsi. When adding up his hefty boxing checks, $200,000 bonuses, and multi-million-dollar endorsements, Tyson had netted career earnings of $400 million, according to Forbes. 
Tyson spent the majority of his outrageous career earnings on extremely expensive possessions, including dozens of cars, real estate, designer clothing, and jewelry. Tyson purchased—and lost—a $7 million diamond necklace, and even owned a 150-foot yacht that he sailed the world in.
Tyson and his wife had some serious issues
In the late '80s, Tyson and actress Robin Givens had begun a relationship. They were married in 1988, and a ton of drama ensued. 
Throughout the duration of their marriage, there was speculation that Givens had gotten with Tyson solely for his money. The two did not have a prenuptial agreement, and Givens and her mother purchased a $4.6 million home in Bernardsville, New Jersey, a wealthy neighborhood in the suburbs of New York City, according to the Daily Mail. 
As their relationship progressed, things became more chaotic. In 1988, the two gave a joint interview with Barbara Walters, during which Givens called marriage to Tyson a horrible experience. She filed for divorce from Tyson shortly afterward.
Tyson carried $1 million cash out of the bank
In the midst of their messy divorce, Tyson and Given's personal life was becoming increasingly public. He and Givens were having many issues about finances, and one day, Tyson decided to go to the bank to personally sort them out. 
According to an interview on his Hotboxin' podcast, this was the day Tyson found out Givens had stashed $9 million in a secret bank account. Furious about his discovery, Tyson decided to take back the money but wasn't allowed to because the account was in Givens' name. Luckily for Tyson, the bank employees disliked Givens so much that they allowed him to take it anyway.
"We got all of the money, it must've been around 9 million bucks," Tyson said. "We couldn't' carry it, it was too much. So we had to leave some, and we took around a million bucks with us, and we put em in different accounts."