Mike Tyson Revealed The Bizarre Reason He Doesn't Workout Anymore
Mike Tyson's story has been absolutely filled with triumphant peaks and shocking low points. He went from a troubled childhood to a master of the boxing ring.
Then he went from being at the top of the game to a prison cell. After his release, he went from being rich and famous to bankruptcy. Finally, he went from cocaine addiction to sobriety.
All the while, he's been rebuilding his life by leaning on his family and stepping into the legal marijuana industry.
These days, Tyson's story is one of redemption, self-control, and recovery, and he's quick to tell interviewers that he had to make some major changes in his life. One of those changes, surprisingly, is abstaining from working out.
Let's take a closer look at Tyson's rise and fall, and what he's afraid hitting the treadmill might do to his new approach to life.
Mike Tyson faced criminal charges and serious addiction
When he was just 20 years old, Tyson became the youngest heavyweight boxing champion in the world. That was in 1986, and by 1990, he would lose his title and face prison time over a rape conviction.
Tyson lost a year-long trial in an attempt to defend himself against accusations from Desiree Washington, a Miss Black America contestant. He was sentenced to six years in prison and had time added to his sentence for threatening a guard.
Tyson was released from prison three years early in 1995. When he got out, he returned to the ring and gained even more notoriety for his brutality and instability. Biting opponent Evander Holyfield's ear off during a match in 1997 became one of his most memorable moments.
Tyson would face another imprisonment when he was found guilty of attacking motorists in 1998. He served nine months of a one-year sentence.
When he was released, he again returned to the ring, but when he tested positive for marijuana in 2000, one of his major wins was overturned. He faced various assault and sexual harassment charges during this time, and he started to lose fights on a regular basis.
By 2003, the former champion was in serious trouble. His second wife, Monica Turner, filed for divorce on the grounds of adultery. He filed for bankruptcy and sold his mansion to rapper 50 Cent for $4 million.
Tyson couch hopped and tried to scrape together a new life before ending up in Arizona in 2005. Once again, he found himself on the wrong side of the law. After nearly crashing into a police car, Tyson was arrested for narcotics possession.
Mike Tyson's family faced a life-changing tragedy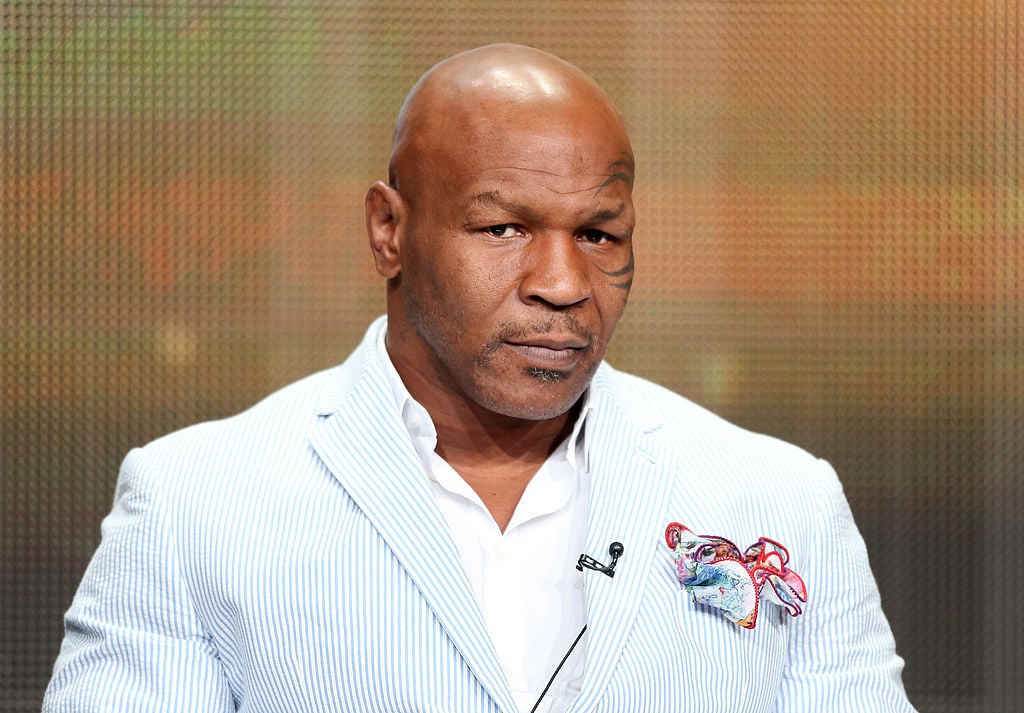 Tyson notoriously had a tumultuous love life. With two public divorces behind him, Tyson had fathered seven known children with multiple women. Tyson has kept the identity of some of the children's mother's out of the public eye.
In 2009, tragedy struck Tyson's family when his 4-year-old daughter, Exodus, accidentally strangled herself on a treadmill in her mother's home. This moment seemed to be a turning point for Tyson who says that he will never get over it.
He knew he had to make a change: "I surrendered to a higher power. I said: 'Help me. I can't do nothing no more. Guide me. God, whoever. I don't know what to do . . .'"
In the same year, Tyson married for the third time. He credits his marriage to Lakiha "Kiki" Spicer as the guiding force in his life.
"If I wasn't married I'd be very different," Tyson explained. "I'd still be that violent schmuck because that's all I once knew – how to hurt people. I used to do all that stuff and I never cared about the repercussions. But I've surrendered now."
Mike Tyson has created a new life built on self-control
These days, Tyson is trying to live his life in a way that's very different from his chaotic and criminal past. He admits that he got caught up in the fame and fortune of his former life. He also knows that the dark times he's faced have changed him.
These days, he's trying to avoid falling back into his old habits. Part of that self-control includes avoiding workouts. In an interview with Joe Rogan, Tyson explained that working out tapped into his former self.
"All that stuff reactivates my ego," Tyson explained. "If I reactivate my ego, I'm going to lose in life."