Miles Teller Admits a Can of Coke Is One of His Secrets for Looking so Ripped in That Beach Scene in 'Top Gun: Maverick'
Miles Teller spent weeks getting into tiptop shape for the role of Bradley "Rooster" Bradshaw in Top Gun: Maverick. In addition to getting ripped with the help of a trainer, Teller also had to go through rigorous flight training. Which included an experience with a "naval torture chamber" known as the "dunker."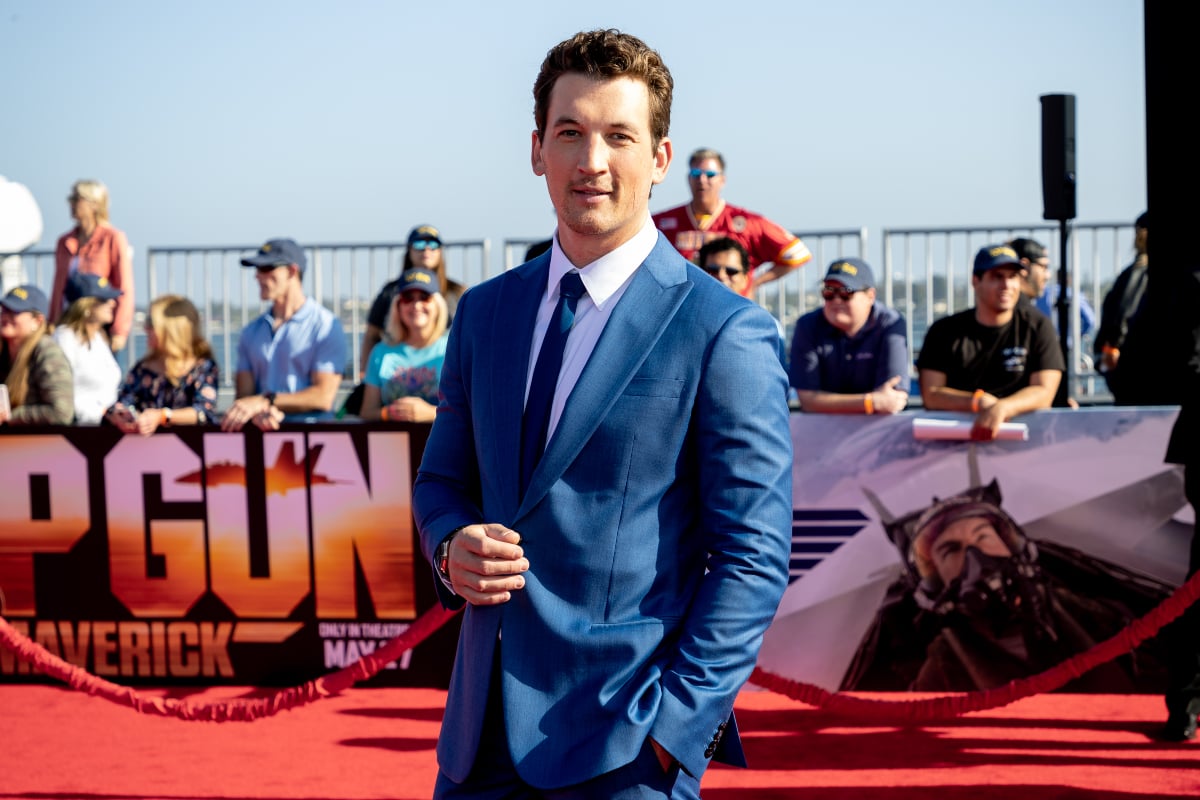 Miles Teller gained 20 pounds of muscle for the role of Rooster in 'Top Gun: Maverick'
Teller went through seven weeks of training with celebrity fitness coach Jason Walsh, whose other famous clients include Matt Damon, John Krasinski, and Brie Larson. The six-foot-tall actor started out at 180 pounds. But by the end of his training, he had gained 20 pounds of muscle and had just nine percent body fat. 
"I have a trainer that I've worked with for a while now, and he's somebody that I really trust. I also had a nutritionist," Teller told YouTuber JOE. "So, I've got somebody telling me what to eat. I've got a trainer telling me what I need to do for workouts and with me every step of the way. Really, a lot of it is just showing up."
For the famous beach scene, Teller had to cut his weight back down to around 185 with just seven percent body fat.
Spilling secrets about Rooster's six-pack
Teller hit the gym hard to get those ripped biceps and six-pack abs. But he says the real reason that he looked so good in the beach scene was because he drank a can of Coke before cameras started to roll.
"When I was super lean, you're trying to cut water out of your system [during filming]. It's a trick of the trade that people use, that you try to dehydrate yourself as much as possible," Teller explained.
"And then, oddly enough, when you're on set that day. When your body's been deprived of sugar and sodium and all these things, you drink like a can of Coke. Your body gets all that sugar, and everything tightens up. You get this certain, kind of, vascular look that looks good on screen."
Miles Teller survived the "dunker" while training for 'Top Gun: Maverick'
The roughest, most excruciating experience of Teller's flight training for the film was the "dunker." It's described as a "naval torture chamber" where someone is strapped to a chair and blindfolded, then dropped into water and spun upside down. To avoid drowning, the participant must find their way out.
Teller also had to sit in the back of a Cessna jet while the pilot allowed the plane to stall. He explained that "flying these jets is so hard." And the difference between a squadron pilot and a Top Gun pilot is "how well they understand the plane."
"I underestimated the amount of training that it was going to be," Teller admitted. "I knew that we were going to be in the jets. But I really didn't understand how intense that was going to be. It pushed me to the limit every time I went up. It's a really intense experience, and you feel like you're gonna throw up the whole time."
Top Gun: Maverick is now playing in theaters nationwide.
RELATED: Miles Teller Reveals How His 'Top Gun: Maverick' Character Got His Callsign