These Are All Of Miley Cyrus' Acting Roles You Forgot About
Miley Cyrus is primarily known as a singer-songwriter these days. However, she rose to prominence as one of the Disney Channel's many multi-hyphenate starlets in the mid-00s alongside Selena Gomez and Demi Lovato.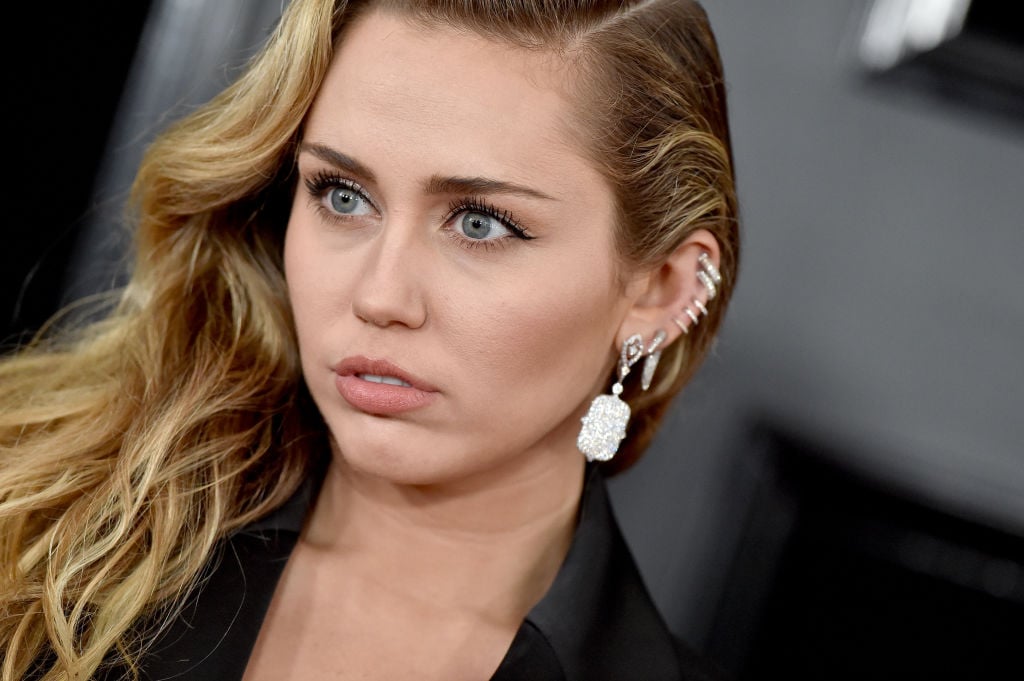 We've seen a lot of ups and downs throughout her career, but more recently, she seems to be really on top of her game. In addition to new music, Cyrus stars in one of the three new episodes that make up Black Mirror Season 5. Here's a look back at her acting career to date, including many roles you may have forgotten about.

Doc (2001, 2003)

Cyrus' acting career began at the age of nine when she first appeared Doc. This wasn't just dumb luck — the medical drama starred her father Billy Ray Cyrus. She appeared in three episodes of the series' five-season run.

Big Fish (2003)

Around the same time, Cyrus got her first movie role in what is now a renowned film. She played little Ruthie in Tim Burton's acclaimed masterpiece Big Fish. Cyrus was credited under her birth name, Destiny Cyrus.

Bolt (2008)

After starring in Hannah Montana for a couple of years, Cyrus landed another acting gig. She voiced the character of Penny, the owner of the titular canine in Bolt, a Disney animated flick.

The Last Song (2010)

A generally forgettable romantic drama based on a Nicholas Sparks book, The Last Song was, ostensibly, meant to be Cyrus' way out of the Disneyverse as Hannah Montana winded down. What it is now remembered for is how it's responsible for introducing Cyrus to her co-star, Liam Hemsworth, who is now her husband.

LOL (2012)

Cyrus took another shot at a film career with LOL, a remake of a French drama in which she starred opposite Demi Moore. The movie was poorly received and a box-office bomb.

So Undercover (2012)

That same year, Cyrus had another, more Disney-friendly project released. The action-comedy stars Cyrus as a young P.I. who joins the FBI and goes undercover as a sorority girl. So Undercover was a direct-to-video release, and even more poorly received than LOL.

Two and a Half Men (2012)

This really was the year that Cyrus gave acting her all. After years away from TV, she returned to the small screen to guest star in two episodes of the CBS sitcom Two and a Half Men. Cyrus played Missi, Jake's girlfriend.

Crisis in Six Scenes (2016)

A year before the Me Too movement kicked into high gear, Woody Allen put out a miniseries with Amazon, titled Crisis in Six Scenes. Cyrus played Lennie Dale, a young hippie on the run from the law who comes to stay with a well-to-do suburban family. Even die-hard Allen fans didn't enjoy it.

Guardians of the Galaxy Vol. 2

You're completely forgiven for not knowing about this cameo. Cyrus appears during one of the Marvel films post-credit scenes, voicing Mainframe, a robot who is shown to be part of one of the new teams of Guardians. It seems unlikely that this was anything more than an Easter egg, so don't expect to hear her voice in Guardians of the Galaxy Vol. 3.